By Alexandru Simion
Raiders of the Lost Island is a local co-op party game for up to 4 people. Well, technically it is a semi-cooperative one, as you will soon find out. Alexandru Simion, the developer behind this title, has been in the industry for almost 20 years. Even though his dayjob as a lead gameplay programmer is to make AAA games shine, he never lost his passion for making indie games and expressing his creativity through such projects in his free time. Raiders of the Lost Island has won the "Best game of the show" and "Best design" awards at the Dev.Play convention in Bucharest, Romania, and will be showcased at Casual Connect in London in 2018. 
---
IT ALL STARTED THAT NIGHT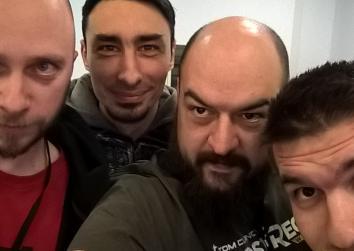 It was a cold winter evening when I teamed up with three friends of mine and we stepped in the tech pub where Bucharest Global Game Jam 2017 was taking place. We were prepared and ready to survive the long weekend. The jam's theme was "waves" and, as it always happens to me at such events, I was set to come up with a game that would not only be fun to make, but could give us many hours of fun playing it long after, with friends and family.
I didn't have many board games when I was young and I can say I developed a passion for them quite recently. But one thing that board games have been doing so well for a long time is bringing people together, creating special chemistry between them. It doesn't really matter if they're happily working together towards a common goal, or if one betrays, or if they're all at each other's throats, but I've been really fascinated by this social interaction and I think video games have many lessons to learn from here.
So, drawing inspiration from board games like Forbidden Island and Small World, I managed to sell these ideas to my friends and convince them this was what we must do to worth the effort of the next 48 sleepless hours. We bounced a few ideas, and the game shaped pretty quickly this time.
Let me tell you what it is all about.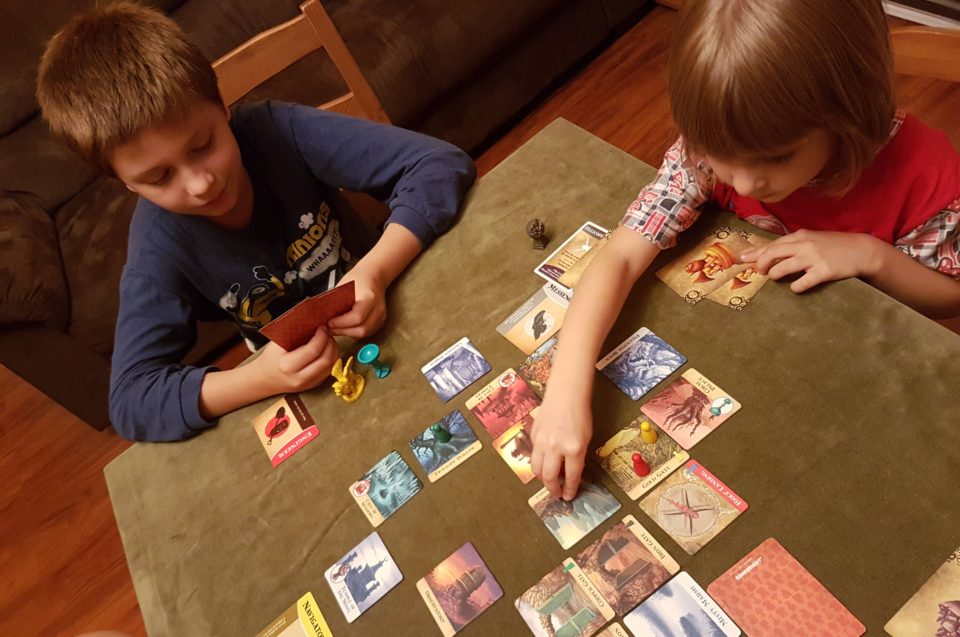 You and three other buddy adventurers of yours just found the Lost Island and you're not there on a vacation. No, you're gonna get filthy rich, because the island is full of silver and gold coins, and the most precious diamonds. You just have to grab them. But there's a catch! You know the island is going to sink in about 4 minutes. The waves are already going up and down fast, and soon the water will rise, flooding the whole place. You will all lose, unless… you all work together to build a raft and escape in time. If you manage to survive, the richest raider stands in front, while the others just help them win.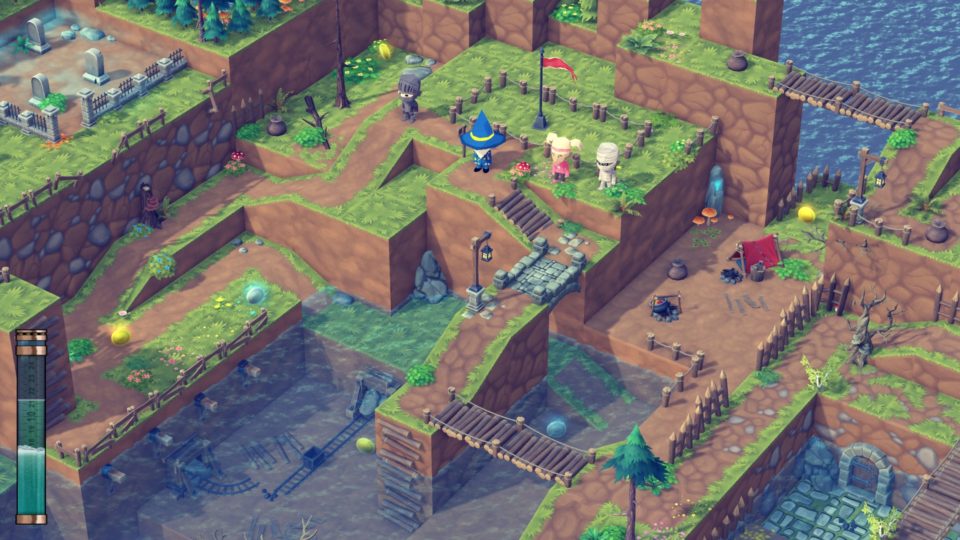 So, everyone wants to collect as much gold and diamonds as possible to win the game, but if they don't work together and build the raft, they might all lose! The gameplay mechanics are simple enough, but the fun moves to the couch, where the real players are. No one wants to carry sacks and work hard on the boat while others are stuffing their pockets with treasures and can win the whole game. So, if you feel you're in front of others, you still have to convince them to stop chasing you and put their efforts to some better uses, like building the boat.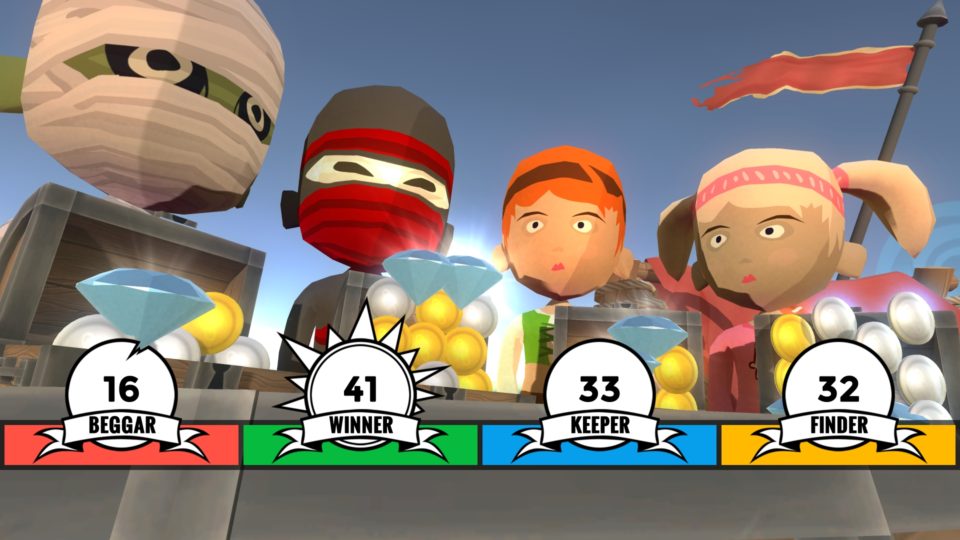 That was the original idea. But at the end of the Game Jam, after 48 hours of hard work and no playtests, we didn't really know what we had and if it actually works. We were pretty tired and had been fixing bugs until the last minute. I don't know if the game made much sense when presented to the other developers who were probably as tired as we were. But we were proud of our baby and still believed we made the right choice.
However, when I got home and gathered the family to play daddy's endeavor of the last 2 days and 2 nights – in that moment I knew the game really works! It was a blast! Kids reacted exactly as I hoped, gathering gold coins like crazy, trying to push each other in the waters and steal their treasures. I had to calm them down and tell them we can actually survive if we cooperate to build the boat at least once.
THE ROAD AHEAD
As it usually happens to me with game jams, if I feel I came home with something special, I want to finish it. I must finish it! I knew from my experience that this won't end soon. I was coming from another project, a game for kids on iOS, named Bathtime Toys, which took me almost 2 years to finish in my free time and I was hoping to finalize this one faster.
After a short break I started to work on the game to refactor the code architecture and make development and marketing plans. I was a total noob on the marketing side and still am, but I knew I had to start early this time and learn it.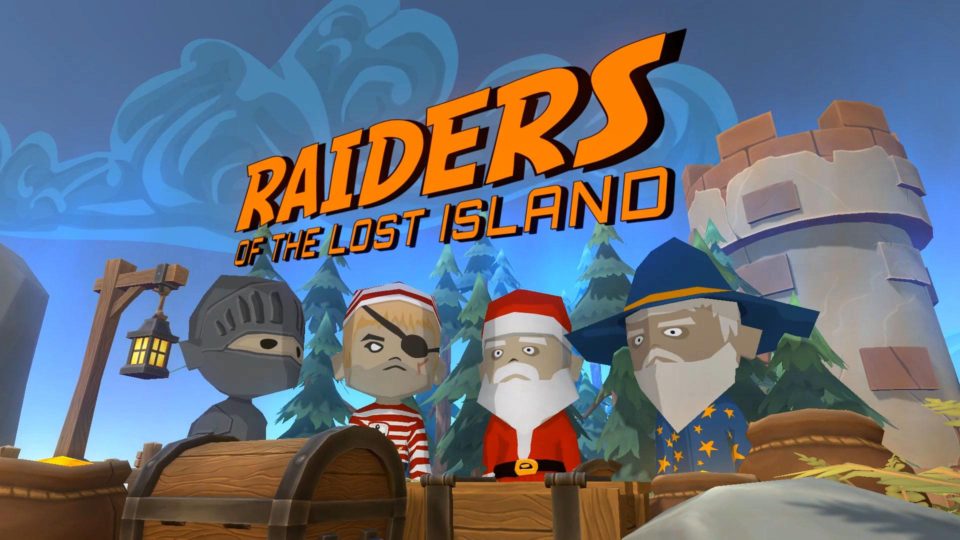 Unfortunately the original team didn't stay, as after the game jam people got back to their busy lives. They simply didn't have time to put into the game any further. It's hard to come home after 9 hours of making games and push yourself further up until late in the night, making more games. But I am that kind of guy, and I know this game deserves to see the light of day. I hope to catch them back from time to time though, to help me with some feature or making new levels.
According to my plan, I had to get a demo ready as soon as possible, to build a nice website and to make an awesome trailer. With these in hand, I was to register for Steam Greenlight and grow the game's visibility through this campaign. After that, when the game had a good base of players, I planned to launch an Early Access campaign and finally release it in about 1 year. And so I started working.
GET THAT DIAMOND!
Perhaps the most important addition to the game was the diamond! This was planned from the beginning but we didn't have time to add it in the Global Game Jam version. To understand what this is about, imagine that one little silver coin scores 1 point, one shiny gold coin scores 3 points, and then you have this magnificent bright white diamond worth 10 points! It was blast! Everyone was chasing to grab it. And when someone had it, everyone else was chasing after them, to steal it. Not many boats were finished during those days.
In fact the diamond was so powerful, that it made players invent new grief mechanics that I never had thought of. If my kids couldn't get the diamond, they would start jumping off the island's edges, drowning into the ocean while carrying the sacks needed for the boat, so they would be lost forever and no one was able to escape anymore.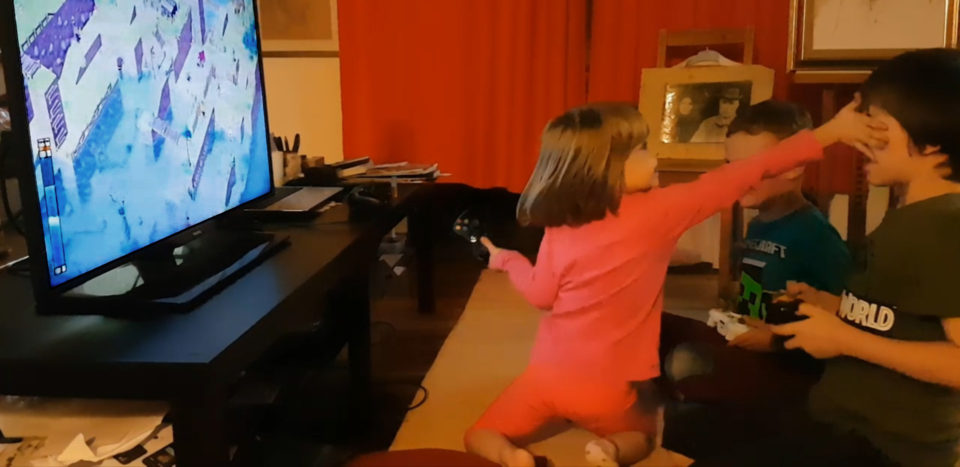 "I'm throwing sacks, if you don't give me that diamond!" was the warning you hear just before realizing that chances of surviving are dropping down fast.
Some sessions were so intense that they ended up in tears. Once I even had to order real glass diamonds from an online shop as a final solution to calm things down. All this excitement confirmed that I'm on the right track with the game, so I kept going.
MISSING the greenlight TRAIN
Making the trailer was a heavy milestone. I didn't have proper skills, and it took me almost a whole month to finish it. But it was really fun and it motivates me every time I watch it.
I invited some friends for a playtest, we had some beers, wore some funny hats and I filmed them while they were playing. It was a successful playtest, everyone had a lot of fun and I got some good feedback.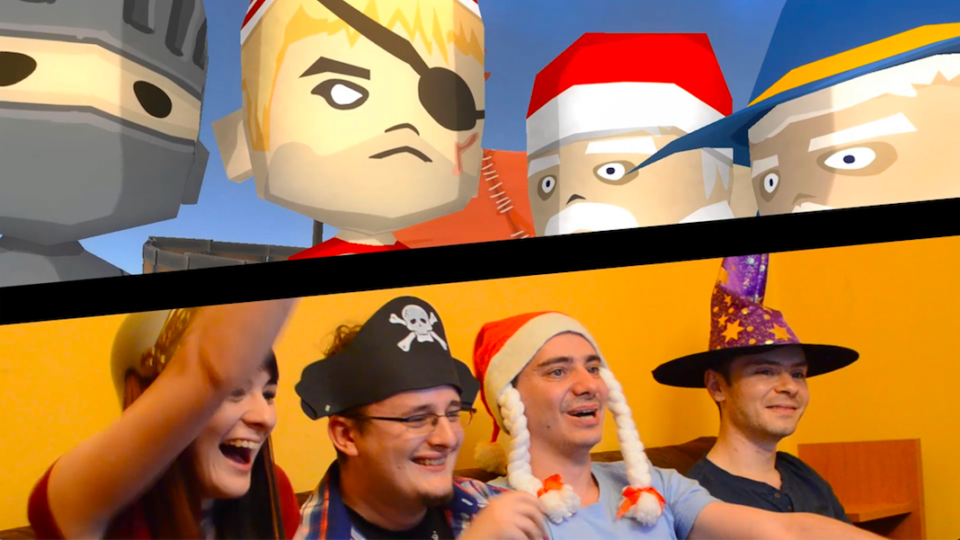 As I said, making the trailer and implementing the most important suggestions took quite some time and while I was pushing hard to get these things done, Steam decided to drop the Greenlight feature. That happened earlier than I expected and I felt pretty upset at the time. It was like missing a train you were running after.
After a while I got over it and felt really happy for my efforts with the trailer. That playtest created some of the game's biggest fans. In fact we did it again when the demo was ready and I know they can't wait to return and raid some more in the future.
SHOWING OFF
The marketing side is really tough for me. Building the website, Facebook page, videos on YouTube, preparing images, posting online, answering emails, writing articles – it all takes me more than half of the development time. But I know I can't get the whole project right without it and I'm still learning what works and what doesn't.
One of the first lessons I've got in online marketing was when someone wanted to "help" me with a Facebook post that would gain thousands of likes. I thought I can spare $30 to see what happens. And I saw it going down the drain. From all those likes, not a single person visited the website, since they were all coming from kids at "like farms". Well, it was cheap enough for a lesson and I got a story to tell.
The first real challenge was to get to the Dev.Play Eastern Europe Conference which had a partnership with Indie Prize, the sponsor of their Indie Expo contest. The conference is like a smaller GDC organized in Bucharest by RGDA. Being accepted to show my game there, among so many other really good indie titles, was a big thing for me. I put a lot of effort in finishing the demo in time and preparing the advertising prints and everything for the booth.
All the efforts paid off when my wife and I presented the game and saw so many people enjoying it for 2 full days. It was the reassurance I needed, because until then, most of the playtests were conducted within the family, with kids and some friends.

The extra bonus came when the jury decided to award the game as "The Best Design" and "The Best Game of the Show". My trailer was played on a huge cinema screen and my friends were the actors. The big prize was a place for my game in Indie Prize London 2018, and I have much to do until then.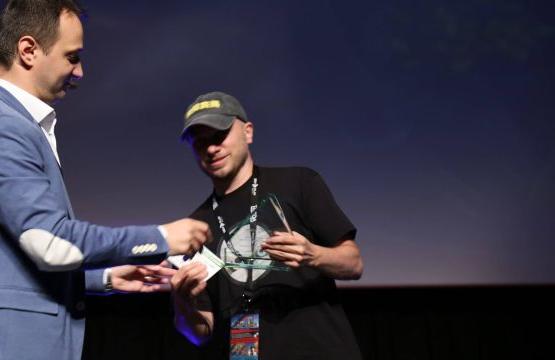 After the success at Dev.Play, the game visibility was boosted quite a lot. I released the Alpha Demo on Itch.io so everyone can try it, and we've even been invited to tell about it in a famous Romanian television show.
BACK TO WORK
Passing the Alpha Demo stage puts me back to work and I can't wait to unleash my creativity and shape the game further. In the next couple of months there will be a few more events, like a talk at Game Anglia conference and some local festivals. But the main focus is now on adding new features, new gameplay mechanics and new levels.
There have been almost 9 months since the game was conceived and, even though human babies see the light of day by this time, baby games tend to be more like elephants and stay in development for quite a bit longer.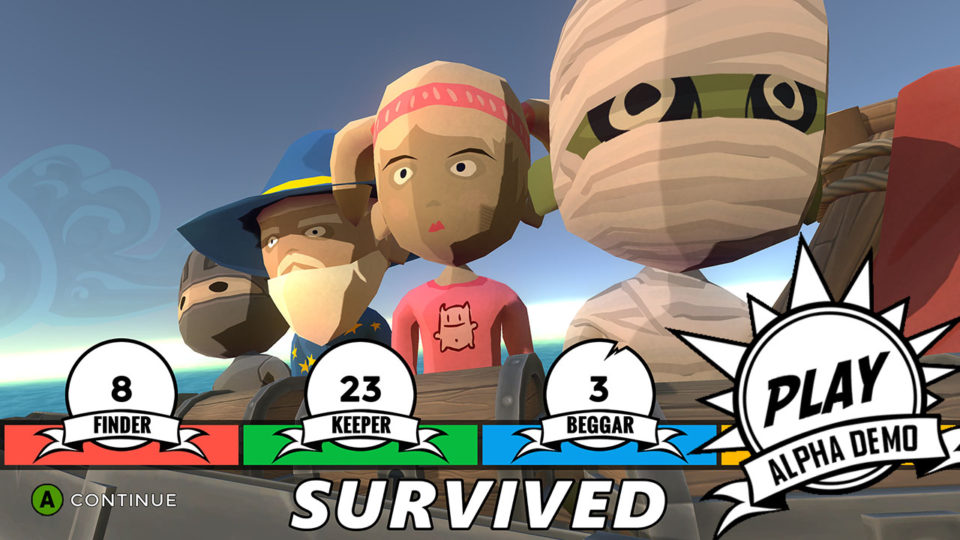 "Play the Raiders of the Lost Island and be part of its story, tell me about your experience with the game, stream your play sessions and help it become a success!", the developers invite.