ALL CAPS and Disco Flip: When Music is a Key Element of the Game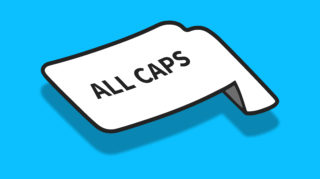 ALL CAPS is a startup game studio based in Aalborg, Denmark. They focus on creating exciting, entertaining games that keep players coming back to play again. Their first game, Block Amok was released in early 2015 and has been nominated for a number of awards. Now their new project, Disco Flip, has won the Audience Award at Game Scope, an Indie Prize Partner event and Denmark's largest games festival. As winners, the ALL CAPS team was invited to Casual Connect Kyiv and Indie Prize Kyiv. Recently Gamesauce enjoyed asking Brian Nielsen, CEO of ALL CAPS, about their indie studio, their experience at Game Scope and, of course, Disco Flip.
Gamesauce: Tell us about ALL CAPS. What was your reason for founding this game studio? What would you say makes it different from other studios?
Brian: Well, to be honest, we hadn't thought about founding a game studio. We were just four guys who loved making games and who had been working on a prototype for our first game, Block Amok, while we were attending Aalborg University. We didn't have a plan for exactly what we wanted to do except we wanted to make Block Amok as awesome as possible as we felt a great game would have an easier time attracting attention from both players and the press.
After working hard and ending up with a great little prototype of the game, we decided to go and check out a local business event. By chance someone had chosen not to showcase their business case and when they asked if there was anyone else who want to showcase something instead, we jumped in with both feet. One of the participants loved our games so much that she said she would introduce us to somebody she knew who might be interested in our games, and that is how we ended up meeting our investor, CapNova. That just goes to show that always having a great demo of your game ready to show off can really pay off.
GS: is the mission and focus of ALL CAPS?
Brian: At ALL CAPS we strive not only to make our games awesome, but also different and stand out in the market; as such we tend to take an element people are familiar with and do our own unique twist on it. Besides that, our focus is on colorful, whimsical and entertaining games with a high degree of replayability and quality. You could say our mission is to ensure the player has the best possible experience.
GS: Who are the people of ALL CAPS? What does each contribute to the company?
Brian: As a company we are very open and encourage talking a lot, so we often end up talking about everything from current TV series to Bitcoins. Right now we are six people at ALL CAPS, four of us are the founders and we have two interns.
Thomas Møller Thomsen: One of the founders and the programming mastermind behind Disco Flip, he is currently working hard on getting Disco Flip ready for a KPI test.
Kristoffer Borregaard Johansen: One of the founders and both the 3D artist and musician behind Disco Flip. Kristoffer is currently being noisy and making music.
Christian Bӕk Hansen: One of the founders and the creative genius of both the game and level design of Disco Flip. Christian is currently testing and tweaking Disco Flip to perfection.
Brian Martin Nielsen: One of the founders, the CEO and the guy who is currently answering these questions.
Anja and Mads: The two most awesome interns who are currently working on a secret project which we hope to be able to talk more about soon.
GS: What do you enjoy about working together?
Brian: I think what we enjoy most is the ability to talk and joke with each other about everything and anything. Our small company size of six people and our flat hierarchical structure means that everyone is able and encouraged to give their opinion and be able to affect the end product of the games we make.
GS: Tell us about your process of creating a game. Where do your ideas come from?
Brian: We have different approaches; most often we have workshops where people each bring two ideas. We then talk about them and choose which to bring to the next stage. For Disco Flip, we were actually talking about a skateboarding game with animals, when the idea of doing something with music was mentioned. (We play a lot of Guitar Hero and Rock Band on Fridays.) We liked the animal aspect of the skating game and we loved the idea of using music as a key element for a game, so that is how we began working on Disco Flip.
GS: How do you work out different ideas and opinions during the process of developing a game?
Brian: When we decide to make a new game, we assign one person to be the game design lead for that project. This person has the final say in any decision, but everyone is encouraged to voice their opinion and ideas. Before we begin working on the new game, we do some brainstorming sessions, and from that we get input and suggestions from the rest of the team. It is then the responsibility of the game design lead to decide what to include and what to disregard. This process is repeated throughout the creation of the game for different aspects. Using this method we ensure that we get the best possible game.
GS: Where did you get the inspiration for Disco Flip?
Brian: As I mentioned above, we were talking about an idea for another game when the music aspect was added to the mix and changed what we wanted to do. Once we decided that we wanted to have music as a key element of the game, we began talking about how to implement it. We looked at several music-based games like Guitar Hero and Rock Band, but we ended up being inspired by Crypt of the NecroDancer for the way they used music, but their gameplay wasn't as fast-paced as we wanted, so we looked at other fast-paced games and really liked Crossy Road. So those are our two main inspirations for Disco Flip.
GS: How is this game different from other games? What makes it stand out? What makes it fun?
Brian: Disco Flip is unique in the way it makes use of music. In Disco Flip the music controls the entire world, both the monsters, the dangers like the spike traps and the visuals around you. Everything either moves, bounces or charges up on each beat and the further you get in Disco Flip the faster the music and the game becomes. So you have to learn each of the patterns of the different monsters and dangers in order to get far and then to get even further you have to improve your planning and reaction skills to match the fast pace of the game.
GS: Please describe the process of developing Disco Flip.
Brian: The development of Disco Flip was different from our first game Block Amok. We had learnt a lot in regards to planning and how to create a game in a more efficient manner. So when we began developing Disco Flip, we put all this new knowledge into practice, and in general just had fun while making the game. We love prototyping, and feel that it is very important to test out different ideas early; this way we can be sure that what we end up implementing in the final version will be only the best elements.
GS: Did you encounter creative blocks while developing the game? How did you overcome them?
Brian: Actually the first time we showed Disco Flip we encountered a major roadblock. Up until then the player was only able to move exactly on the beat of the music (like everything else in the game). But this ended up being very hard for the players to understand and also slowed down the gameplay tremendously. Even though we initially liked this feature, we realized we had to kill our darling and remove it. The game became not only more fun, but a lot easier for the player to learn.
GS: What excited you about the process of making Disco Flip?
Brian: The whole aspect of using music as a key aspect of the core gameplay and having great graphical design was the main excitement. It was great to hear all the different music, and we ended up giving almost every character their own unique song and visuals. It is a special and inspiring journey to see a game getting more and more complete each day, week and month. Combined with the feeling you have created something that you truly enjoy playing yourself, is something I will never get tired of.
GS: Tell us about your experience winning Game Scope.
Brian: While we have been nominated a lot for other games, the Game Scope Audience Award 2017 was our first time actually winning a nomination. I am sure my grinning face on the picture says it all in regards to how great it felt. The addition of winning a spot in Casual Connect Indie Prize was a great cherry on the top. We have attended other Indie Prize events before, so we were familiar with the concept, but there is always something exciting about showing off a new game that you have put a lot of time and work into. The experience of the event was amazing and definitely in our top three of best events we have been to. On the business sides we were able to meet with a lot of high profile publishers and big names and on the Indie Prize side we got so many people at our booth that it was hard to be able to show Disco Flip to them all. So for any aspiring developers out there, be sure to submit your game to the Indie Prize competition, you might just find your next publisher there.
GS: What feedback did you get about Disco Flip there?
Brian: Everybody we showed the game to loved it. We had people who said it wasn't for them when they looked at it, but when we got them playing they ended up not wanting to put the game down. I think Disco Flip's casual play style and short game cycle drew in many people because they can play for only five minutes and still have a great experience.
GS: Do you have any suggestions for other indie game developers who are hoping to create a winning game?
Brian: It is going to sound cliché, but have fun while developing; if you enjoy working on a game it is going to end up being better. Besides that, try to make something different from what everyone else is doing. By "something different" I don't mean that it has to be unique, just that it stands out and is easily identifiable by a glance.
GS: What are you next plans for ALL CAPS?
Brian: Our next plan is to find a publisher for Disco Flip, then publish it and continue to make content for the next updates and expansions. We are also working on an new, and unfortunately secret project which I can't say much more about.
GS: What are the trends you see coming in the game industry? How are these influencing your plans for ALL CAPS?
Brian: Well, with all the talk about loot crates and gambling that is going on, I think the industry might be in for a wake up call regarding some of the monetization practices that are being used currently. We have always walked the knife's edge between being profitable and being too aggressive monetization-wise. We believe that more games will have to focus on retention and offering purchases, rather than forcing them on the users. Doing this well will create a game that is more fun, more streamlined and it will keep players engaged for a longer time.
GS: Is there anything else you would like to tell us?
Brian: We hope to see you all at Casual Connect and Indie Prize in 2018.
Comments
Catherine Quinton
Catherine Quinton is a staff writer for www.gamesauce.org. Catherine loves her hobby farm, long walks in the country and reading great novels.