Pajama Llama Games: Finding Treasure in Flotsam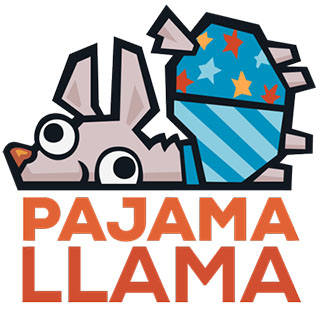 Stan Loiseaux of Pajama Llama Games is one of the creator of the game Flotsam. The indie game recently won the Grand Prix at White Nights Prague. The White Nights Conference is an international cross-platform business conference for game industry professionals, featuring plenty of networking parties and attended by thousands. As winner, Pajama Llama Games has the opportunity to compete at Indie Prize London at Casual Connect Europe.
"It was amazing and totally unexpected!" said Stan. "We're still early in development so didn't even think of winning any prizes anywhere yet. It certainly gives us a lot of encouragement to continue developing, knowing that people like it."
While it's a huge moment winning the Grand Prix and receiving a place at Indie Prize, Stan is still very reluctant to give out advice. He says this is his first game and he's not sure he knows the real keys to success yet.
"If I had to give any advice it would be to start showing your game as soon as possible to other people," said Stan. "Either to other developers or at conferences like White Nights. We have a small gamedev community in Belgium and we help each other all the time."
"We hope to find a passionate community of fans at Indie Prize that can help improve our game," he added.
Save Our Oceans
Flotsam was started out as an idea to make a game about town building in a flooded world. Later on, the idea that the town is floating along and encountering different things, along with the environmental message, came later.

"The environmental message is something that came naturally when working with a flooded world based on the world we live in," said Stan. "We're now really pushing the recycling and environmental message it has because of this. All our animals will be affected by garbage (in a good or bad way) for instance."
When it came down to having animals in Flotsam, Stan said, "We wanted a world that feels very alive. A world inhabited by loads of quirky animals. When you're making a survival game the idea of hunting animals comes pretty naturally. We would love to have you helping animals that have been trapped by garbage, but we're focusing on hunting first. Gotta keep the scope down!"
While games like Flame in the Flood would seem like natural inspirations for Flotsam, Stan says that Flotsam was mostly done before they ever heard of Flame in the Flood. "Banished is a big inspiration, as well as Don't Starve and Rimworld," detailed Stan. "We love Waterworld but we're trying to make a world that's more colorful and cartoony compared to it and other post-apocalyptic films or games."
The Nascent Flemish Development Community
Stan indicates that the members of Pajama Llama Games wanted to make their own quirky and stylistic games. He notes that there aren't enough game development studios in Belgium.
"We all work together in our office in Ghent. This allows us to communicate very fluently and gives us the opportunity to throw in a few games of Towerfall from time to time…" says Stan. "We all live in the same city so it made sense to stay here and find an office together in Ghent. Ghent is awesome so why would we ever leave! Good beer, weird hipsters and lots of culture and nightlife!"
Pajama Llama Games is not looking to specialize in a particular genre. They would work on an RTS or rogue-like and Stan notes that they love doing gamejams with a variety of genres.
"We aim to expand the building sim genre with a beautiful stylized quirky game in a unique setting," said Stan. "Flotsam should offer a new experience for the building sim enthusiast, because the whole town is constantly moving."
The Feel-Good Apocalypse
Pajama Llama Games has three co-founders, with no one functioning as a studio lead. Stan works on the environmental art, Juda-Ben does creature art and Dave is the coder.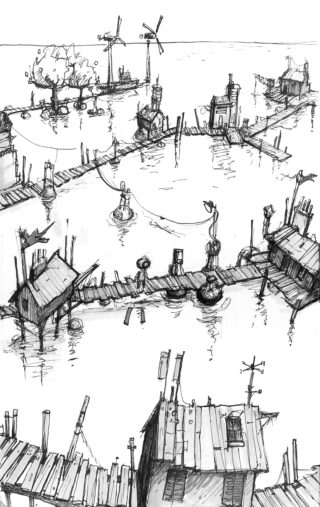 "We design everything together first and brainstorm about every feature of the game, then write it out in our game design document and technical document," said Stan. "For the game we're working on a feature by feature basis. We based ourselves on other game processes like Prison Architect and Rimworld for this. We make one feature work and then move on to the next. For the art both Juda-Ben and Stan go from concept art to 3D and texturing. We're both 2D and 3D generalists so we can do most of the process ourselves."
When it comes to the art, the 3D pieces are made in both Blender for modeling and 3Dcoat for texturing. Unity is used for game development, with some assists coming in from Glowfish Interactive.
"While we can do both 3D and 2D, our artists love hand-drawn art and love to work with lines," noted Stan. "We wanted to have a colorful style that looks as close to the 2D painterly concepts, with the linework included. That's how we landed on a low-poly hand-painted art-style with lines in the textures.
Our world is supposed to be light-hearted with inhabitants that love living in it, even though they live in harsh conditions. While the world is post-apocalyptic we wanted to differentiate us from other games/movies in this genre and have a 'feel-good apocalypse' with lots of color, humor and quirkiness."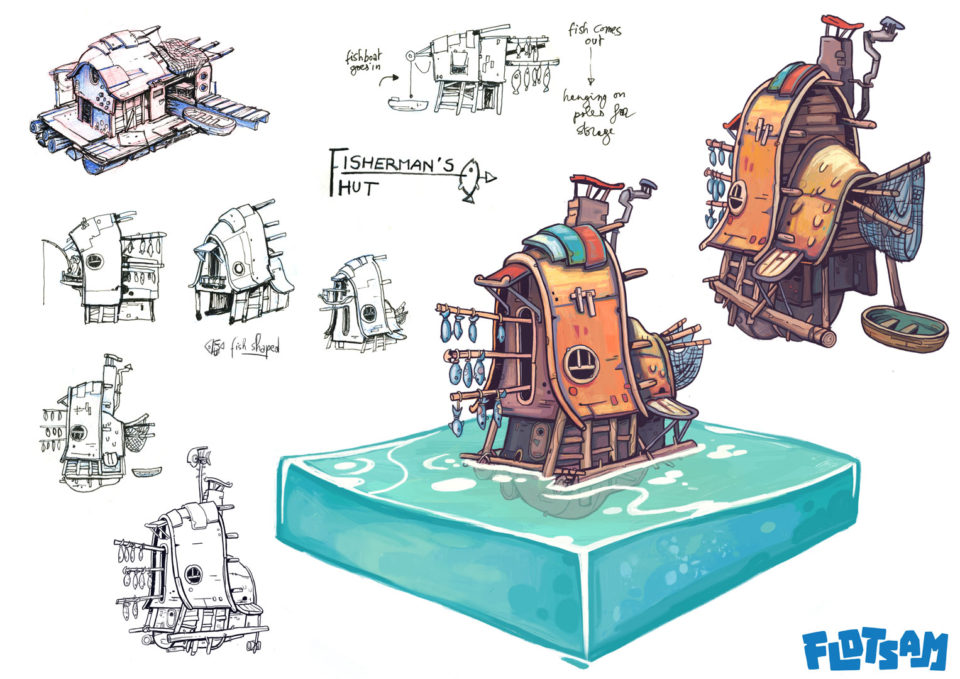 We All Float On
Pajama Llama Games tests as soon as they are able to get a working prototype. Stan notes that with Flotsam, they still have a lot of testing to be done on the game, since it's still early in development.
When asked about positive feedback from testing, Stan reported, "From an early stage people already seemed to love simple things like plopping down walkways and buildings in the water. Even if there was no other stuff to do. I think the unique theme and art-style really helped with that too."
While Stan made a cheeky self-deprecating remark that indie developers should never make a building sim, he enjoys seeing the fun people have had with Flotsam so far. "Seeing a dumb whale smashing up your whole town can be pretty funny, if you have a weird sense of humor…" said Stan.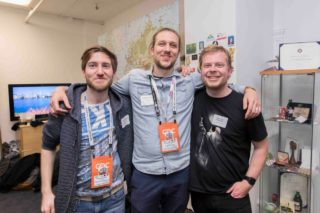 The testing period can be a challenge for any developer, but Stan indicates Pajama Llama Games hasn't had any particularly bad experience yet. "The only pain is dealing with non-project related parts of keeping a studio afloat, like finding money, writing documents and other business stuff," said Stan. "We have nobody with a business degree of any kind, so we had to figure all that stuff out ourselves. With some help from other studio's and mentors we made it work until now though."
"While we sometimes do work-for-hire assignments to keep the project afloat, we also got funded by the Flemish government," he continued. "Flotsam will be sold on Steam and other PC digital platforms for a premium price. similar to other indie strategy games on PC."
While Flotsam works well for the studio's first project, Pajama Llama Games has it's eyes on the stars when it comes to future projects. "There aren't enough real-time strategy games anymore in my opinion," mused Stan. "I would love to make something like Age of Empires or Warcraft III. A god-game would be nice too though!" Stan concluded with a wink.
Comments
David Radd
David Radd is a staff writer for GameSauce.biz. David loves playing video games about as much as he enjoys writing about them, martial arts and composing his own novels.