Yoshinori Kitamura: Do Not Miss Opportunities | Casual Connect Video
As Chief Operating Officer at Gravity Co., LTD, Yoshinori Kitamura is in charge of management, with major focuses on business strategies, overseas development and new business development. Currently his emphasis is on expanding the Ragnarok business according to the one source multi-use method. He is also in charge of managing the group companies (the US office and the Taiwan branch), and the NeoCyon office involved in mobile business to business. Yoshinori has participated in Ragnarok's Japanese business since 2003 and became involved with the management of Gravity in 2008.
Finding Trends in a Fluctuating Market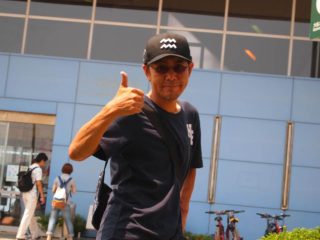 Yoshinori enjoys the fact that his job shows clear results for what he does. He likes to challenge himself as he predicts trends in a market that is constantly fluctuating. As he describes, "It is rewarding when you succeed with new ideas without being caught by fixed concepts."
His first exposure to gaming came in his school days; while playing Famicon with his friend he developed a desire to enter the game industry. However, at the time this seemed unlikely. Instead Yoshinori became involved with American football. While doing sales at a recruiting advertising company he was given the opportunity to join their company football team. Following this career he began working for Rothman's Marubeni, a tobacco company which withdrew from the business some years later. He was then involved in starting several IT companies invested by Marubeni.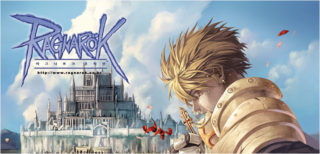 When internet service started for cable television, Yoshinori believed this was the era of IT going forward. So he joined this business as a provider, then joined the publishing company NC Soft Japan. He had worked for a year at NC Soft when Gungho decided to distribute Ragnarok. This was when Yoshinori decided to join Gungho.
From the time he left Rothman's, he has always been at the forefront of the latest industry, gaining experience that has been very useful in his current position. It has helping him in promoting the online gaming business through having been involved with customer support, marketing, new business development and overseas business. He maintains this is the foundation of his current business, helping him in deciding the direction for the business and in the decision making necessary as COO.
Understanding the Culture and Way of Thinking
Yoshinori relates that the most important inspiration for him in embarking on his current career was that he understood the way of thinking and culture through working closely with people from different countries. He describes, "I was inspired by the ability of people from overseas to make actions, their speed and how fast they make their decision. They are very clear when determined."
To others who would like a similar career, he emphasizes, "It is very important to accept anything and be responsible for your own remarks. Always be in a normal mind. It is important to obtain ability to think. For example, come up with any topic or theme you think of, then come up with a decision and plan. Do not miss opportunities."
Yoshinori's career might not seem like one requiring creativity, but that is not accurate. When he thinks of a new business, he begins spontaneously coming up with ideas. This happens as he is walking to the smoking room or just before going to bed. When he is busiest with exhibitions and meeting relevant members, he is stimulated in many ways with more information. And after a while the information becomes organized in his mind and more ideas emerge. He points out that the essential principle is to promote business with limited assets and time.
A Business Perspective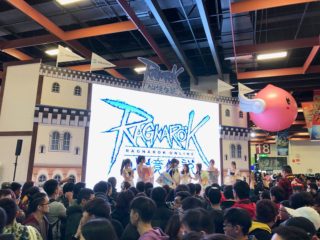 As he looks at a game from a business perspective, he finds it is most challenging and rewarding to seek a new genre and give impetus to a new trend. An example was transferring Taiwan Ragnarok to direct service. They ended the contract with the existing service company and transferred it to in-house direct service. "When we closed the server and restarted service, it was a big hit."
One of the most difficult situations Yoshinori had to deal with occurred when they were unable to get user support; the game server was unstable, there were problems with game balance and delays in updates, and similar difficulties. To get through the negativity that had developed, they assembled dozens of users and listened to their opinions on a regular basis. They also utilized user surveys and announced their progress in solving the problems and adapting them to development.
He reports that he gained the greatest satisfaction from seeing their many users assembled during their private event. It was the frequent communication that led to this successful result, according to Yoshinori.
As he considers what is coming in the future for the game industry, he believes PC online, console and mobile games will continue to lead the market. But whatever the next big trend is, it will come from an unexpected title. He believes, "On any platform the market is formed by one big title." But he will continue to create market plans for PC online, console games and mobile games as they have been doing without worrying about what that next big trend may be.
But, of course, to succeed a game must simply be interesting to play. His example is Battle Cry, a game he was crazy about as a boy, especially the cooperative play with friends. And he also insists the art and design of the game must be suitable for the targeted region.
Monetization is always a critical issue for game studios, but Yoshinori does not see big changes coming in this area. He points out that each region has its own monetizing characteristics. However, a new, big title will affect monetization issues within a region.
Focus on the User
The most important factor in a successful business is simply selling what users want, as he emphasizes. You can't somehow force them to buy something, you must respond to their needs. If what you have is not selling, your next step is to communicate with your potential users and find out what they want.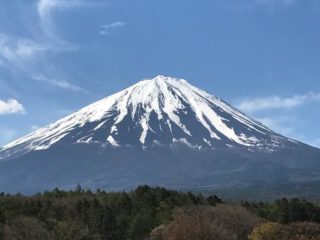 In servicing the game, Yoshinori insists it is essential to focus on the user. What is their first impression of the game? What are their expectations for the game? How is immersion working? Is the game interesting enough that they continue playing? If users do not feel they should continue playing, they will certainly not pay for items.
Online gaming is sometimes considered to be less popular today than in the past, but this is difficult to accurately assess. There are online game genres that are available both online and for console, and mobile games also exist as online games. But it is evident that despite console and mobile games, online gaming has continued to expand.
Yoshinori says that as mobile games have increased, there are more casual gamers that have not previously played any games. But in every genre, hardcore gamers have increased as new games are introduced.
When asked what Western developers need to do to succeed in Asian markets and what Eastern developers can do to reach success in Western markets, Yohinori recommends working with a publisher who has a record of success in that particular game genre in the target region. Today there are many different game genres and platforms. As well, gamers interests differ, so general advice is not adequate.
Comments
Catherine Quinton
Catherine Quinton is a staff writer for www.gamesauce.org. Catherine loves her hobby farm, long walks in the country and reading great novels.