Vlad Ceraldi and the Essential Factor: A Fun Experience
Vlad Ceraldi, Co-founder of Hothead Games, came to the game industry with a military background that instilled valuable skills for a game developer. At the Royal Military College of Canada and while serving in the military, Vlad learned discipline, goal setting and how to function and survive without sleep—all skills essential in the game industry. But of course the assault rifle in Vlad's sleeping quarters was traded for making first person shooter games.
---
It was later, while working at the work-for-hire developer, Radical Games, that Vlad gained extensive experience in the production process and in the teamwork necessary to build highly successful titles, and also met Hothead Games Co-founder Joel DeYoung. The two decided they wanted to publish their own original titles so they decided to take advantage of digital distribution using downloadable console and the success of Steam. Five years later they transitioned to a full stack mobile game studio and have continued that focus since.
Seeing the Results
At Hothead Games, Vlad oversees the development of all their game titles and says, "After all of the ideas, strategy, planning and hard work involved in creating games, getting to see the results in the hands of millions of people is very satisfying."
"I started sneaking into the computer lab reserved for older grades at school and the rest is history".
The early days of PC gaming captured Vlad's imagination, not only for gaming, but also for the possibilities of manipulating the technology to create games. At only 10 years of age, Vlad became interested in programming because of their love of Atari 2600, and "started writing really crappy adventure games. I started sneaking into the computer lab reserved for older grades at school and the rest is history."
As Director of Development at Hothead Games, Vlad is very much involved in the creative process of game development in the company. With not only the advantage of a technical background, but also decades of experience as a gamer, Vlad has an instinct for what will work and what will not work in a game. And teaming up with many talented people who can offer plenty of additional ideas and support is another advantage.
A Burning Desire to Win
Being able to lead these talented teams requires additional qualities. Vlad relates, "You have to be able to craft and maintain a vision and you need a burning desire to win. After that, you need an ability to recognize talent and create chemistry within the team." The team members Hothead Games looks for are those who can take risks and work hard while contribute to the entrepreneurial spirit. And they need the same passion for their work that Vlad demonstrates.
"I hope they think I work hard for them so that we can achieve massive success together."
When considering the team members' opinions about working together, Vlad suspects they think "I don't smile enough!" But "I hope they think I work hard for them so that we can achieve massive success together."
Keep Things Fun
In fact, the most challenging aspect of game development for Vlad is remembering to keep things fun and not take it all too seriously. But the rewards come with getting feedback from players and seeing their passion for the games. An example was a man who wrote to Hothead Games about how their games were helping him get through treatments for cancer. In return they sent some Hothead and Kill Shot items that included a t-shirt signed by the entire studio. "A few months later, he contacted us again to say how he was in remission and how our positivity had helped him through his difficult times."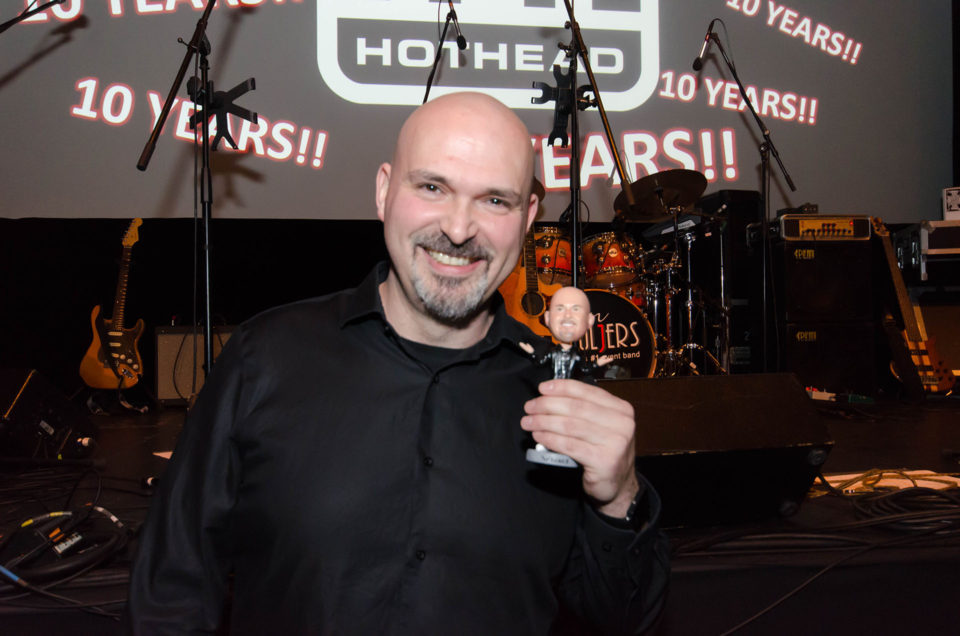 Creating games can be a painful learning experience at times. One of these occurred for Hothead Games with one of their first big hits, Big Win Soccer. When the game launched worldwide, there were so many installs coming through a feature from Apple that the servers couldn't handle the demand and crashed. It was incredibly frustrating for the team to get the messages from players who wanted to play the game they had spent months creating but couldn't. Vlad says it was a lesson in how to run games as a service and also to be prepared for unexpected surprises.
Setting up Hothead Games was one of the moments Vlad remembers with the greatest satisfaction. Recently they celebrated their 10th anniversary with a fantastic party where they reflected on what they have achieved and the people who made it possible.
If Vlad had the opportunity to create any game today, it would be a sequel to their very successful endless runner game, Sea Stars. Hothead Games still gets emails about this game and it continues to be one of their favorites. "It's the type of game that leaves you happier having played it than when you started."
Transitioning to Mobile
When Hothead Games transitioned from console to mobile, they had everything to learn: shorter development cycles, the update schedule, the need to treat games as a service. These were only some of the things very different compared to console games. Vlad emphasizes that the ability to reach out to customers directly is very empowering but also makes you extremely accountable for every decision you make.
With this transition, Hothead Games also went from a paid monetization model to free-to-play. This means their design decisions must constantly consider how to entertain and engage a user, retain those users and convert some of them to paying users, preferably repeatedly.
The advantage Hothead Games have in coming from development for console is that they know how to make exciting, enduring games. Although the design model is different, the essential factor is still making a fun, enjoyable experience. When dealing with console, they always worked in large teams. Now, after six years in mobile, they are again working with sizeable teams, including development, live ops, analytics and marketing. And, interestingly, they now have 195 employees, close to the number from their pre-Hothead console days.
When looking forward to the future of the game industry, Vlad says they had some interesting ideas for the potential for AR, "But with the recent success of Pokémon Go, there isn't really any point now, is there?"
Comments
Catherine Quinton
Catherine Quinton is a staff writer for www.gamesauce.org. Catherine loves her hobby farm, long walks in the country and reading great novels.