Bus Beat Down: Using Real-Time Traffic & Weather Data to Fuel Gameplay
By Mike McCann, Creative Director OF Bus Beat Down, GoRound Games
It got me thinking… I like my job. But the commute? Not so much. And if there's one thing that's even worse than the wearisome ride, it's having to share it with so many inconsiderate boobs. I'll admit, thoughts of thwarting them has at times consumed me. Having commiserated with an army of like-minded commuters at the Park & Ride, it was plain to see I'm not alone in that sentiment. Yet we suffer through it, quietly wishing for a way to avenge the jerks… without getting arrested. That insight inspired the concept for Bus Beat Down. And that army of like-minded commuters may just be a built-in market that's ready made for this project.
Why the hate?
I don't mean to whine, but workday commutes are tough enough as it is. Like millions of others, I spend upwards of two hours a day traveling between a job in the city and home in the 'burbs. We're slaves to schedules, beholden to the weather, and helpless against traffic delays. And as bad as that is, it can always be made worse by the rotten behavior of Rude Riders.
Rude Riders are the ones who:
• Board when they're sick, and sneeze and cough their germs all over everyone
• Snore in your ear
• Eat stinky salami sandwiches… at 5 o'clock in the morning!
• The list goes on…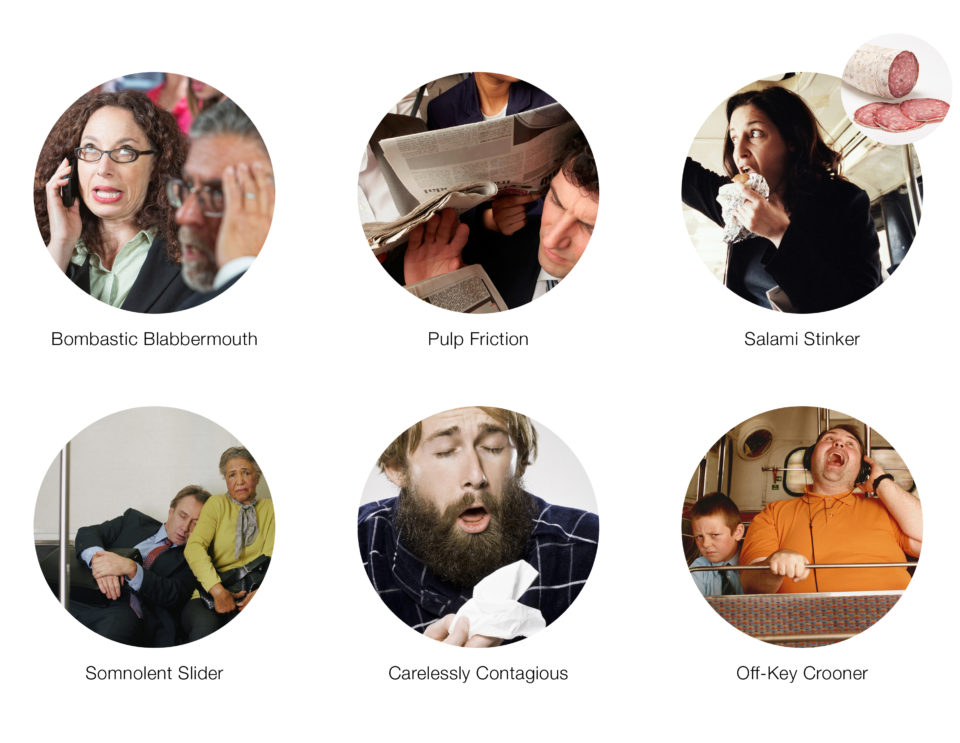 Make lemonade… and war
They say when life hands you lemons… Well, you know. Our initial goal was to create a game that's funny, relatable, and parodies real life situations. In effect, a virtual voodoo doll for those yearning for some whimsical vengeance. What we came up with is Bus Beat Down: a 2D video platform, single-player, time-attack, action-based game. It was conceived with commuters in mind, and designed to improve the experience of drive-time travel.
The object of the game is simple: Get from home to work (and back again) before the rotten behavior of Rude Riders makes your head explode. Choose an avatar from a robust selection of professionals who ride the bus – like a construction worker, teacher, chef… maybe an astronaut.

Each of them has a twisted arsenal of weapons related to their line of work that they use to subdue Rude Riders. For instance, the construction worker's Plumber's Crack Attack and the teacher's "F"-Bombs are sure to subdue even the most obnoxious adversaries. But don't get too cocky because the bus makes stops and reloads with riders who are even worse! You win if you get to your destination before they make your head explode.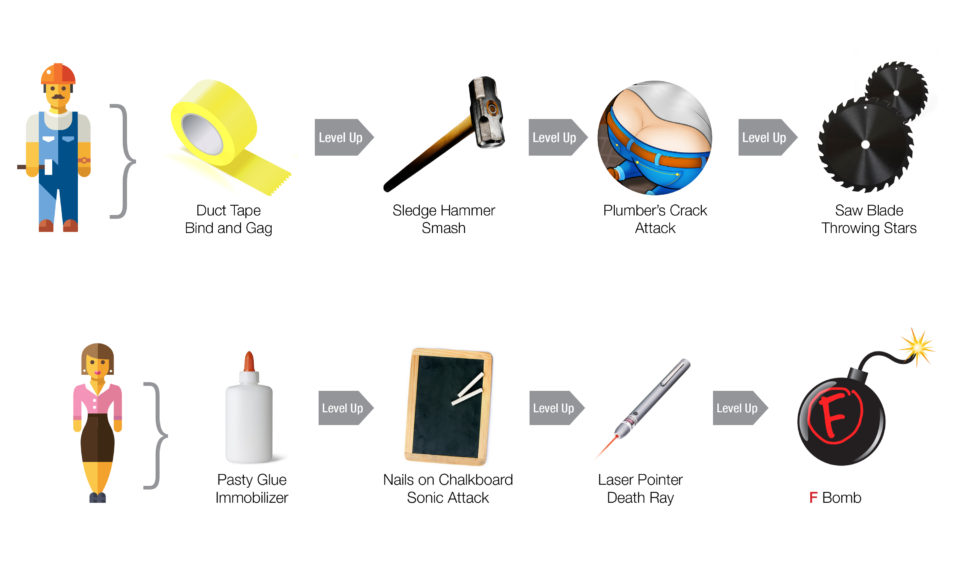 That's all good, but what's the BIG idea?
Getting to the big idea often starts with these questions:
• How do we make a good idea even better?
• How can we make it stand out?
• Innovative? Something that makes people go "Wow!".
Finding the answer began with connecting the dots. And once we recognized the game, the device, and the ride itself as common components of a singular experience, the idea jumped out at us. And it's a game-changer. Ha, see what I did there? I routinely check my phone for estimates of how long the rides will be. The phone knows. It learned my commute from daily algorithms, and tells me if there are delays and why.
AHA!
This marvel, this wizardry, this omniscient device would already be in the hands of players. And being so much more than a controller, integrating its capabilities directly into on-the-go gameplay seemed like a natural fit. The result is that existing smartphone features – such as location services, time, weather, and traffic reports – are fed into the game to provide a truly unique experience every time it's played.
Initially, the Weather.gov and Microsoft Bing Traffic API in their free tier will be used, which allows for 10,000 connections per day at a rate of five connections per second. Battles rage as the game's engines process the real-time data, and respond with varied outcomes between the commuter's geo-hotspots. For instance, background graphics reflect the current weather and if it's day or night. Stop-and-go traffic causes characters to become carsick and fill the bus with vomit. And sharp turns make avatars lose balance and fall down in the aisle.

The learning curve
Still in its inception stages, Bus Beat Down is our maiden project, and a crowdfunding effort will launch July 17th, 2017 on Kickstarter.
While the concept is fleshed out, and graphic styles are well under way, there's still a lot for us to learn about bringing the game to life. For now, it's a matter of partnering with the right talent and techies. We explored some options, and should the project be successfully funded, All Things Media of Mahwah, NJ will be tapped and named agency of record for their award-winning combination of tech and creative services. ATM, a well-established digital development firm, boasts a client roster that includes companies like Nickelodeon, Hasbro, and McGraw Hill Education.
The next stage unfolds as the Bus Beat Down team provides direction with a keenly open ear to ATM's expertise. As obstacles arise, the teams will collaborate on solutions based on best practices, while maintaining the integrity of the concept.
Come along for the ride
We'll be posting updates about our progress, successes, and what we learn from the mistakes made along the way. Please follow along on Facebook and Twitter. Contact Mike McCann by email at mmccann@goroundgames.com. If you'd like to learn more, visit the advance preview where our project and business plan are presented in greater detail.
---
Mike McCann, Kevin Caley, Jack Patrick, and Janemarie Salamone, are the co-creators of Bus Beat Down. Mike is a seasoned creative director with nearly two decades of experience in advertising and marketing. His strengths are in concept development and design. The two young partners and longtime gamers, Kevin Caley and Jack Patrick, are currently students majoring in the fields of engineering and actuarial science, respectively. They bring to the table their firsthand knowledge of what will engage and entertain; providing invaluable insights that spurred the completion of a fully polished presentation with detailed story from a cocktail napkin concept. Janemarie Salamone, a freelance consultant, was quick to see the potential in making a collection of Mike's never ending tales of maddening commutes. She was a strong advocate of video games as the platform to best bring this saga to life.
Comments
Industry Contributions