Elad Drory: Ideas Are Everywhere | Casual Connect Video
'A free-to-play game needs to be endless… Players need to be able to play it constantly.'–Elad Drory
Click To Tweet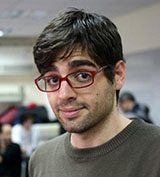 How do you design for the challenges of a free-to-play game? Starting off with a solid, scalable foundation is essential, as illustrated by Elad Drory in his Casual Connect Tel Aviv lecture. "Don't do things that are gimmicky or things that will get old after one or two times," Elad said. "Things that rely on humor or surprise — not really going to work for a free-to-play game." For more tips on what does work in the F2P market, see Elad's entire session below.
Elad Drory has been working as a game designer at TabTale since January, working on casual and mid-core games for more than 40 million monthly active users. Before coming to TabTale, Elad spent four years working at Side-Kick, first in QA, then in production, and finally as a game designer. During his time as lead designer at Side-Kick, Elad designed games for major publishers, including DeNA, Disney and Rovio. But then came the feeling that it was time to move to a new company to leverage current experience and learn new things, and TabTale, a large, successful developer and publisher, seemed the right place to do that. Today Elad is certain this was the right decision, considering all they have been learning as a designer and studio manager.
A Wonderful Twist of Fate
The career in gaming has been a wonderful twist of fate and a welcome challenge to keep working on to make even better. But Elad admits, "The amount of games I played might have been a hint."
Elad is a creative person who has enjoyed games since childhood. Elad also enjoyed reading and creative writing, so becoming a game designer, where there are opportunities tell stories and craft experiences, was a natural progression.
In spite of a longtime love of games, Elad didn't expect to end up in the game industry. The career in gaming has been a wonderful twist of fate and a welcome challenge to keep working on to make even better. But Elad admits, "The amount of games I played might have been a hint."
Elad first became interested in creating original gaming experiences through playing Dungeons and Dragons. At age 12 Elad joined an Advanced Dungeons and Dragons group for the first time and has been playing ever since, as a teen filling the role of Dungeon Master and running games in online forums.
Elad's free time is still filled with gaming on any platform: mobile, PC, consoles, as well as board games with friends and as regular D&D sessions with the wife as DM. But occasionally Elad does make time for hiking and climbing.
Inspiration and Creation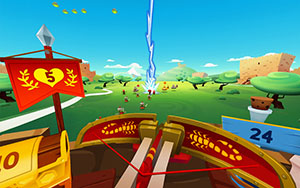 Elad's creative process varies depending on current projects. Games Elad's recently been enjoying form a good jumping off point, and what gestures might be fun are next for consideration. That's followed by imagining the bare mechanics and finding a theme to fit them. Ideas for themes and stories are everywhere — books, movies, perhaps TV.
He reveals, "The coolest inspiration I had was for a small GGJ game I did called 'Keep Calm.'  The theme that year was a heartbeat and it reminded me of a drummer friend who had explained the concept of polyrhythmic drumming a few weeks before. It's super-challenging because each hand needs to maintain a different rhythm. So I translated that into the game mechanic — one hand needs to maintain a strong, steady heartbeat to keep the avatar's courage up (shown by a shining light emanating from the avatar); the other hand has to tap quickly to move around and drive back the shadows.
Elad's dream game, one created without limitations of resources or time, would draw on a childhood attachment to dragons and fascination with dinosaurs. It would be an epic fantasy game with the player training and riding dragons and engaging in both multiplayer aerial combat and melee combat on the ground.
Building Excitement in the Team
Getting vision across is what Elad considers the most difficult aspect of game development, especially in a way that gets the team excited and able to realize the vision. Elad does this by listening to the team and their ideas and getting everyone working on iterating and improving. The next challenge follows: maintaining the coherency and style of the core concept while making changes.
When creative blocks occur Elad finds it helpful to talk with others around the office and help with their problems, whether these are creative problems, design problems, or something else. Stepping aside in this way allows Elad to look at the work from a fresh perspective.

When People Connect With the Game
It is particularly exciting for Elad to see a new game in people's hands. Elad admits playtesting is a terrifying experience, "like giving your baby to someone to hold," but it is also wonderful to see people connect to the game and experience the challenges, frustration and fun. Elad also enjoys reading the reviews, simply because Elad make games for people to enjoy.
Elad admits playtesting is a terrifying experience, "like giving your baby to someone to hold."
Elad loves to write puns and references, usually just for personal enjoyment. But in a recent review of Cheating Tom 2, Elad was excited when one reviewer noticed the wordplay. And, of course, Elad also enjoyed the millions of happy users and thousands of excellent reviews with a 4.5 star average rating.
Elad strongly believes virtual reality will be an important trend in the future of the game industry, expecting it to explode within the next couple of years. TabTale is now planning exciting titles that will push the boundaries of interactivity and immersion.
To someone interested in a career in game development, Elad advises that playing lots of games and loving them isn't enough. Rather, it is essential to become involved in game production in any way possible; which particular aspect isn't important. The difference between playing games and creating games will be quickly revealed. Elad also suggests creating card games or board games or running D&D games.
Comments
Catherine Quinton
Catherine Quinton is a staff writer for www.gamesauce.org. Catherine loves her hobby farm, long walks in the country and reading great novels.