A Peak Into the Indie Games at This Year's INDIGO Showcase
By Amir-Esmaeil Bozorgzadeh, Virtuleap
About 40 indie games were lined up on September 27th to flocks of visitors at the Tivoli Vredenburg music complex in Utrecht, the Netherlands. The 7th edition of the INDIGO Showcase included an international mix of games ranging from prototypes to fully completed, retro 2D arcade to deeply immersive VR simulations, with experimental and applied-research nearly always at the fore.
The annual games exhibition is run by the Dutch Game Garden (partnered with Casual Connect), an incubator funded by the city and province of Utrecht to create employment and economic growth by stimulating the games industry in the Netherlands. Utrecht has quickly become known as the games capital of the country as a result.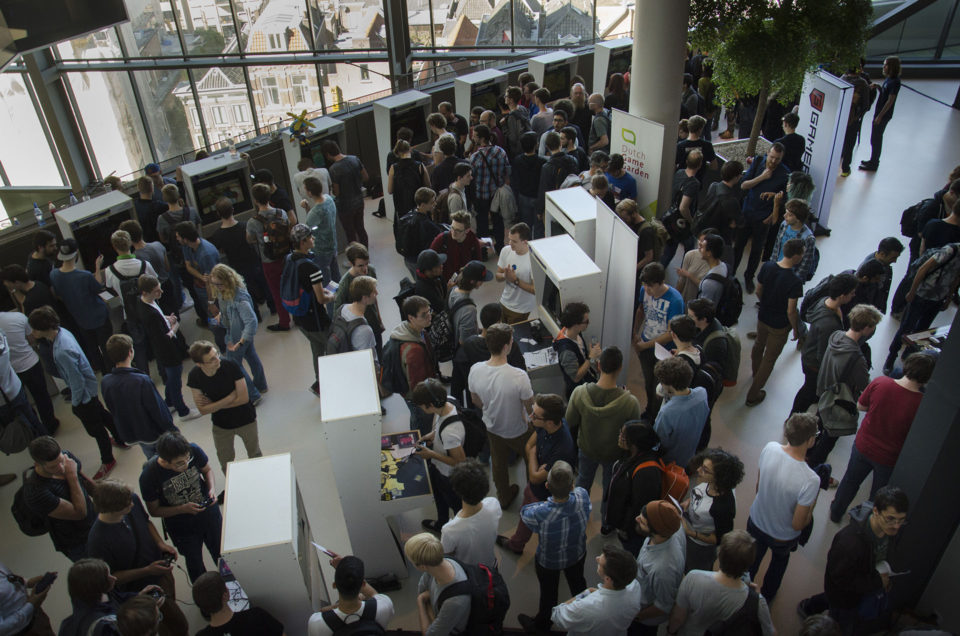 A total of 110 titles were submitted this year and 38 were accepted to exhibit at the Dutch games exhibition. The organizers in fact decided to widen the eligibility criteria this year to include international studios, which ended up representing one-third of the final lineup.
Here's a taste of the featured games:
Deliver Us The Moon by Keoken Interactive is set in the not too distant future, where humanity has finally depleted the earth's resources and a lone astronaut has to venture out on a do-or-die mission to save the day.
"The concept was invented by my brother, Paul, about a "Moon Man" living on the moon alone without any human life around him." Koen Deetman, Co-Founder and Game Director at Keoken Interactive, told me. "We took big inspirations from Stanley Kubrick's 2001: A Space Odyssey, Duncan Jones's Moon, and Nolan's Interstellar."
To achieve the kind of reality that could be coupled with fun gameplay elements, the team had to take a closer at the physics involved as well as interview real-world Astronauts to create an environment that included the right kind of realism that could be coupled with fun gameplay elements. They raised 100K euros on Kickstarter back in February and are in serious talks with Triple-A publishers.
Next up is Herald by Wispfire, a choice-driven adventure game about 19th-century colonialism. As a player, you step into the shoes of a character that has to navigate the seas while preserving the peace, making difficult choices all the way as the crew voyage out into an unfolding mystery and drama.
Most of the gameplay takes place on-board a ship, which was fashioned by research, like visiting a multitude of old museum ships from the 18th and 19th century, like the Cutty Sark in Greenwich, the SS Great Brittain in Bristol, de Stad Amsterdam in Amsterdam and De Buffel in Hellevoetsluis. They were all photographed extensively in order to re-create the look and feel of a 19th century trading ship.
"We want to tell a story about a topic and inspire people to think about the world in a different way." Roy van der Schilden, Co-founder, Writer, and Business Director at Wispfire, told me. "The aim is to create empathy and increase understanding of the sometimes complex structures that underline our world."
Active Cues by Tovertafel, on the other hand, is bringing games to an entirely different and niche audience: the elderly. It is an entire platform that includes its own device, geared up with a projector, sensors, and a variety of specially made computer hardware. Its growing library of games is developed and designed to activate and empower those beset by severe states of dementia.
Each game is projected from above a tabletop and is playable through simple hand gestures that make the experience fun and social. The studio is in fact currently the fastest growing scale-up at the Dutch Game Garden.
"It still gives me shivers when I see an old person playing with our Tovertafel and seeing them almost transforming." Sjoerd Wennekes, Strategist and Evangelist at Active Cues for Tovertafel, told me. "From a silent person just sitting in a chair with a vague look in their eyes, to an enthusiastic laughing actively playing person. It's just great to see that games can do so much more than only entertainment. When designed properly they can help people!"
Unexplored by Ludomotion is a funny but dangerous dungeon crawler, featuring real-time gameplay and brand new dungeon generation technology that churns out procedurally generated content. They've raised 50K euros from a cultural game fund to develop the ambitious RPG, which is now available in Early Access on Steam.
"Games that generate their own levels have been a long standing interest of mine." Joris Dormans, the Lead Designer at Ludomotion and a lecturer at the humanities department at Leiden University, told me.
Dorman is active in the international content generation research community and has put into play applied-research techniques developed for linguistics and computer science including formal transformational grammar, language engineering, design pattern research, and model-driven engineering, into the fundamental game design.
---
Amir-Esmaeil Bozorgzadeh is the co-founder at Virtuleap, a sandbox for creative developers to showcase their VR concepts to the world. He is the European Partner at Edoramedia, a games publisher and digital agency with its headquarters in Dubai.
Comments
Industry Contributions