How Studio Roqovan Used GameSparks to Build its Free-to-play Vision for Debut Console-VR Game
By GameSparks
It may still be in the early days, but with a worldwide launch day sellout, Playstation VR might just be the Virtual Reality breakthrough that the games industry has long been hoping for. But worldwide adoption of this futuristic technology will only happen if the games live up to the expectations set by Sony and others. That's where World War Toons comes in; it's the first major title from Studio Roqovan, formally known as Reload Studios and staffed by Call of Duty veterans and Disney animators. It's also one of the first console VR-compatible games to be built around a free-to-play mechanic.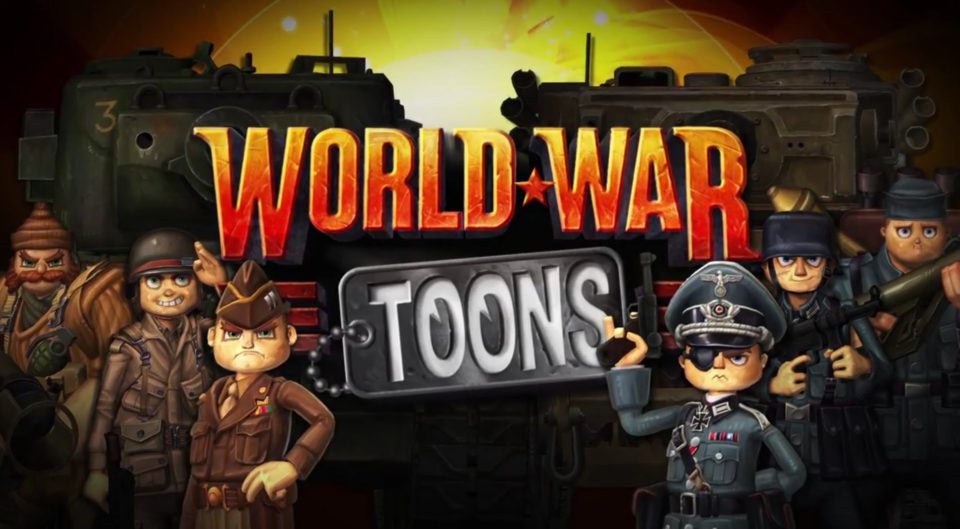 The team describes World War Toons as a 'laugh-out-loud, bullet-ridden, first person shooter and tank combat game'. With many of the PSVR launch titles consisting of a mixture of bulked-up demos or an existing game refashioned for VR, Roqovan CEO James Chung understood that there was a window of opportunity to bring a leading-edge experience to the market. Many of these studios have dipped their toes into VR but are also risk-averse and waiting to see what the real appetite for VR games will be. That led Roqovan to jump in head first, offering players of all ages the opportunity to have fun in a playable cartoon, while still providing a core gameplay experience that would be familiar to any FPS fan.
Aside from the look and feel of the game, which takes many of the clichés of the FPS genre and turns them on their head, making World War Toons a free-to-play game is where it stands out from the crowd. One of the advantages of going with the F2P approach is that instead of packaging up and shipping a finished product, Roqovan can continue to introduce new content well after launch.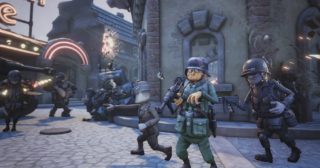 As a relatively new studio, the growing team at Roqovan dedicated a huge amount of time and effort into building systems for distributing content to players. They could have sunk even more time and talent into creating a custom system, from the ground up, for dealing with the backend processes of World War Toons. After all, it was a critical part of the game. But to make the best use of internal resources, they decided to work with GameSparks' backend-as-a-service platform, as a way to implement the server-side features, without having to set up and run a server themselves.
As Brian Allen, Product Manager for World War Toons from Roqovan told us, "We evaluated several providers for backend services and are very happy we chose to work with Gamesparks. They provided constant professional support during our development and a rich feature set for our backend development, including important quality of life things like being able to set breakpoints at different levels of cloud code. We were also very happy with the server-side test harness they provide for testing the output of different functions such as opening loot packs, leveling up characters, and completing daily challenges without having to test from a client. There is no way we would have been able to meet our launch date trying to roll our own servers and build this functionality ourselves, so we are very grateful to have a partner in developing World War Toons as professional and supportive as GameSparks."
The decision to use a ready-made platform as opposed to building their own backend has freed Roqovan to focus on creating the incredible animations and a seamless VR experience. According to Griffin Parry at GameSparks, "the platform is well proven, technically robust, and inherently flexible, giving the guys at Roqovan an end-to-end tool that is trusted to deal with all of the server-side communications, and is also elastic enough to facilitate their original and imaginative approach to F2P multiplayer gaming."
The Debate Around F2P
For many developers, the discussion around F2P is a difficult one. While the use of F2P mechanics has created huge successes on mobile and in browser-based games, the use of in-game transactions on console is seen as sensitive subject by some. For Studio Roqovan, the decision was more about the game design options that F2P allows, rather than the revenue model that it offers.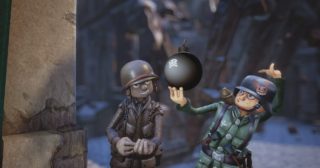 Typically, F2P games combine one or more meta-game loops that control access to items, materials or actions within the game. Games which use F2P will usually then offer gamers the ability to suspend or subvert these game loops through some kind of in-game purchase. In the case of World War Toons, coins that unlock items are earned through regular gameplay, or more specifically, through completing challenges, playing matches and leveling up. For players who want to; another currency type, Loonies, can be purchased for real money.
Studio Roqovan built upon the classic F2P mechanic by creating a custom crate system. Players looking to get a variety of cool skins, characters, hats, and more, can use either coins or Loonies to purchase differently tiered crates of items. The private, sergeant and major crates all contain a random mix of tanks, characters and mods. Studio Roqovan used GameSparks' backend cloud code feature to develop their own randomization system for distributing content.
"When it came to the in-game items, there were very specific requirements that we needed to deliver that were different to the kinds of F2P games we already support on mobile," says Sean Durkan. "If a gamer decides to purchase then it's simply a defined item, which alters their inventory.
The inventory management system allows for assigning different rarities to each item—labeling some as common and some as legendary. To control all of this, we built a new inventory management screen so that the Roqovan team could quickly make adjustments, as well as plan and schedule things such as seasonal promotions or limited offers, linking it all back to the in-game storefront."
Another ability borrowed from F2P games is running seasonal or limited promotions as a way of keeping the player community engaged and the game fresh.
"For the game's core balance between characters and weapons, which is separate from the F2P System, GameSparks has additional benefits." Said Brian Allen, Product Manager World War Toons, "By allowing the developers to tweak values of character damage, abilities, and weapon characteristics—they have the tools to update things on the fly and react to the game's evolving meta.
In all, GameSparks worked with Roqovan for almost a year to build and integrate the server-side aspects of the game. The biggest lessons learned? "By far the biggest learning for us was the depth of analytics and control that the team at Roqovan needed," says GameSparks Client Engineer, Sean Durkan. "Being able to track very specific information about player behaviours, transaction data plus all the granular information around the weapons, items and attributes. But it was never too daunting, as Roqovan is an experienced team full of talented folks, and right from the start, they had a clear idea of what they wanted. The result isn't just a great game in World War Toons. This project has helped the team at GameSparks build out new features that ultimately improves the platform for all our developers."
Comments
Industry Contributions