Kamil Orman-Janowski: Composing the Path of Exile
Kamil Orman-Janowski is a composer who has provided music to games such as Warplane Legends, Beyond Space and Isleron: The Rending. Probably his most famous works at this point, however, have been to Path of Exile and its various expansions.
"My vision of music for Path of Exile is still evolving, but there are some major sources of inspiration," said Kamil. "I try to find proper balance between music from games such as Diablo 1-2 and movies or TV shows with similar setting. I'm always looking for something dark, ethereal, deep, sometimes weird and strange but at the same time epic and noble, so it's mostly fusion of symphony orchestra, guitars, ethnic and many experimental instruments."
In addition to providing music for the main game Path of Exile, Kamil has also scored four expansions: Breach, Atlas of World, Ascendancy, and Awakening. When asked how he approaches keeping similar themes while still mixing things up, Kamil said, "I know it could be considered improper or unusual, but I didn't take too much inspiration from tracks which were made by previous composers. Once I started scoring to some location in act III and to the almost entire act IV, I tried to bring different point of view for instruments and themes. So I built my own 'base' of themes and sounds and I am still building it. Now when I am working on every single piece of music for Path of Exile I try to keep some elements for every future music but also every new content has something different. Usually, I tend to write new themes for a new expansion and make some signature sounds."
Out of a Trance
Kamil says that around the age of 18, he composed his first music track. While that was originally just for fun, he later shifted over to EDM music and was contacted by a British music label. "From making house/trance music, I learned basic things like making simple rhythms and melodies in addition to how to produce music from scratch to the final polishing. Also I learned how to use synthetic instruments which is still very important in my compositions, even if orchestra takes the major role," detailed Kamil. "I can make trance electronic track as a soundtrack composer, but I can't make 7/8 orchestral blockbuster as EDM producer! Soundtracks contains all genres, and you score for incredible images. For me, it's way more exciting."
It wasn't until a few years later, that Kamil truly moved towards his real passion: music for video games. "Sometimes I regret that it took so long to realize that it's the right direction," said Kamil. "I was afraid I couldn't be a composer without the right education, but I felt trapped in limitations of EDM and the labels' expectation, so I decided to give it a try and made five different tracks as portfolio and I took part in indie project called Mindworld. After a few months, I got my first paid job on Polish RPG browser game called The Pride of Taern."
"I always paid more attention to music in both games and movies," he added. "Sometimes I could even enjoy an average game, as long as it had a great soundtrack. However, there was no playing on instruments or special music education during my childhood. I've started learning composition and music production very late and on my own. I was always an autodidact."
Sometimes I could even enjoy an average game, as long as it had a great soundtrack. – Kamil Orman-Janowski
Patience and hard work were the suggestions for others trying to be video game music composers. "There are so many composers these days and many of them work mostly for free, so do your best and respect your work," said Kamil. "If you want to work for free at the beginning to get some credit to build a portfolio, that's fine, but find someone who can't pay anyway, some indie project to get first experience, as working for free for the long period of time and trying to get everywhere just for credit not only lowers value of being music composer but also gives you a bad rep. Quality comes with price.
"What I love about this job is the pure creation process and emphasizing emotions by music. Also feedback – it gives so much satisfaction to know that someone not only enjoys the visual part of game/trailer but also gets better immersion because of my music," Kamil continued. "I was really proud of my first orchestral track, which led me to the first project. Also feedback from the music to Awakening expansion (Path of Exile). I had a few moments in my 'previous' career as trance/house producer, like presence of my music at  Armin Van Burren, Above & Beyonds and many other playlists. I hope it's just the beginning."
Sci-Fi/Fantasy Roots
There's a growing fraternity of video game composers from Poland, including Arkadiusz Reikowski. When asked about this rise, Kamil had a few reasons for why it might be.
"Definitely one of them is the fact that Polish gamedev is growing very fast and studios like CDP Red or Techland are a great example that we can be successful worldwide and every single success inspires and pushes young people to making games," said Kamil. "We have not only a big gaming community but also many players who love to listen to game music. We have big events with music from games and movies, which are becoming more and more popular in Poland, so there is a lot of inspiration."
While he likes physical activities like bike riding and tennis, Kamil is also a fan of cinema and gaming, naturally. It is perhaps unsurprising then that Kamil himself has been inspired by various works of high-fantasy and science-fiction given what he works on now.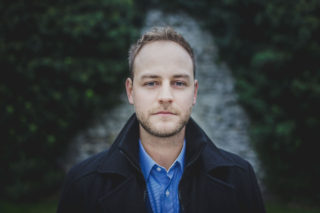 "Sci-fi and fantasy are my roots from childhood. I'm not the kind of gamer who tends to spend countless hours on FIFA, GTA or some kind of car racing game – same with movies and books. You can't visit Mordor or be a commander at Normandy in real life, but you can play football or drive a car," he said, smiling. "
Also scoring to fiction gives you more flexibility and allows for increasing the scale of emotional 'colors' in music and makes it much larger than life. The word 'epic' is overused these days, but yes, I'm a fan of epic music but it's not a rule."
"Many of different styles and game types attract me. For example, I wish to compose for some kind of cyberpunk game like Deus Ex. On the other hand, I feel very good at all fantasy styles, from dark to 'high'. Maybe a modern warfare and with military operations and spies would be interesting," Kamil continued. "Regarding to game type… I see pros and cons from scoring for games like action RPGs which are more focused on gameplay and for action/adventure type where story and cutscenes take an important role. I love both of them!"
Getting Lost in the Possibilities
Starting a composition typically begins with a simple picture or just a single note on instruments that can be used. Other soundtracks are also inspirations, but Kamil notes that other genres can be helpful as well.
"Usually a good melody is the key, but sometimes I start with drums or some specific instrument," detailed Kamil. "The way I organize my work depends on the project itself and the nature of the requested composition. I have a different approach to the large soundtracks and to trailers. For work which requires a longer period of time, I have to plan everything – write some themes, prepare some templates, specific sounds. For single and independent tracks, I can be much more spontaneous. But I prefer order – great ideas often come from chaos but then, big mess can extend work time and kill inspiration."
Great ideas often come from chaos but then, big mess can extend work time and kill inspiration. – Kamil Orman-Janowski
"It's easy to get lost in possibilities," he added. "I mean, these days composers have almost unlimited amount of tools to create music, so it's very important and occasionally hard to stick to the one direction. The most rewarding part is the moment when I enjoy my own music, maybe because it's quite rare for me. I always feel like there are still so many things to improve!"
Because of the breadth of potential paths, creative blocks can happen. Kamil uses a couple different methods, preferring not to sit around and trying to wait out the situation. "I always need some sports activity after or before work. Just taking a short walk can help as well," Kamil noted. "Another idea is to switch between projects. Dealing with only one track all day is far less effective."
"Taking too many projects at once can kill the fun of working and the dream job temporarily becomes a nightmare until you have dealt with the deadlines," he added.
On the Right Path
Looking to the future, Kamil is very happy with the way that music is evolving for games. According to him, the industry is headed in the right direction.
"More immersive sound effects; more complex, interesting and interactive soundtracks, better and more experienced voice actors," said Kamil. "Sometimes, I see some issues in specific games made by big companies, but I would not say that's related to current trends. It's more like ruining a great franchise by paying less attention to the music, but it's only my point of view as a composer.
"Currently access to making good sounding orchestral tracks is so easy. I mean sound quality, not quality of compositions. So I will not be surprised if high saturation of generic copy and paste orchestral tracks affects trends in soundtracks in next couple of years. The question is how? We had a rash of very strange indie games because of AAA games started to be boring for a percentage of gamers. Same with music. But I believe it's like a cycle of seasons – we can be tired of winter as well as of summer. Too much of anything can be boring, no matter how good it is."
Too much of anything can be boring, no matter how good it is. – Kamil Orman-Janowski
When prompted about what he'd suggest for game developers to say to composers, Kamil said, "Don't be afraid to describe, no matter if you know what a French horn or cello is or not, for example. Sooner or later everyone will find a common ground. Lack of information is disinformation."
When asked for advice for other game composers, Kamil had some heartfelt suggestions. "Be sure that you score for the game, not for yourself. Of course, it's important to keep a spark of yourself in every single track, but not too much. Imagining instruments as colors may be useful. Overall, the key is to ask yourself what you need to achieve and how to do it. Take your time. Setting the right course at the beginning may save a lot of time later," he concluded.
Comments
David Radd
David Radd is a staff writer for GameSauce.biz. David loves playing video games about as much as he enjoys writing about them, martial arts and composing his own novels.