Anucha Aribarg: Making Things Pixel Perfex
Anucha Aribarg of Pixel Perfex is the lead designer for Earth Atlantis. The game was given an award for graphics at the BIC Festival 2016 and was selected to show at Tokyo Game Show 2016.
"I was surprised when it happened," said Anucha. "I knew that my game art style was very 'different' but I didn't expect to win an award for Excellence in Art. I didn't even stay for the award announcement."
"When I first thought about making a game that looks like an old explorer sketchbook from 14th century, I only thought that the idea was interesting and it would be so much fun to do it." Anucha continued. "To know that people acknowledged and liked it, that was just awesome."
Anucha is part of the burgeoning Thai development community, but despite having received praise for Earth Atlantis, Anucha doesn't think they're quite large enough for others to take notice yet. "I would be humbled if people recognized my game and start looking at Thai game developers," said Anucha. "There are many excellent people here."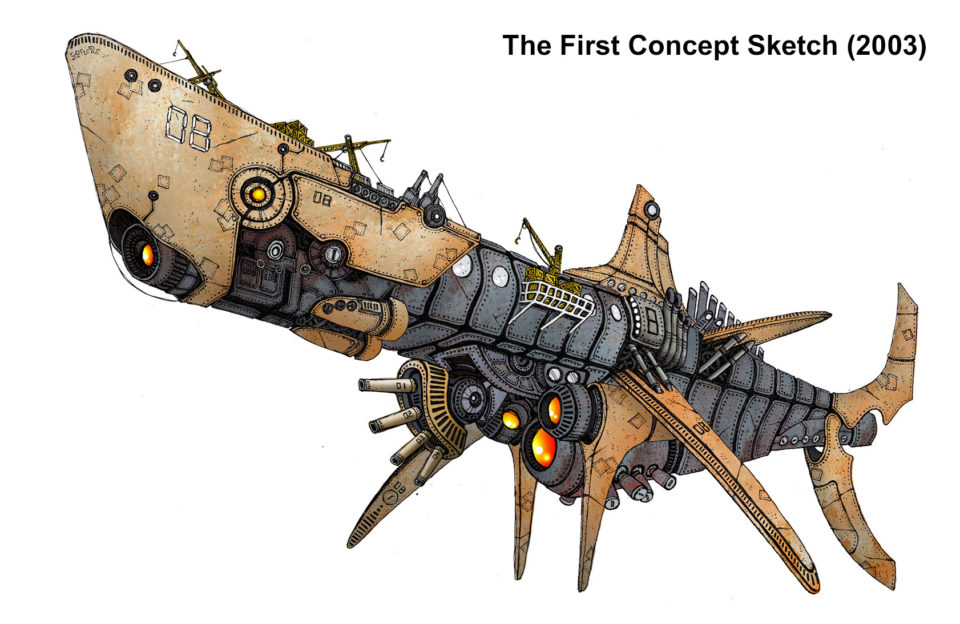 A Dozen Years in the Making
Many indie developers work on their projects for extended periods of time. However, Anucha conceived of Earth Atlantis nearly a dozen years ago, making it's conception now a realization of a longtime dream.
"I did some random sketches of a futuristic submarine and mechanic sea-monsters in 2003. A few years later, I had an idea about a retro shooting game with a sketching art style. At that time, I thought I could hand-draw everything but after I did some animation tests, I found that it was impossible to make a game that way. The project was abandoned," detailed Anucha. "Many years later, I tried to revive the project with pre-rendered CG graphics. The look was perfect but the graphic data was too big especially for a mobile game. The project put was on-hold again.
"Two years ago, when I started playing with Unity, I found that I might be able to make it happen with low-poly 3D models and a drawing-style shader," noted Anucha. "My team spent months working on many prototypes and a custom shader. Now, we are entering the final phase of the production. It was a very long journey!"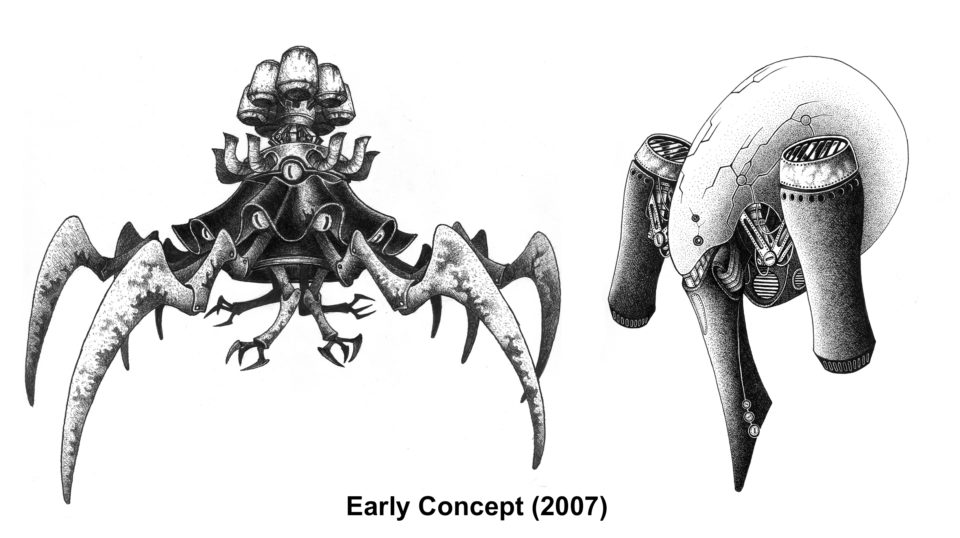 When it comes to the gameplay, Anucha says that retro space shooters were a huge influence on Earth Atlantis. "I played many classic side-scrolling shooters like Gradius and R-Type when I was young and I always wanted to create one if I had a chance. Sadly, nobody makes games that gives nostalgic feeling of these old classic games anymore," Anucha said, adding, "I also love old monster movies like 20,000 Leagues Under the Sea and Godzilla. I also found that the imaginary sea-monsters from 14th century were very fascinating. Everything came together and now I have Earth Atlantis!!"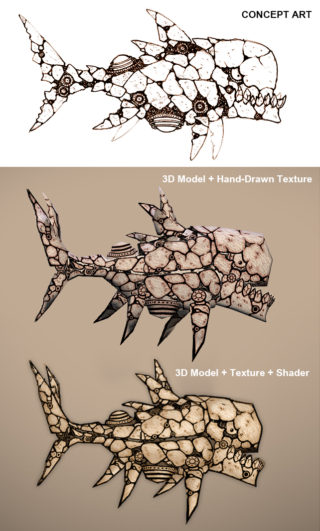 While old movies and shmups were the obvious inspirations, there's also a definite element of Monster Hunter in Earth Atlantis as well. "I have played a lot of retro shooters and I found that 'Boss Battles' were the most enjoyable part. I just want to focus on the part I enjoy the most," noted Anucha. "Also, I wanted to create a game with just one large seamless stage so a boss-hunting objective seems to be perfect for the game."
"This game is very personal to me. Besides the inspiration from old monster movies and retro shooters, I once wanted to be a paleontologist, digging for dinosaur fossils and stuff. That was the reason why many boss monsters were inspired by actual prehistoric sea-creatures," Anucha added.
The Cute Shooter
Anucha says the team tested Earth Atlantis early and often. Pixel Perfex tested then polished parts of the game, working to expand on it later.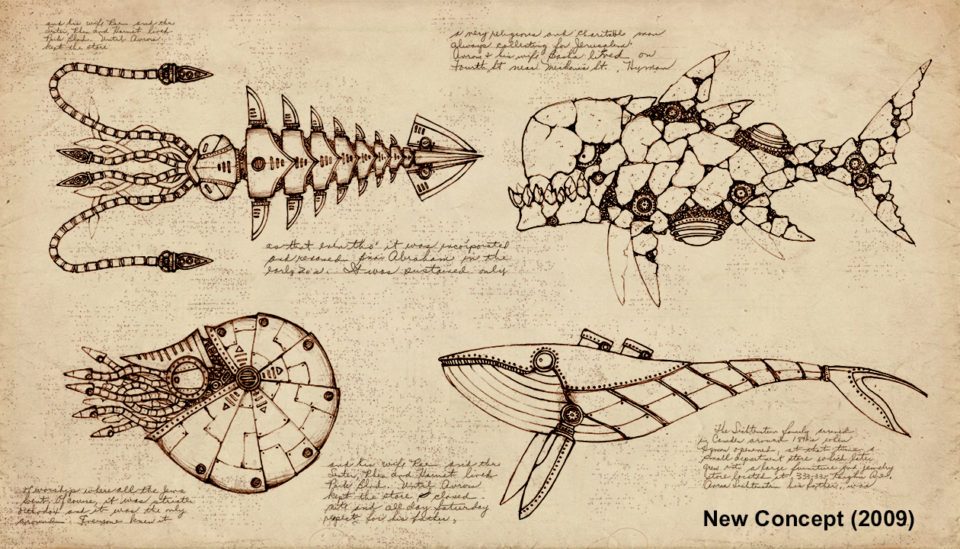 "For Earth Atlantis, we attended a number of international game festivals and received much feedback and comments directly from real users along the way which seems to be a good thing," said Anucha. "But we've learned that it is very easy to lose focus on your original ideas if we pay too much attention to user comments and their requests."
"During TGS 2016, the most interesting thing I've learned about this game was that young Japanese women really liked the graphics," Anucha related. "They even considered the graphic 'cute'.  Perhaps that is only for Japanese audience but it was still surprising for me. I always feel that the graphic style is very indie and not for mainstream audiences and especially not for young women."
On the subject of Japan, Anucha says that RPGs from that country were hugely important during their youth. If given infinite resources, Anucha would make a JRPG, particularly in the Final Fantasy mold.
"I think many Asian game developers have a very special feeling for JRPGs," said Anucha. "We all grew up with these types of games and it seems to be the ultimate goal for many of us."
Make a Game for You, Not Others
While some indie developers hear the call to make free-to-play games, Anucha is firm with making Earth Atlantis a premium game. "Perhaps, I am a bit old-school but I just don't like the idea of having players keep buying stuff or upgrades so that they can progress through a game," asserted Anucha. "We are planning to release the game on consoles first, then PC and other platforms."
Anucha hopes that Earth Atlantis will show other game developers that pursuing a idea passionately, you can do something great. That's a key part of what defines indie games, according to Anucha.
"Make a game that you, yourself really want to play, not a game for somebody else," Anucha suggested. As an indie developer, "Make a game that gives you enjoyment just by making it.  If your game turns out to be unsuccessful, at least you made a game that you love. I think that is the whole point of becoming a game developer."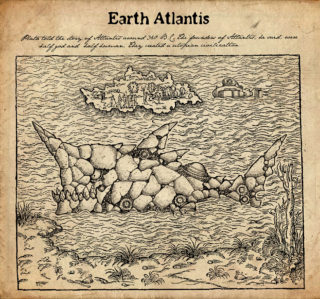 "It might not be a good suggestion for everyone but I found that when you think too much about marketing and how to please players, then your game will easily loose its appeal and originality. So, please stay true to your original idea and don't let anything distract you from it," Anucha concluded.
http://pixel-perfex.com
www.facebook.com/PixelPerfex/
Comments
David Radd
David Radd is a staff writer for GameSauce.biz. David loves playing video games about as much as he enjoys writing about them, martial arts and composing his own novels.