The Long Reach: Never Trust A Purple-Green Cute Sheep
Painted Black Games is a young Ukrainian mini-studio. There are five of them,  and they're making their first game – a philosophic sci-fi thriller-adventure, The Long Reach. The team has changed many times since 2015 when it all started. It didn't mess up the process – on the contrary, everyone who has contributed to the game, brought their unique view and made it better.
As the developers were writing the story, the lights at their office went out. "We're in pitch darkness and –  I'm not sure, but I think something is scratching at our door", says Roman Tomilin, the producer and programmer, as he shares the game development story.
---
Failure As Kickstart
The start of Painted Black Games studio wasn't an accident, but the only logical outcome of people passionate about creating games meeting each other. My personal path of gamedev started when I first played the brand-new Doom 3. Prowling those dark and gloomy passages, pale from tension and fear, I thought: "Oh, Gosh, I'm gonna make games". Subsequently, I've been coming a long way of tries and fails. Damn, I've even been writing my own C++ game engine – an experience that taught me a lot, but utterly useless in terms of gamedev.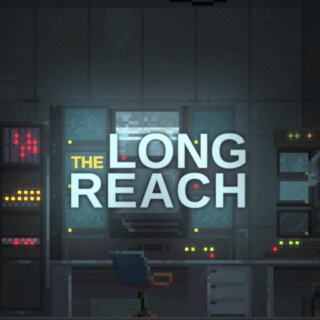 My first real failure was a mobile game I was making four years ago as a part of a team, where I was the only coder. This game was something in between strategy, tower defense, farm, and something else that still doesn't have a name. We've been making this game for two years. Entirely unsuccessful as a result. Honestly, I'm still convinced we have taken a project too innovative for that time. The bone turned out to be too tough for us.
That failure was really vital for my career. I made sure about my desire to make games no matter what. And then I decided to make an adventure – a short, emotionally charged game with exciting and thrilling plot and, the last but not least, a game that not only users would enjoy playing, but my team and I would enjoy making. Well, to be totally truthful, I also thought that creating an adventure is a piece of cake. What an idiot! Nevertheless, it was the start of Painted Black Games and The Long Reach.
I thought that creating an adventure is a piece of cake. What an idiot!
Band of Brothers (and a Sister, Actually)
So, I built a team. The first and the most important step on this way was meeting game designer Alex Protasenya. He isn't on board anymore but is still our key and honorary team member. It was him who introduced me to people, who made (and still makes) a huge contribution toThe Long Reach, to its conception, plot and look. Alex introduced me to Lithuanian artist Arvydas Brazdeikis, who developed The Long Reach's style. Later, his work was amplified by our current artist – Alina Berdnik. She multiplied Arvydas' work and breathed a unique atmosphere intoThe Long Reach.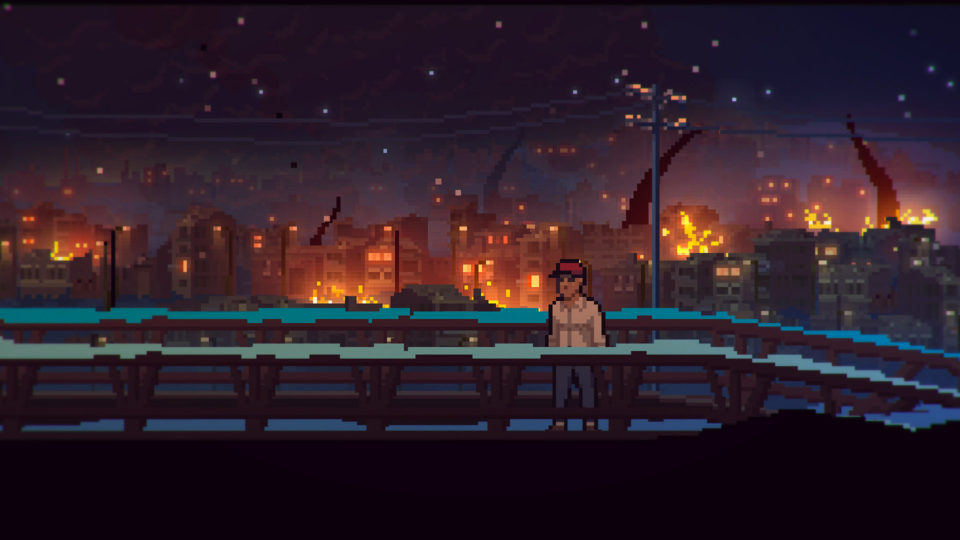 Then I met our composer Ruslan Viter. He is an absolutely freaking dude. I mean he is a real music maniac. Day by day he brings strange things into the studio and turns them into some special pieces of music. We don't really understand what he's doing, but his work has results that are hard to overestimate.
Finally, I was introduced to our narrative designer and writer Evgeni Puzankov. Evgeni just took the fragments of ideas, circling chaotically in my head, and made an awesomely badass coherent plot.
"We don't really understand what he's doing, but his work has results that are hard to overestimate."
The Story Of Progress And Consequence
We wanted to make a meaningful game for the gamers, so that after completing it they'd breathe out: "Wow, I should think it over!" – instead of rushing to the fridge to take some snacks.
It's hard to list all sources of our inspiration. We've taken something from Matrix, a little from Resident Evil and The Long Survival. We've been inspired by The Last Door, True Detective, Fargo, etc. We've taken a couple of ideas from some of the famous space operas (you ask, what do the operas have to do with it? Well, I won't turn up all our trumps). Our narrative designer Evgeni turned all of those thoughts and ideas into a powerful philosophical symphony.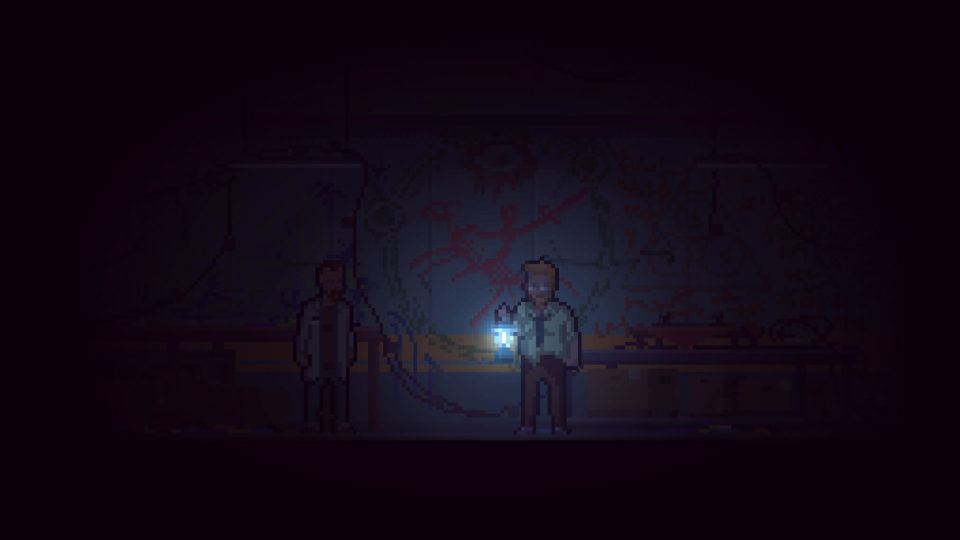 In a nutshell, the idea of The Long Reach game is that any progress indirectly leads to unexpected consequences. The consequences that can be terrible. Really terrible.
Another thing we wanted was to spice up all this pitch darkness we gave birth to with a little humor. Maybe dark and rude, but humor is important as it's a vital self-defense instrument for the nightmares humanity is facing.
Humor is a vital self-defense instrument for the nightmares humanity is facing.
All The Way from Mobile
Throughout the making, The Long Reach has undergone a lot of changes. Here are probably the most important ones.
Mobile or not mobile? It's hard to believe now, but The Long Reach was conceived as a mobile game. It was real pangs of choice. We've remodeled the controls system three times! From touchscreen model, we switched to keyboard and mouse with the classic point-n-click system. Then we gave up on the mouse and moved it all to just the keyboard. This made it possible for our game to support a gamepad.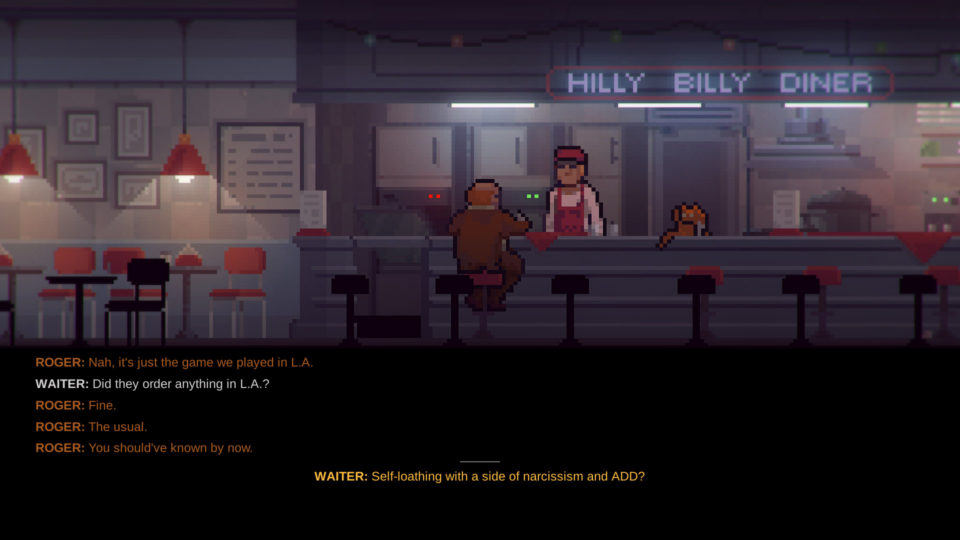 Hey, let's start over! We started with a certain framework I won't tell you about because we abandoned it and moved to Unity. You ask why? The answer's easy: with Unity we've made the same piece of a game in a bit more than a month while with the previous framework it took half a year!
The Long Gear Solid. Alright, I'll share with you a huge secret! Initially, we intended to combine two game modes in The Long Reach: 2D-side for quests and top-view for stealth mode (which we wanted so much at the beginning). But, the deeper we dived into the stealth mode implementation, the less reasonable this idea seemed. Finally, we realized that instead of the WOW!-effect we would probably get WTF?!-effect. Now I see it was the right decision to give up on that stealth mode idea. So, we've settled on the 2D-side mode only. Monsters are still there, but not many, and they're a part of the puzzles now.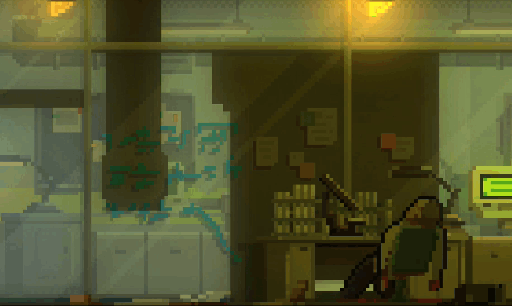 Lessons and Advice
During the two years of The Long Reach development we've been making tons of mistakes, which became important experience. There are a few pieces of advice that we want to share with all novice game developers of the world.
Trust your team. To be more specific, only choose people you can trust 100 percent.
Make sure all your team members have the same views, goals and understanding how to reach them.
Learn from mistakes. You bet the soil will be fertile.
Make everybody look through your game. You literally should force people to play it. Feedback is vital.
Attend as many conferences as possible.
Seriously, attend the freaking conferences! It's a huge experience exchange. Expand your horizons.
Start marketing as soon as possible. Sooner than we did. Much sooner than we did.
Never, for God's sake, never trust the cute purple-green sheep. This cruel animal will crush you and eat you alive.
The game is currently in development, and will likely be released in Q3, 2017, on PC, Mac, PS4, xBox and Nintendo Switch.
Comments
Industry Contributions