Guy Hasson and the Math Behind the Success of Social Slots | Casual Connect Video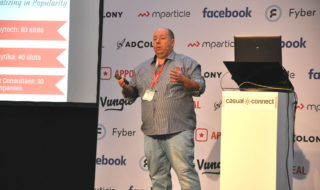 What makes a social slots game attractive to users? What are the factors that increase the chances of succeeding in this genre? Can the profitability of the game be improved? If these are questions that are important to your business, you can't do better than to listen to advice from Guy Hasson, social gaming consultant of Old Man Productions.
While working at Playtech, Guy learned everything there is to know about how to create a good slot game. At Playtika their emphasis was on analyzing how to create the most popular games. And as a consultant, Guy can show you the important factors that can help a slots game succeed. You can discover how to tremendously improve the average revenue per user, to increase the time the user will spend on machine and to boost the number of coins the user will bet, all important measures of the game's success. At Casual Connect Europe, Guy's session demonstrated the mathematical model that can lead to these results. One point that Guy emphasized was "Rate of Exhaustion (ROE) represents the game experience, RTP doesn't. If you leave here today with one thing: RTP doesn't matter. RTP is passé." To learn more, watch this video of the full session.
For more about Guy Hasson, see this exclusive article.
Comments
Catherine Quinton
Catherine Quinton is a staff writer for www.gamesauce.org. Catherine loves her hobby farm, long walks in the country and reading great novels.