Indie Prize Entries at Casual Connect USA 2017 from Australia and Asia
Casual Connect USA 2017 attracted innovative entries for the Indie Prize from Australia, the Philippines, Malaysia and two from India.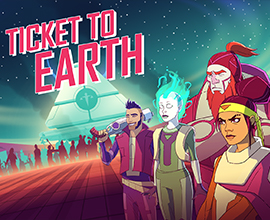 Game Title: Ticket to Earth
Developer: Robot Circus
Platform: iOS
Website: https://ticket-to-earth.com/
Country: Australia
Do you enjoy games of turn-based strategy? Tile matching puzzle games? RPGs? Ticket to Earth blends them all in a sci-fi story that takes place on a distant planet where the colony is dying. Four heroes, including leader Rose defend the colonists who have been abandoned by their masters.
Ticket to Earth was chosen by Apple to launch in the App Store as part of the Indie Campaign in March 2017.
---

Game Title: Mighty Alpha Droids
Developer: Popsicle Games
Platform: Android
Website: http://popsiclegames.com
Country: Philippines
How can you, as the Mighty Alpha Droid, save the planet from evil robots? By spelling, of course! But only if you can form words from random letter tiles. Bigger enemies can only be defeated with longer words in this game from Popsicle Games.
In March of 2017 Mighty Alpha Droids was included in the Early Access Program of Google Play:
---

Game Title: Eximius
Developer: Ammobox Studios
Platform: Desktop Win
Website: www.ammoboxstudios.com
Country: Malaysia
Eximius is a 5v5 intense squad-based combat experience. A player may choose to play as an RTS commander, building bases, training infantry squads and assigning them to players. This position manages resources and the army while supporting the ground troops. Alternatively, a player could lead an AI squad as an FPS master technician with the responsibility of keeping the squad alive and capturing territory.
Eximius has already been greenlit by the Steam community. It is currently funded by GameFounders game accelerator.
---

Game Title: GLOBE – In a State of War
Developer: Optimum Games
Platform: iOS
Website: www.optimumgames.in
Country:India
In GLOBE – In a State of War an alien invasion has occurred, breaching the space station that patrols the earth and the astronauts have all been been thrown into space. It is your task to rescue the astronauts and eliminate the threats before earth is attacked. To do that you must destroy aliens and asteroids, earn Space Dust and equip forty Mods from the Mod Workshop.
This game is an intense arcade shooter with over 40 Mods, a tier system for the Mods, hundreds of combinations and a level system for permanent upgrades. It was selected for Casual Connect Asia 2017. Development continues.
---

Game Title: Enemy Waters
Developer: TeaPOT Games
Platform: Android
Website: www.teapotgames.com
Country: India
Enemy Warships brings war in the oceans to life as you engage in a cat-and-mouse game between ships and submarines. You command a fleet against waves of the enemy. Defeat the enemy warships guarding seaports and oil wells, then expand your influence and gain better warships. Meanwhile you must be alert for traps the enemy is laying while creating traps of your own.
Enemy Warships is mid-core and mobile friendly. It has been featured by Animation Express in the category of "India's indie game prowess".
Comments
Catherine Quinton
Catherine Quinton is a staff writer for www.gamesauce.org. Catherine loves her hobby farm, long walks in the country and reading great novels.