Distortions: A Journey of Self-Discovery Through Music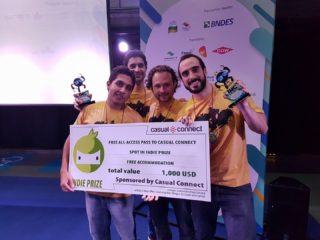 Distortions, the creation of the game studio Among Giants, is an unusual game that combines music with a journey of self-discovery in the making. CEO Thiago Girello describes the experience as "a piece of our lives during the past eight years." Among Giants is the winner of the Best Brazilian Game at BIG Festival 2017, an Indie Prize Partner event, with their game Distortions. They competed at Indie Prize and Casual Connect USA in Seattle.
A Process of Experimentation
Distortions began with a group of close friends learning to express themselves through the media of games. They shared a love for games and experimentation but each of them brought a different background, including movies, literature, design, and photography. Their variety of backgrounds had the advantage of allowing new and fresh insights into their game project. As a result, the making of Distortions was a process of experimentation and talking about subjects rarely seen in games. And throughout the eight years they never gave up on the project because making the game was always a fun time with friends, although Thiago does admit that they often say he gets too excited and should choose less ambitious projects.
Among Giants chose to focus on hard-core games quite simply because this is what they are interested in playing. As well, they feel that the mobile and casual game markets have become quite saturated while hardcore indie games are gaining ground.
It Began With the Music
Interestingly, the creation of Distortions began with the music. This is where the creative process always begins for Thiago, so before starting anything else, the team did intensive research into the kind of music the game would have and the feelings it would evoke. They wanted to make a game where everything related to the music: the mechanics, the environment, the narrative, the language.
Once the music was decided, the rest was straight forward. They took inspiration from their favorite movies and added their love of mountains and road trips. Thiago describes the game as a piece of their lives during the past eight years, adding, "It's very interesting to play the game and see how our vision evolved during all this time."
Keeping Everything Changeable
Among Giants knew from the start that this would be a huge project that they would spend years on. So their most important issue was preventing the game from becoming old to them. As well, they knew they would change over time and the game would have to change along with them, while the mechanics and visuals must not become dated.
They spent a lot of time in pre-production analyzing how to handle these issues. They purposefully left many holes in the production, not only in the narrative, but also in mechanics, concepts and pipeline production. Everything was kept as modular and changeable as possible. Their "Distortion Tools" were created especially for this purpose and to use in future projects. These tools handle the production pipeline, keeping it as modular and fast as possible.
As Among Giants envisioned the game, it was important to them that the players identify with the character as much as possible and try to put their own relationships into the game. So as they made the decisions related to design, mechanics and narrative, they created "blanking spaces" that would be filled by the players. When they began open beta testing, it was interesting to see the variety of player reactions. Some people thought the relationship in the game was that of a couple. Others thought it was a daughter and father and still others, a violin teacher and student. Thiago relates, "It was really good to see all these people putting their own relationship inside the game."
The greatest difficulty Among Giants experienced with Distortions has been publicity. The game is so unusual that many people don't understand it; the usual comfortable labels just don't fit. Among Giants has been working to reach out to them and find the game's public. They say, "It has been difficult and interesting at the same time."
People Loved It!
When, after eight years of work, Among Giants brought Distortions to the public, they had the best possible response. They showed their game at the Brazilian Independent Games Festival and the people who played, loved it! It won two prizes, one for Best Brazilian Game and one for the People's Choice Game. Thiago claims this as the greatest moment of his career, describing, "When we won, I got so happy that I started to jump like crazy on the stage and on the hosts. It was a really special moment. I'm really happy that people are actually liking our game after so much time."
When looking to the future, Thiago is betting on the niche market. Indie games are becoming very professional with a few indie AAA and premium games already. The people who grew up with games are developing more specialized preferences, creating new niches. Distortions was created for a niche market and so is the next projects coming from Among Giants.
Distortions is a game that was planned to be launched in chapters. The next chapter is already in pre-production. Among Giants also has another musical adventure game in pre-production.
Comments
Catherine Quinton
Catherine Quinton is a staff writer for www.gamesauce.org. Catherine loves her hobby farm, long walks in the country and reading great novels.