Plarium's Rise to World Domination
Plarium started out humbly enough in 2009 on Russia's social networks with only a poker game and a farming game to its name. Today they are the #1 hardcore game developer on Facebook and a major force on mobile that is continuing to grow quickly. How did Plarium get from one to the other? It all comes down to its content, its employees and its players – with a dash of marketing thrown in.

Content and Trends
Plarium became extremely popular on Russia's social networks with their games, but when they decided to take their business beyond Russia and onto Facebook, they quickly realized one of their main titles, Farmandia, couldn't compete with already established Farmville. Because of this, they instead took a strategy game of theirs that was becoming very popular in Russia and brought it over to Facebook.
We believe if you have great content the players will appreciate it. – Roman Zhdanov, Plarium
The move proved to be a major success and catapulted Plarium to the top hardcore game developer spot on Facebook. From there, Plarium expanded into web and mobile as a natural evolution from Facebook Canvas. Plarium VP of Marketing Roman Zhdanov says they didn't necessarily expect these to be big markets and were surprised when they did so well – and notes that they are still experiencing serious growth. Since its move into mobile it has become a Top 30 Grossing company in the sector.
The company uses in-app purchases (IAP) for monetization but are always careful to build the IAP system around the game rather than trying to build a game around monetization. Roman says the most important aspect of a game is simply having great content. "We believe if you have great content the players will appreciate it."
Nurturing Talent
Due to its commitment to content, Plarium continuously strives for AAA-quality games. But games are nothing without the people who make them and Plarium is well aware of this. Roman says that the success of Plarium is because of its employees, noting that they have broken through in certain markets because employees had visions for games and the company was willing to run with them.
Plarium Head of PR Deanna Dweck says that the company's management gives employees a big free hand to try things and be creative. While not every idea ends up becoming a title many do, and Plarium spends a lot of time looking to recruit talent and grow talent within the company. "It's something we invest in and it's important to us."
Player Power
Players always have an important role to play in games and – for Plarium in particular – social components are paramount. Roman notes that "you can't play our games if you're not part of a team," explaining that clans are a central part of gameplay. Going beyond gameplay, Roman says chat capabilities are incredibly important as they provide a place for players to remain engaged even when they're not playing. "People aren't just looking for fun, especially in mobile and social games."
Plarium strives to take care of its players by engaging with them on social media, having multiple customer support teams, and investing in player community infrastructure. The company hosts its own game forums with employees overseeing the chats and their customer support spans nine languages. Additionally, for advanced players who spend considerable amounts of money on their games, they provide premium support.
The company has, at times, been surprised by just how engaged players can be with their games. Roman noted one instance where a player paid people to be a part of his clan and another where a clan leader hired an army veteran to be a strategist for the clan's attack and defense tactics. Deanna added that recently a Stormfall player named their baby Amelia after one of the game's characters.
Celebrities and IP
While engaging with players and providing excellent content for players goes a long way in gaming, sometimes it takes a bit of marketing to get people looking at a game in the first place. Plarium is no stranger to this – including recent trends in celebrity appearances and the use of third-party intellectual property (IP).
Celebrities and IP can get people interested, but it won't keep them coming back.
Plarium used the likeness of Megan Fox for a tutorial character in Stormfall and they will be using Terminator IP in an upcoming 2017 game. Roman says that using celebrities and intellectual property can help "open people's minds" to new games, but that it will only get them through the front door.
Ultimately, Roman says, it is content that makes or breaks a game – noting that it is important to promote actual game content in all marketing and not build games around IP or celebrities. For instance, Roman says, Megan Fox was a natural fit for a character already built into Stormfall and the game they are releasing in 2017 was a natural fit for Terminator IP, which is why Plarium sought it out.
Additionally, it's important to manage expectations. Roman says a developer shouldn't expect a steep increase in revenue based on the use of IP or celebrities alone – but if they can afford it they should go for it.
What's Next
All the success Plarium has achieved already has admittedly left Roman a bit bemused. "When we became big in Russia, everyone said 'OK, you're big in Russia, you need to be big on Facebook.' When we became big on Facebook everyone said, 'OK you need to become big in mobile.' Now we are Top 30 Grossing and we are still growing very fast in mobile. Hopefully the next time we come to the market as a top-grossing company nobody will say, 'OK, now go VR!' or TV or whatever."
While Plarium doesn't have any plans for VR at the moment, it doesn't mean they're waving the "Mission Accomplished" banner. In fact, Roman says, 2017 is shaping up to be a jam-packed year for Plarium.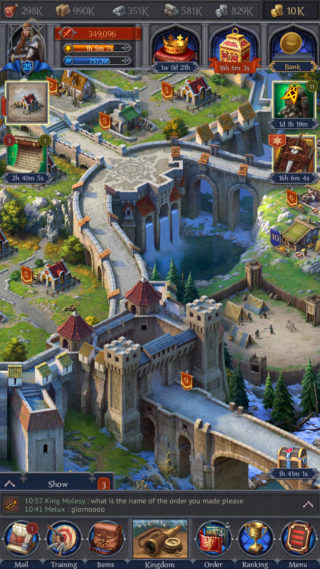 The company just recently released the first game in a new franchise: Throne: Kingdom at War – an MMO that takes place in a medieval world where players can build their own towns and armies. And over the next 12 months, consumers will see a flurry of additional game announcements as well. "The beginning of 2017 will be massively packed with announcements and then the last part of 2017 will have some very nice titles coming out as well," Roman says. "It will be intense."
Comments