Artem Savotin: Find a New Homeland in Sayri Adventure
Artem Savotin, a Ukrainian developer, is the owner of Vidloonnya Reborn. He says that he got into the IT business more than 12 years ago.
"Games and game business always were a hot theme for me. I've created my own game projects at school and in the university along with my artist friend. I was a developer," said Artem. "After graduating from the university I was working on enterprise development and outsourcing, where I went from a developer to a leader of a German IT company in Ukraine."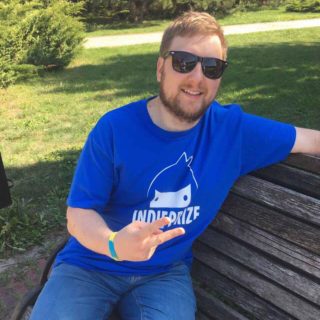 Artem says that #DevGAMM 2016 in Moscow where he really started to understand game development. "I've decided there that I want to work on premium games, not F2P, since the creation of a fully functional commercial product was closer and clearer to me," he detailed. "After the Moscow #DevGAMM in May 2016, we've started to experiment, and the first idea was based on evolution theme. The first prototype wasn't very successful, alas. We've experimented with the control methods, and that appeared to be a typical beginner's mistake, though the idea appeared to be very interesting from first sight."
Early on the development team was Artem and Vasyl. At the time, Vasyl was still working with Unity, but he was experimenting with Unreal Engine during evenings and weekends and pushed that it was much better.
"At that time I was exploring the market and noticed the amazing game Pikmin, which I've used to play on Nintendo Wii," noted Artem. "By then, LetsPlays for the 3rd part were available, and they looked much better than everything I used to see. But most importantly, I was charmed by the very idea of a game where a hero finds himself on an unexplored planet. To move forth, he was looking for Pikmin petals that he gathered around himself. The petals possessed various abilities, and helped to solve puzzles and riddles when used en masse. We became inspired by the idea and decided to try creating something similar.
"At that stage, Vasyl managed to convince me that UE4 was going to handle the objective much better than Unity – due to amazing AI and excellent NavMesh system. Thus, we've moved to UE4 and never had regretted about that yet."
They started off with a prototype with squares and circles, and there was potential. They knew, however, they needed a better game designer, artist, modeler and more.
"In September I met Vadim, who eventually became our game designer, at 4C:Kyiv. We made a deal to communicate about the game, and he agreed to help us. Vadim introduced me to his friend Victor, modeler and, as it turned out, an artist. By December 2016 we've started an active design of our game.
Our team now consists of the core people who make the game full time, and the external people who help us," said Artem. "The team core are Vasily, UE4 developer, Victor, environmental artist, new member of our team Asya, game- and level designer, and me, Artem, a game producer. There are also guys who help us with marketing, musical background, animation etc. All the external people are engaged only when needed in the form of outsourcing."
"So we've got a true indie team now, and our game has won its first prizes. In February 2017 we've won in the category 'Best UE4 game' at GTP IndieCup Winter 2017. Then we've participated in the amazing WeGame 3.0 Kiev exhibition, where we've unexpectedly won in the category 'Best indie game' and achieved a 'Indie Prize Finalist' title. Now we were able to go to Casual Connect USA 2017 in Seattle," he continued. "All that was a tremendous motivation for us to move forth, as every upcoming conference or exhibition is a huge and important milestone."
The Progress of Events
Vidloonnya Reborn is getting a chance to participate in Indie Prize Seattle. Artem noted that it was hugely important, just like conferences and exhibitions in the past and future.
"Regardless of the stage your project is, if it isn't an uncooked prototype, we recommend to use any chance to demonstrate your work to the people and participate both in B2B and B2C conferences," said Artem. "For instance, winning a prize for the best game at WeGame 3.0 in Kiev was unexpected and unbelievable for us. The game was quite raw at that time, some puzzles were unfinished, and even the main hero was being developed. But apparently we've managed to stand out, and the jury made a decision to award that prize specifically to us.
"After that, we were at DevGAMM Moscow 2017. Firstly, we've got useful comments and advices about the game there. And secondly, we've met people who loved our original idea from first sight and wanted to help us. There I've recruited an external game designer who is consulting us now. This works amazingly."
On the subject of Indie Prize Seattle, Artem considers it the highest challenge because of the quality of the other indie projects at the event. "One of our major goals in Seattle are making business contacts with people like publishers, platform owners and potential financial partners," said Artem. "We've got large ambitions about releasing Sayri Adventure on the market, and we need scalability chance to do everything in time and turn our project into a successful business case."
"Such ambitions force us to improve the game constantly. To properly show our quality we've prepared some global changes in the game," he added. "One of the primary changes involves level design, to make it clear for the players where to go and what to do. We're also constantly developing and honing the mechanics of interaction with heroes and puzzles – they should be user-friendly. And the last important stage in our eyes is implementation of great narrative along with character refinement. Sayri should become a real mascot, to be loved as you play as him.
"In short, Indie Prize Seattle is a new step on the way from our idea to the full-scale end product."
Come Together
Sayri Adventure is a post-apocalyptic adventure where the titular main character has to unite all the inhabitants into a single tribe. Everyone in that tribe has to solve puzzles and overcome obstacles while fighting for a new home
"Sayri Adventure is a truly unusual project, and we understood from the very beginning that we had to stand out and be different to become noticed. At the same time we had to remain in trend and never forget that we were making a full-scale premium product," said Artem. "That's why we've analyzed the experience of such innovators in graphics as Emek Can Özben, who creates unbelievable and emotional worlds. But many weeks have passed until such unusual and beautiful picture appeared in Sayri Adventure. I should say that it's the merit of Victor, the young genius. He's our artist, who, as I like to say, is still an 'uncut diamond', since he's getting in over his head with every attempt. So, all credits for our unbelievable visual style go to Victor only."
"Overall, one of the fundamental features of our team is our own vision that can often contradict all the patterns of game development. This may be a risky approach, but we're ready for that, since we're working for the future, not for the past," he adds. "Besides, our desire to be different affected our cooperation with Epic Games as well. We've tried to get all the best from Unreal Engine to correspond the Epic standards."
Experiment in Approach
In Sayri Adventure, the different alien tribes interact with each other. Artem says that this final design changed a lot from the first project vision and they changed it in collaboration.
"We've tried to experiment in genres and approaches.  We researched market and toyed with the unusual experimental projects," noted Artem. "One day we've encountered a game by Nintendo – Pikmin, and I've recalled that I've played it with great pleasure on Wii. That game has a main hero, astronaut, who appeared on a planet after his spaceship crashed. He had to unite the small beings called pikmins and to use their abilities to solve puzzles and obstacles. We've became enthusiastic with the idea and realized that we wanted similar mechanics. We've analyzed market, feedback and Metacritic. We've tried to create analytics of the primary pros and cons. This was the way the idea of creatures whose abilities could be used in solving puzzles was born.
"However, we've reshaped the very approach and decided that puzzles and obstacles should be solved by combining the creatures' physical abilities instead of increasing their quantity. That way we've found our own way and created the unique mechanics."
Along for the Ride
Sayri Adventure is, in part, an adventure game along with being a strategy game. Artem notes that they did that without necessarily planning for it.
"At first we wanted to make a game with action and fast puzzle solution combined. We've tried to make the game similar to Pikmin, but adding more active objects that could chase the player and prevent him from solving puzzles. This was initially built using the cubes and spheres as prototypes," said Artem. "When we created the first test level with the new graphics, we realized that the game was going to become different. We didn't have the enemies yet and decided that they would be redundant. You're running and exploring the world, and you want to know what's going to be next. You just want to enjoy the environment, the unusual flora and fauna, to learn the game history by moving forth. We've developed a concept of friendship, mutual support and group solidarity. Thus, we came to an adventure game where a player has to explore the world and pass through puzzles and obstacles not on his own, but together with the other creatures, integrating their abilities.
"But first and foremost, we were driven by the wish of creating a kind game from the very beginning. That's what we've talked about starting from the first prototypes. That's precisely what makes Sayri Adventure different from many other indie projects. Most of all we want to create a game suitable both for children and their parents. They could even play it together!"
Sayri Adventure focuses on worlds connecting, which has both a story and gameplay component. When asked whether it was promoted by story and gameplay, Artem said it was a product of trial and error.
"At first we tried to make a game about evolution, and the idea of unusual universe and micro-worlds that were captured by a virus was right there. These worlds were connected by tubes, and the hero had to save his tribe from the dying micro planets by moving from one micro world to another," Artem detailed. "That concept of unusual worlds was easily transferred  to Sayri, as it's an interesting story that overshadows the familiar patterns, building up the interest to our game universe."
"The game story (how Sayri got to the alien planet after a cataclysm) came after the first graphical prototype. We have a lot of ideas, and we're actually developing the primary scenario line further and further," he continued. "Our plans include not just the successful implementation of the current ideas, but also the further development of game series about Sayri as a primary hero. And, according to the feedback from early testers and conference guests, we have good chances to reach this goal. As for now, we've got a lot of work to be done."
Comments
David Radd
David Radd is a staff writer for GameSauce.biz. David loves playing video games about as much as he enjoys writing about them, martial arts and composing his own novels.