Luuk Waarbroek: That Game Tied the Room Together
Luuk Waarbroek of Napalmtree Studios helped create Tied Together, which was nominated for Indie Prize by Dutch Game Garden, an Indie Prize partner, to go to Casual Connect. The game was shown off with 37 others at INDIGO, which attracted more than 1,600 visitors on September 27, 2016.
"It's another confirmation that our gameplay works. We created the prototype and then stopped working on it, but people we know kept asking to start the game so they could play," detailed Luuk. "The more they asked the more we thought about making it into a full game. We have attended quite some events now and every time the players love it. These reactions confirmed that we had to make this game, and this prize is another beautiful approval for us. We can't wait to see what it does at the Indie Prize showcase."
Unity and AirConsole
Luuk says they were inspired by curiosity about how games were made, experimenting with level editors. However, various game editors have limitations to them, which pushed Napalmtree towards making their own games on Unity.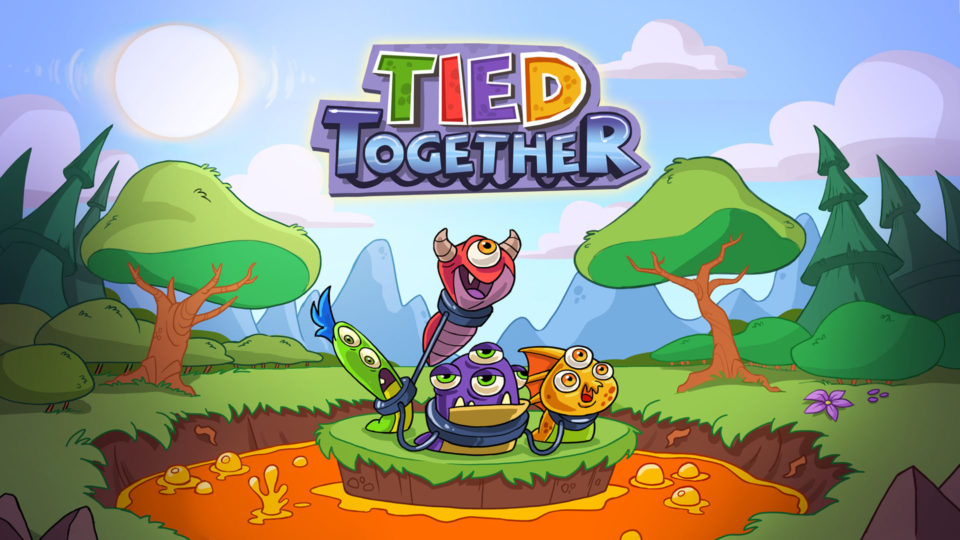 "Unity is amazing when developing for multiple platforms," Luuk said. "We've been building a level editor for the game and were able to user-test this on a tablet, even though it wasn't designed for that."
"Unity is amazing when developing for multiple platforms."
"We're currently working with a company called AirConsole. They make a console that runs in your web browser," explained Luuk. "They've been of great help in porting the game to their platform, and tested the game almost weekly. We like to take any opportunity we can grab to test the game, be it at an event or in a classroom filled with students. Fresh testers are hard to find!"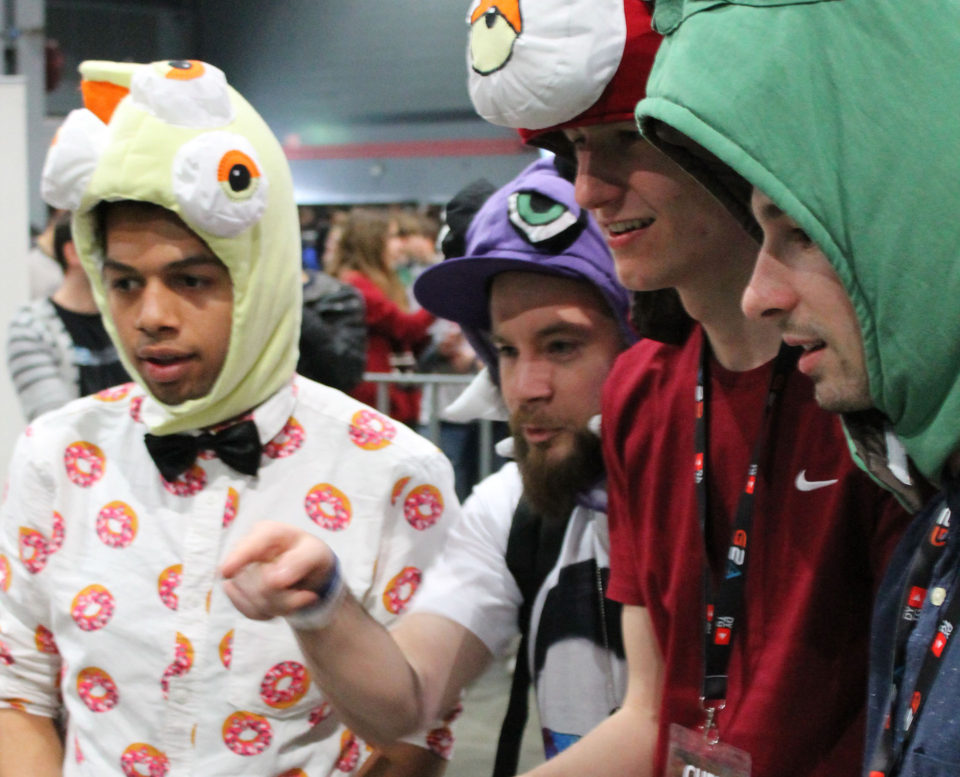 Jamming Out Games
Doing game jams has been hugely influential for Napalmtree Studios, helping create what would become Tied Together. In fact, without a particular game jam, Napalmtree Studios wouldn't even exist.
"We participated as a team in the Global GameJam in 2015. The theme was, 'What do we do now?'. We started out with ideas that forced players to work together, which ended up being a physical rope!" Luuk detailed, adding, "During GameJams you are basically prototyping an idea, which is very useful! In games you simply don't know when something is fun until you play it."
In games you simply don't know when something is fun until you play it.
Of course, they also learned some other hard lessons while working on Tied Together. "NEVER keep on working on a project built during a Game Jam," Luuk advised. "By this I don't mean "stop working on the game", but start out in a new fresh project that doesn't use any code from the Game Jam. This gives us quite a headache every now and then."
Using game jams has been great for Napalmtree to test their various products and see if strangers think the game is fun. The developers also reach out to friends, family, co-workers and students to see if they'd try out Tied Together.
Luuk strongly advices not to use any code from gamejams.
"We thought we had a 'fun' game in our hands, and decided to finish the project simply due to the reactions of the players. You could say it was very effective, as these playtests are the very reason we are doing this interview right now!" said Luuk, adding about playtesters, "When people are playing the game they tend to start out very quietly. They are talking to each other and working together to clear the levels. But as time goes on, the volume of their voice keeps raising until they eventually start yelling. Left! Right! The other right! It is very entertaining to see players like that!"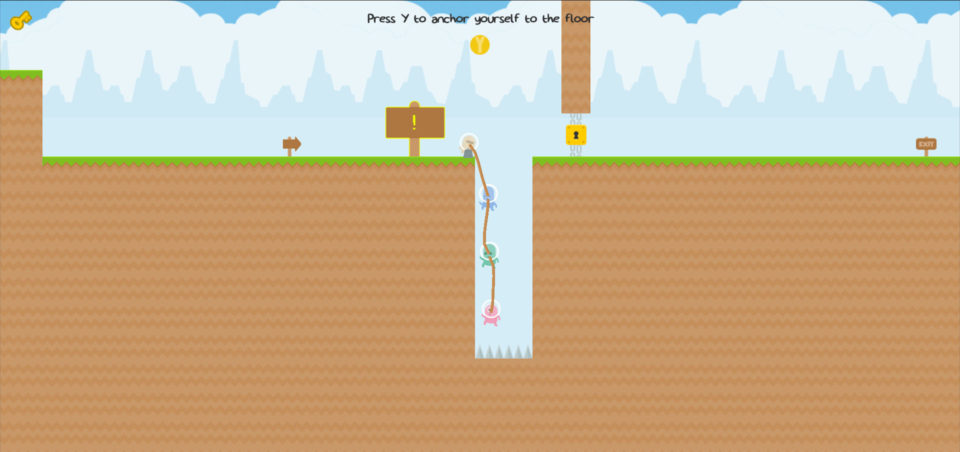 "Honestly, the funniest moment in the game will be different for every player. It is something you'll create together with your friends or family, most likely because someone is doing something really stupid," said Luuk, noting, "The gameplay is very goofy, and entertaining to watch. The art style is there to support this, which is why we made goofy little creatures that seem to be really happy that they are tied together!"
Dynamic Dutch Development Duo
Luuk used to be a teacher of his current partner at Napalmtree. Now, however, they're colleagues and love the freedom they have working as their own studio.
"You're the one that decides what you're going to work on, which is something you don't when you're employed somewhere," says Luuk of working at their own company. "Cause we are a small team, everyone can put their creativity into the game, which I think is a unique thing that not a lot of companies offer."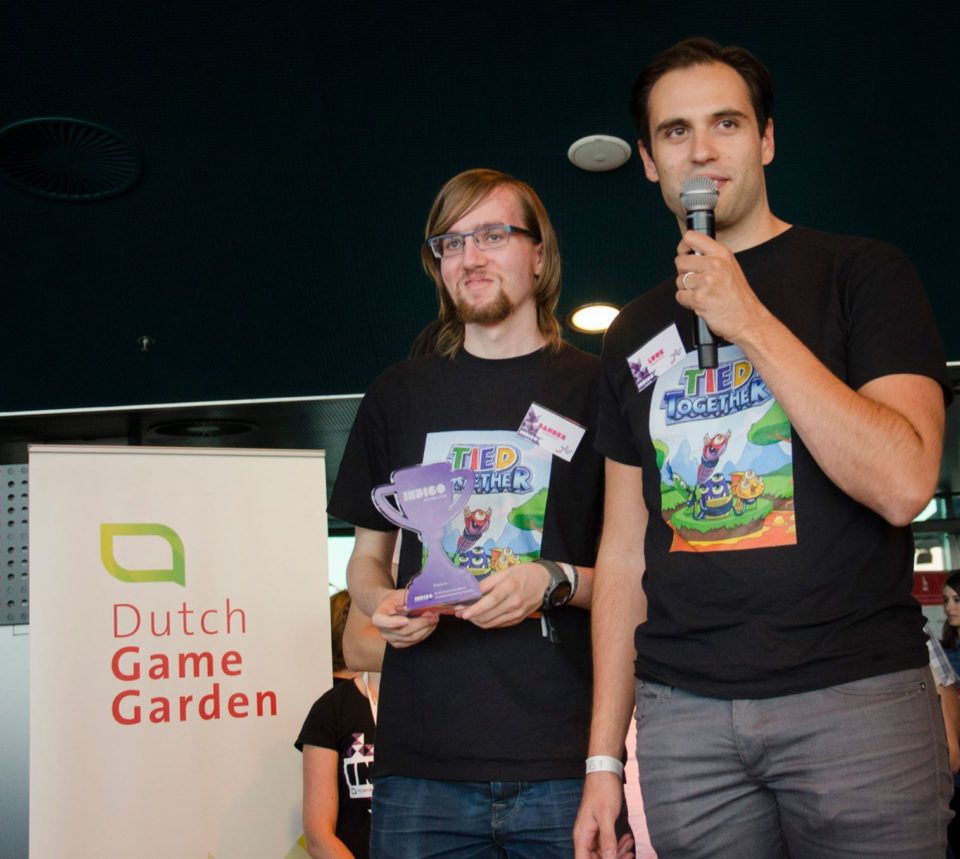 Still, there have been constraints on the team, such as having to manage other full-time jobs. "This led to a difficult situation for everyone including myself, cause I spent less hours on the project. After work hours I now stay at the office for an extra hour to get some work done on Tied Together, and spend a day working on it every weekend. It's very taxing and I don't recommend doing this, but in my case it has to be done," said Luuk. "For now we're all working from home. We're a small team and simply don't have the budget to rent an office building. We talk to each other using Slack, and have weekly Skype meetings. But it would definitely be more beneficial to work physically in the same office, we should probably get one…"

Talk With Everyone About Your Ideas
Luuk takes the lead on projects for Napalmtree. Using contacts with publishers and the press, he helps get the word out on their games, suggesting that other small developers should, "talk to people, and show your game! If you built a good relationship with someone he/she might just give a connection with Sony or Nintendo. Nobody will buy your game if nobody knows it exists."
Nobody will buy your game if nobody knows it exists.
Luuk also has the experience of leading on development, though it's more democratic when it comes to the internal creative process. "Everyone can come up with ideas, both good and bad. Someone spends some extra evening hours and says 'look what I've made last night!'," said Luuk. "Some of these ideas were kept in, others were trashed or iterated upon. We like to iterate on ideas to make them as polished as we possibly can!"
"Inspiration can come from anything. A movie we saw last night, or an idea we got while playing the newest games and talking about it with colleagues or friends. Anything can light the first spark for a project, but if you don't share it with other people you'll never get a good opinion on it! Talk with people and find out if your idea is actually a good one!"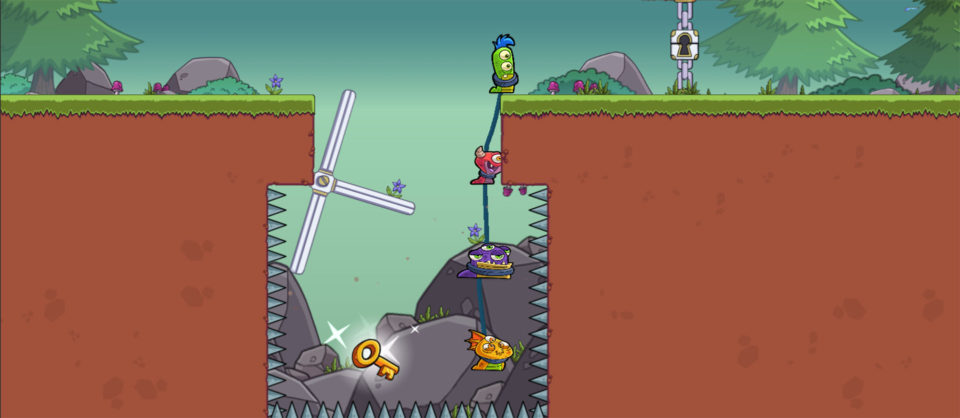 Being Passionate About Development
Going forward, Napalmtree isn't going to be invested in any particular platform or genre, having made an RTS game and developing a party game now. They prefer to focus on game concepts and then moving to new platforms that make sense, using a premium model since they consider designing a game around IAP to be unnecessarily hard and more costly.
On the subject of making a bigger budget game, Luuk says there are many games they'd love to make. "I simply love to create awesome games," said Luuk. "But if I'd have to choose, I'd go for a unique, large scale game like Horizon: Zero Dawn. Exploring big game worlds as a kid inspired me to make games, maybe I can do the same for someone else."
"Games are our passion, and if possible we'd like to continue following that path! Keep an eye out for more Napalmtree games!" concluded Luuk.
Comments
David Radd
David Radd is a staff writer for GameSauce.biz. David loves playing video games about as much as he enjoys writing about them, martial arts and composing his own novels.