Séverin Larose: Finding Soul in Flash Games
Séverin Larose of SoulGame Studio has created multiple titles, including Rogue Soul II. SoulGame recently received the bronze medal at Ludum Dare gamejam, which Séverin was extremely proud of since it was the studio's first time participating in the event.
---
"The concept we came up with was new to me, I had never worked on a pure puzzle game before so it was nice to check that we could do puzzles as well," said Séverin. "It also meant that the experience I had accumulated working with Flash was allowing me to 'impress' people with high quality polish in just 72 hours of work, since many comments were actually skeptical about the possibility of achieving such a result in such a short time frame… that was really satisfying and motivating."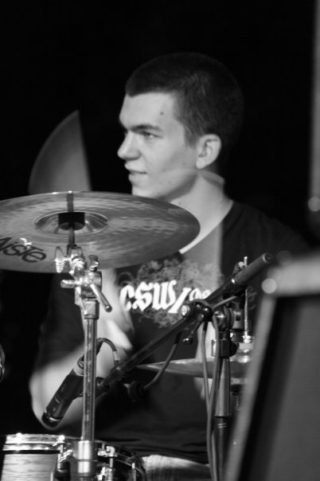 It hasn't always been easy for Séverin, having to work as a part-time music teacher during the creation of SoulGame's first release: The Soul Driver. There were other games before that, but Séverin was willing to scrap partially complete projects in order to put something out at the level of quality they wanted.
"I think most of us aim at perfection when we create things even if we never reach it, but I think some devs are just more reasonable than I am when it comes to budget and deadline. I did spend a lot of time, hard work and money just to make our games better, when they could have been released. Sometimes I spend a whole day on an invisible detail… I basically only stop when I'm so out of cash that I can't continue!" detailed Séverin. "It's just that I really value players' enthusiasm, a lot. It's extremely rewarding for me, even more than money. It's really quite logical after all, we just want to make games that people love, and yeah sure, if I get rich in the process, awesome! But that will be a consequence, not a goal."
Séverin has also participated in Indie Prize, after talking to Khail Santia from Moocho Brain who talked about how great the experience was for them. "Indie Prize to me was an unique occasion to meet in person a lot of people from the industry. It was kinda epic, to be honest!" said Séverin. "I got so used to working on a remote basis, dealing with email and invisible people, so meeting them after all those years was a kind of 'real world' confirmation that everything we lived was actually true. I especially loved meeting and share experiences with my fellow game developers from literally all around the world, some I'm still in touch with."
Climbing to the Top of Kongregate
What helped elevate SoulGame was the online gaming site Kongregate. Swords and Souls managed to be one of the highest ranked games ever released on Kongregate and gave the studio exposure to millions of players online.

"Kongregate offers something amazing: a platform where any developer can publish his/her game, and where players can see, play, and rate it. If it's good enough, it will be pushed upwards, allowing more players to see and play it," said Séverin. "At the time for us it was basically the democracy of web games, an unique opportunity to reach millions of people if the game we uploaded was good enough. And I'm very proud to notice that all of our five games did very well… hmm, The Gentleman might be a little behind, but still!"
"It was basically the democracy of web games, an unique opportunity to reach millions of people if the game we uploaded was good enough."
"Until now we focused only on the Flash web games platform because it was my culture as a gamer and creator, I've been creating stuff with Flash since I was 12. So we felt we had things to offer on that platform," continued Séverin. "As I dug deeper and deeper into PC/console indie games, I now want to try and go explore that platform more. Swords and Souls 2 will hopefully be a step in that direction.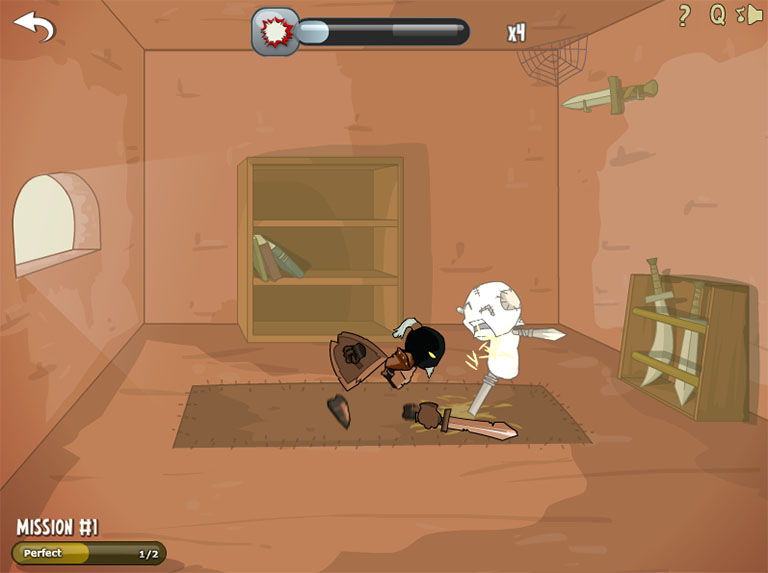 "Regarding genres, although we are not imprisoned in a specific genre, we are clearly leaning towards the action side of things, and all our games have a part of skill-based experience. I couldn't explain why exactly. It's like when I create a mental picture of a game, it almost always starts by a Soul doing something, and most of the time it's fighting other things… I'm basically a 12-year-old kid playing with cars, soldiers and knights who has learned to code!"
Many things have inspired SoulGame's various titles, from the art style of Disney's Aladdin, the level design of Tower of Greed to the stylistic parkour of Assassin's Creed. With such eclectic tastes, it's not surprising then that they may be looking to eventually branch out from the familiar.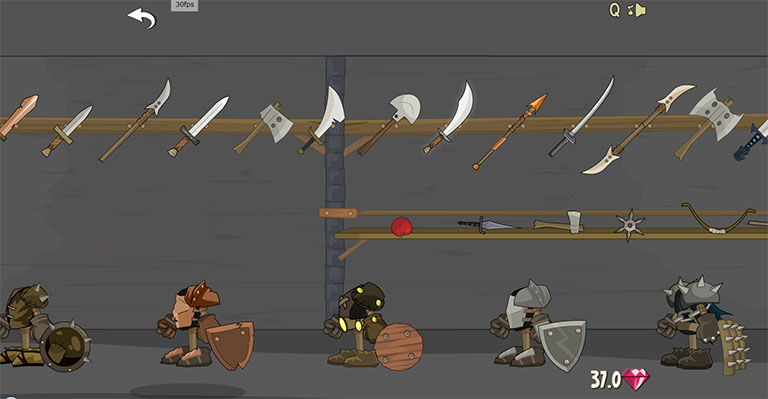 "Thanks to the success of our last game Swords and Souls, we are working on a sequel to be released on Steam and mobile around the end 2017," said Séverin. "That is a huge step for us and I really hope our little Souls adventures will manage to find a place on those platforms. After Swords and Souls 2, I'd like to work on another action fighting game and then probably back to Rogue Soul 3. Nothing is sure beyond that point."
What if Séverin was given the keys to an operation like Ubisoft, involving thousands of people spread across the world to make the ultimate game? "I guess I'd probably go for that ultimate RPG we all dreamed off at one point but that no one really managed to create properly," mused Séverin. "It would have all those awesome features that everyone mentioned but are never really implemented properly!"
Testing Later On
When it comes to testing, Séverin noted that SoulGame ran contrary to popular wisdom by seeking out testing during the end of development. Séverin did not recommend others follow this model, but noted it was still the preference of SoulGame.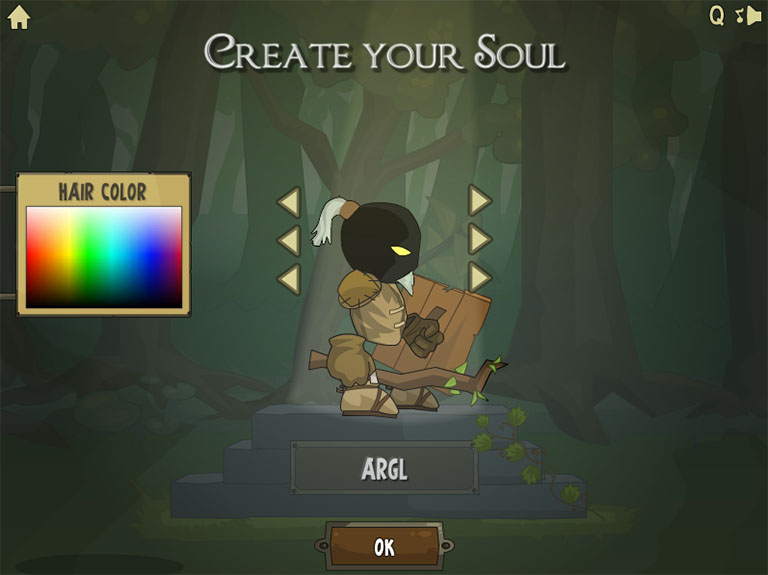 "I basically make the game I wanna play, and I trust my instinct as a player to do exactly that. If my game sucks, I know it by playing it," details Séverin. "Though this does require the ability to take a clear eye to your own game and that can be very tricky. It requires not to be excited just because your code is working. I've seen a lot of indies who have trouble having that clear eye and I personally think that is a very important skill to acquire as a game designer. Once I have finished creating a fun game according my standards, beta tests come in handy to catch bugs and balance difficulty for other players, as well as fixing a few things that I might have forgotten or which aren't as fun as they could be. But the important thing is: your game is exactly what you wanted it to be. It's not influenced early on by other people feelings and thoughts, which are mostly just personal tastes.
"As a side note I would add that my tastes as a player and game designer are quite simple and common. So I've come to trust that most of the things I enjoy and want in my game will actually be enjoyed by others as well."
When asked about interesting reactions during playtests, Séverin responded, "I happen to have a terrible memory so I can't really remember of any crazy reaction to a game in a playtest!  But what struck me though, is that the feedback during playtest of Swords and Souls wasn't really overheated or very enthusiastic, sometimes even negative – nothing that would have let me foresee the success the game would have eventually. So that was kinda interesting, I guess!"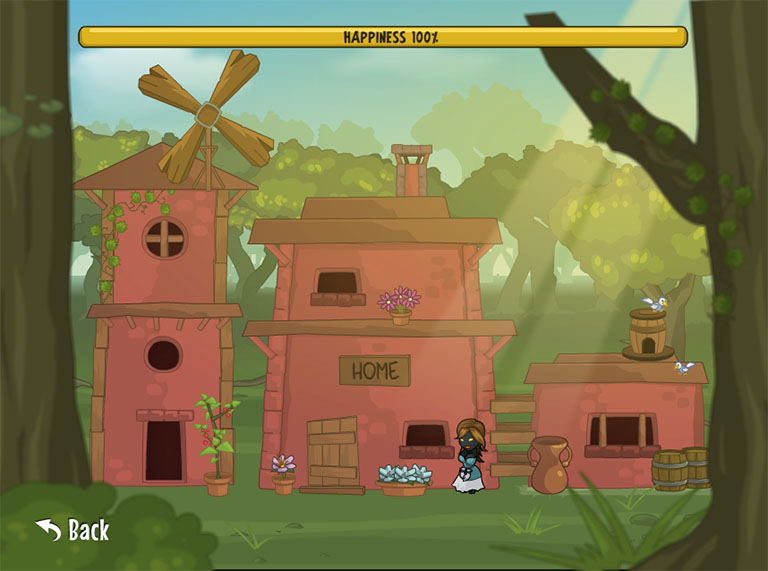 Rayman: The French Development Connect
Séverin created SoulGame with his partner Kuho because of a mutual love for games. It might sound cliché, but Séverin claims that passion was much more important than any other element in founding their own studio.
"Once we found those little 'Souls' shadow skinned Rayman-ish creatures, we wanted to share them with players through all the adventures we could create out of them. 'SoulGame' name was also a way to brand it as a studio thing. We make Souls games, that's it. Almost all our of games have the word 'Soul' in them and share the same characters/universe, and we love to see that players are getting attached to them and ask for more," said Séverin. "So what we have to offer is just what any authors strive to offer: expressing our own personal tastes and takes on things. We didn't believe we had much to offer before our first released game was a success on Kongregate. We hit 500,000 plays without even realizing it! That helped give us the energy to continue."
Séverin describes the relationship with Kuho as one of mutual respect. Séverin focuses on code, animation and music, while Kuho is into art, characters, environments and user interface, with all of this interaction being via Skype and email since they lack an office. While they hope to have a physical office in the future, Séverin is very humble about what they have accomplished.
"I don't think we are the kind of creators that will bring new genres to the table, or unique experimental games. We are just two passionate gamers who wanna share their take on different genres, mashing up what we love to offer something unique, yes, but not groundbreaking or anything," said Séverin. "Though, on the commercial side of thing, we do strive to offer top notch economic models in term of fairness and honesty."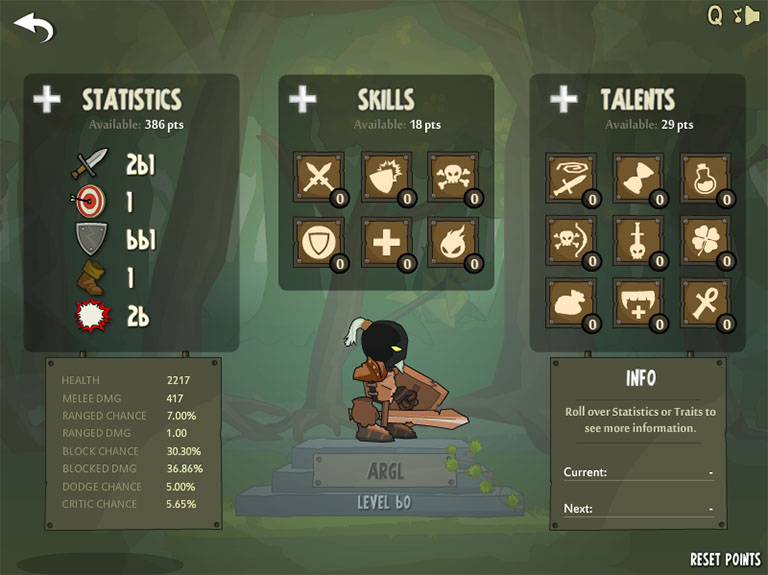 All of the Flash games that SoulGame has made so far are free for users and are sponsored by different Flash gaming portals. They didn't want to have a free-to-play DLC or sell premium content in their Flash games, though that may be changing with their offerings going forward.
I like the flat price, because it's plain, fair and simple. – Séverin Larose
"For Swords and Souls 2 on Steam, we'll ask our players for a few bucks because this is a huge step up in term of quality and content, hence the two years of development. I like the flat price, because it's plain, fair and simple. If you enjoy what you see of the game from the trailer, Let's Play videos or the demo, you just buy it and enjoy it for what it is. There will be no prompts that will interrupt you asking  to pay. The opposite of this is free-to-play; it's like going to a movie and every 10 minutes or so, someone would make the screen blurry and ask, 'Hey, you want the full experience? Just throw me $10 or watch the ads, and I'll give it back to you.' That's awful," said Séverin, adding, "For the mobile version of Swords and Souls 2 which might be free-to-play, we'll strive to come out with a nice and clean take on the model."
Development as a Time of Chaos
Séverin is the one who makes most of the principal decisions when it comes to game design, being the one who works on game development full time. Still, Séverin says they work together well, and describes development as being a "time of chaos."
"Mostly mental chaos where all the games I always wanted to make come to clash against each other. It's mostly mental introspection to find if the idea is viable or not," said Séverin. "During those times we talk a lot, trying to evaluate the potential of each idea and then we try to agree on a project that we would both enjoy: him to draw, me to develop. It happened that we aborted a project very early, but usually when we hold one, I'm super confident and we go through with it until the end."
The development process is a long, painful, and joyful road! – – Séverin Larose
"The development process is a long, painful, and joyful road! First, we get sure we have a cool core gameplay idea. I usually write things down at that point in a game design document so we know where we're going. Then it's just coding, testing, tweaking, polishing until it's done! Like I mentioned earlier, I try to keep a fresh eye on the game, to make sure the features we're adding enhance the experience and are coherent and to make sure everything is smooth and enjoyable. I'm not a very efficient coder, because I basically test the game every 30 minutes!" laughed Severin. "As for tools, we both used Adobe Flash for everything. Now I use Unity, develop in C#, and make our new animation with Spine, which is a huge improvement! I'm also learning FT Studio for our music. On his end, Kuho uses Photoshop and then Illustrator to keep that vectorized feel that we like."
RPG: Rachmaninov Playing Game
When it comes to inspirations, Séverin says that the music was a huge one for various games they've made. "A big part of my inspiration comes from music. When I was 14, I wanted to make an epic and melancholic RPG out of the 3rd moment of the Concerto n'2 from Rachmaninov and we did start working on it! It was called Final Quest. I also drew a lot of energy and inspiration from my practice of piano, drum and guitar, especially in my early years as a dev; Dream Theater played an important part in that," said Séverin, before adding about literary inspiration, "Tolkien, of course. That was the ultimate heroic fantasy for my teenage years. I read tons of other stuff but I'm not sure that directly influenced our games."
Game inspos of classics and indies
Video games were also important to Séverin, noting that he played a lot of games on SNES, GameBoy Color, GameBoy Advance, PC, N64 and Xbox. "Final Fantasy 6, Final Fantasy 7, The Legend of Zelda: Ocarina of Time and Pokemon Yellow meant the world to me," detailed Séverin. "Later it was The Elder Scrolls III: Morrowind… and later, I played a thousand Flash games! Nowadays, I try to play everything I can find on Steam, web and mobile, mostly indie with occasional AAA titles."
"Weirdly enough, the main source of inspiration I have now, is this little universe we've created. It's so much easier to start creating inside a frame, the SoulGame universe, rather than from nothing. Simply having a clear artstyle in mind when thinking about gameplay is really helpful."
The style of the characters was originally inspired somewhat by Rayman without any arms or legs to make things easier to animate. Kuho gave him samurai weapons and a large sunhat to mask his face.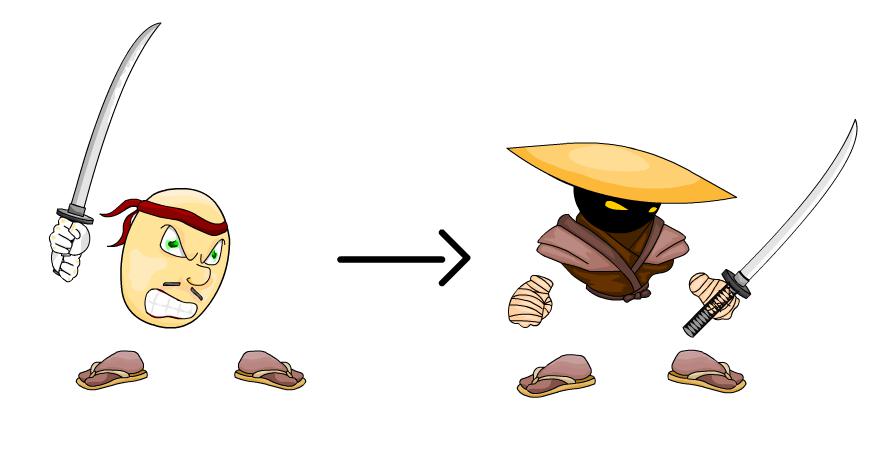 "As we liked that samurai style, Kuho kept producing other characters with a black head and yellow eyes," said Severin. "Then we called them Souls, and here we are now."
"As we liked that samurai style, Kuho kept producing other characters with a black head and yellow eyes. Then we called them Souls, and here we are now," noted Séverin. "Regarding the backgrounds and sets, Kuho is trying to evolve in a semi-cartoonish style that I find to be unique and charming. We're very excited to show his new work for Swords and Souls 2 to showcase that evolution."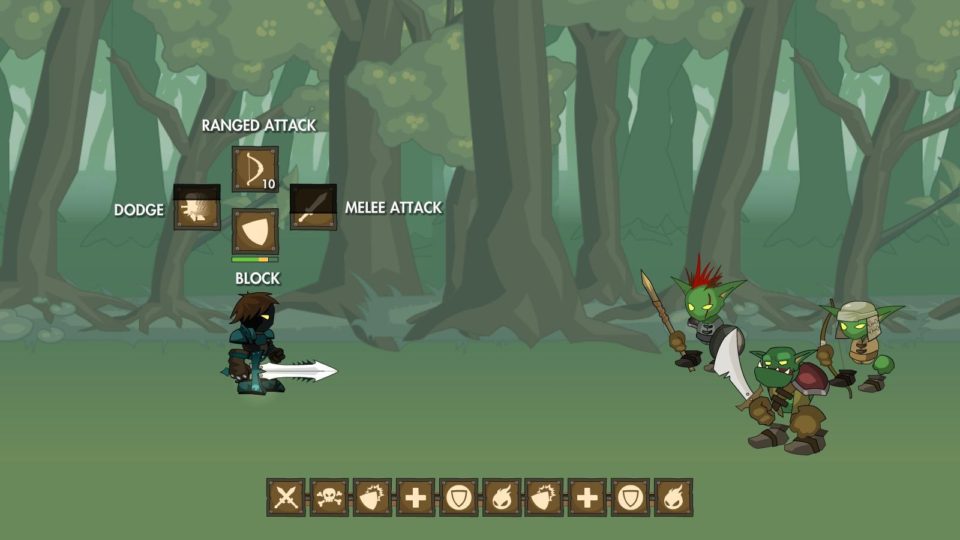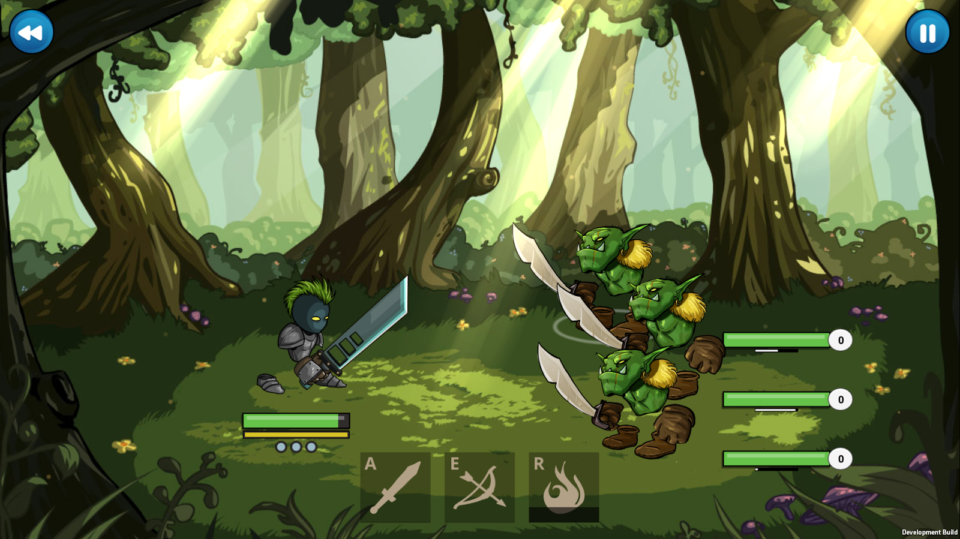 Complimentary to the funny art style of SoulGame is the humorous element to the story. "I've seen lot people on YouTube videos laughing at Rogue Soul 2 intro after the grandpa lines," said Séverin. "I'm clearly not a hilarious writer, but somehow people are laughing. I honestly think they are just being generous! That also happens in the tutorial of Swords and Souls when the Scarecrow is making fun of you.
"On the wittier side, I'm kinda proud with the ending of Rogue Soul I short music, which is to me the most epic I've made so far. Also the Gentleman ending, which seems to be hard for lot of people to understand! It is indeed confusing, but the explanations exist and makes quite a lot of sense, and I still find it touching and cute. One hint: the narrator is the cat…"
Embrace Criticism
Through the trials and tribulations of being a indie developer, Séverin thinks things have gone pretty well. Nevertheless, the success of SoulGame compared to the adversities they've gone through has been less than many, so there's little looking back with regret.
"Still, a common issue I face is to try to sleep at night wondering if our game will have any kind of success, and even before that, if we'll manage to finish it before running out of money. My mind is just bubbling with thousands problems and leads to solve them, it's a tiring process that I need to go through to come out with a coherent game design. All along this process, you have to keep faith in yourself and it can be tricky at times," noted Séverin. "To overcome that pressure, I try to remember that, no matter how stressful it is, it's awesome! I'm my own boss at creating stuff, without any sort of hierarchy or constraints, how cool is that? So, of course it had to come with a price. I basically live with my game projects, they occupy 150 percent of my head during the day and 200 percent at night."
When it comes to others achieving similar success, Séverin was reluctant to offer advice, thinking it might be too particular to SoulGame's position. When pressed, Séverin suggested that creators immerse themselves in the environment you want to create games in and to find something you want to focus on.
"I like to immerse myself in the context/platform I want to create on, be it mobile, web, console or PC, and not going blind and hoping for the best," said Severin. "There are excellent and terrible games out there, better to know them, learn from them, and try to raise above than to pretend they are not there. So getting to know your environment of creation is a pretty universal advice. It might seem trivial, but I do notice devs that aren't able to open a clear eye on their game and compare it with other platform's products."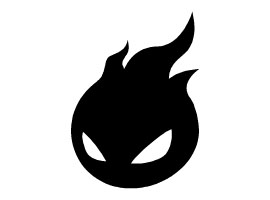 "Next, once I'm fed by all those games and in phase with this environment, I feel I can then offer something of my own," Séverin continued. "Not a clone of the best game, but something that I personally want to add to this environment of games, with both my player and developer instincts. My games aren't revolutionary or anything, they are just the product of my gamer culture and my personal desires and tastes as a player, mixed together to bring something that doesn't already exist."
When asked what NOT to do, Séverin suggested, "Never try to create an RPG if you're not experienced. We tried and failed. Also, never aim for a AAA concept with a super small team. That's useless. Even if you manage to make something kinda beautiful, you won't have time to make it fun as well. It's just impossible to compete with hundreds of artists working on a game. Find you own indie way instead!"
Séverin's final piece of advise is to always listen to what users say, even if it's deeply critical. "Instead, open your eyes to criticism and feedback. When a user says something about your game, good or bad,  most of the time there is something to learn from it: embrace it, instead of denying it and defending your baby. It's difficult because it's your baby, but like in all form of creation, we should always try to learn from our mistakes," concluded Séverin.
Comments
David Radd
David Radd is a staff writer for GameSauce.biz. David loves playing video games about as much as he enjoys writing about them, martial arts and composing his own novels.