Introducing the Indie Prize London Participants from Middle East and Asia
The entries from the Middle East for Indie Prize at Casual Connect Europe 2018 are five completely different games. However, they share an interesting element – each has an unexpected environment. In one soccer is played in a medieval castle; one takes place in a world of jelly; one is in an ancient world that rotates; one is in a desert filled with hordes of ghastly enemies; and in one the player actually creates the environment, drawing their own path. In all other ways they offer great variety, with new twists on sports, battles, strategic planning and creative thinking.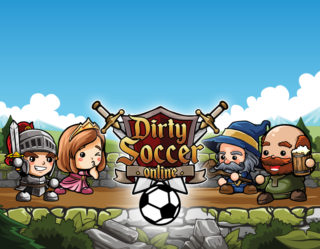 Game Title: Dirty Soccer Online
Developer: Vahit Hanoglu
Platform: Android
Country: Turkey
Dirty Soccer Online is a free multi-player sports and action game. To begin the game you choose a medieval character; each possible character has different powers. The game can be played in up to 3v3 live matches with players worldwide. You fight against your opposing team while trying to score goals in their castle.
This game offers the pleasure of a soccer game with the thrill of a battle arena. But you need to be strategic and score the most points to become a world champion.
Game Title: Get Jellied!
Developer: Udo Games
Platform: Console, Desktop Win
Country: Turkey
Get Jellied! takes place in a jelly-like world. The player must kill the monsters by exploding the jelly parts in their stomachs. This is a platformer game with fun physics and plenty of different mechanics, including gravity change, bombs, rockets and changing environments.
The game is in the alpha stage, with a great team working to bring it to its potential. It is simple, easy to play and lots of fun!
Game Title: Linn: Path To Orchards
Developer: Fanoos Game Dev
Platform: Android
Country: Iran
Linn: Path To Orchards is a fast-paced puzzle platformer set in an ancient, mysterious (and rotating) world. The player controls the character Aban, an exotic guardian making her way through an ancient temple in the sky to fulfill her mission. Aban can run, jump and dash swiftly in the air to reach the light in each level. The levels that consist of treacherous dynamic platforms that make players think through every move before swiping a finger. Completing each level requires timely reactions and logical thinking.
Game Title: Misa™
Developer: Suji Games
Platform: iOS
Country: Turkey
Misa™ is a simple path-drawing puzzle game. Players are attempting to collect diamonds while avoiding the obstacles along their path to the end. There are two stages to this game. The first stage has the player making a static drawing. The second stage is the execution of the path.
Misa™ has been featured in the AppStore. They were nominated to participate in Indie Prize by BUG Jam, an Indie Prize Partner event.
Game Title: GRIME
Developer: Funnel Entertainment
Platform: Desktop Win
Country: Israel
GRIME is a 2.5D action-adventure RPG filled with brutal combat, merciless enemies and stunning environments. The player awakes, covered with mud and dust, in the middle of a forsaken desert. The ghastly creatures overrunning the desert block your way to the city that beckons you. You must fight through these deformed hordes toward the city and discover whether it is the last paradise or the everlasting suffering.
As for the games from Asia, they are both from teams in Indonesia. They are both imaginative and immersive games. One is light in theme and the other dark but both come from the same studio in Indonesia.
Game Title: She and the Light Bearer
Developer: Toge Productions
Platform: Desktop Win, Desktop Mac
Country: Indonesia
She and the Light Bearer blends a music album and an adventure game with aesthetics from storybooks and fairy tales. The game emphasizes art, poetry, dialogue and music in a story about the forest and Mother. Players are the Firefly and help her find the Mother who will decide the fate of the forest and all the creatures living there.
This project was developed from a prototype made at Mojiken Camp. The game was created by Mojiken Studio and is published by Toge Productions.
She and the Light Bearer won Best Kids and Family Game at Casual Connect Indie Prize Singapore 2017 and was nominated for Best Narrative Game and Best Art at this event. It won Most Promising Game at BEKRAF Game Prime Indonesia 2017 and was nominated for Best Visual at KL Level Up Malaysia 2017.
Game Title: My Lovely Daughter
Developer: Toge Productions
Platform: iOS, Android, Desktop Win, Desktop Mac
Country: Indonesia
My Lovely Daughter is the story of Faust, an amnesiac and alchemist who is alone in a house with the corpse of his daughter. Players control Faust as he tries to grow a soul to bring back his daughter. To grow this soul Faust must create dozens of humonculi, raise them as his artificial daughter, then kill them and feed them to his real daughter. He must assign them many different jobs, leveling up in the process and earning the income for the materials to create more humonculi and for the balm to keep his daughter from decaying.
The game features dozens of humonculi, each with its own characteristics, hand-drawn art that expresses the dark theme of the story, multiple endings and secrets to unlock, and Gothic inspired tracks that bring players into this immersive world.
My Lovely Daughter was developed by Gamechanger Studio and published by Toge Productions. It was the winner of Best Visual Award at KL Level Up 2017 and was nominated for Best Story Award at this event.
To view all of the Indie Prize finalists for Casual Connect Europe, visit indieprize.org.
Comments
Catherine Quinton
Catherine Quinton is a staff writer for www.gamesauce.org. Catherine loves her hobby farm, long walks in the country and reading great novels.