Casual Connect Europe 2018 Indie Prize Finalists from Eastern Europe
Indie Prize London at Casual Connect Europe 2018 has attracted an outstanding variety of games from Eastern Europe. Role playing is featured in many games, and is perhaps taken to new heights in a game where the player literally chooses a role to play on stage. Many also combine role playing with different types of adventure, such as surviving on a sinking island or digging through caves or being lost in a desert. There are games that challenge the brain with puzzles, multiplayer games, beautiful learning games for children, and even games that take players into accurate representations of history. There is something in this group of games that will attract everyone.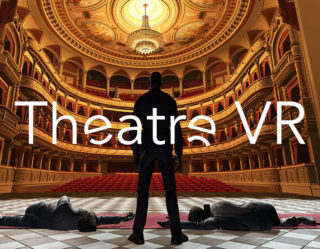 Game Title: Theatre VR
Developer: Misterine
Platform: VR desktop/console
Country: Czech Republic
Theatre VR is the perfect game for aspiring actors and anyone who would like to experience what it would be like to be on stage. It allows you to choose a play and a role, then act that character. You say the lines while making gestures and moving around the stage. But you are not alone on stage; there are other characters driven by the computer. You can also create your own productions and share them with others and enjoy the play with your friends.
Theatre VR was the winner at Game Developers Session in Prague. The Czech Ministry of Foreign Affairs chose Misterine to represent them abroad. And the Czech National Theatre is interested in cooperating with Misterine to bring their plays into Theatre VR.
Game Title: Don't Escape: 4 Days in a Wasteland
Developer: scriptwelder
Platform: Desktop Win, Desktop Mac
Country: Poland
Don't Escape: 4 Days in a Wasteland is a non-linear point-and-click adventure. The end of the world could be coming; you must survive an oncoming disaster. You will explore the dying world, but remember – escape may not always be the best answer.
Don't Escape received 3rd place for Best Indie Game in the Indie Showcase at Digital Dragons 2017, Best Story and Retro Roots at Pixel Heaven 2017, Best Indie Game at FreeGalaktus 2017 and was nominated for Best Polish Game at Poznan Game Arena 2017.

Game Title: Raiders of the Lost Island
Developer: Alexandru Simion
Platform: Desktop Win
Country: Romania
Raiders of the Lost Island is a co-op party game for up to four players. In this game, four adventurers explore a sinking island, looting treasures as they go. They are under constant threat from the rising waters and must work together building a boat to survive. But the island is filled with treasures, gold coins, gems and diamonds. These temptations are hard to resist, but if you survive only the richest one wins. And if you let greed distract you from building the boat, you all lose!
Raiders of the Lost Island won Best Game of the Show and Best Design Awards at Dev.Play Eastern Europe Game Convention (an Indie Prize Partner event) and was featured in the "I Like It" TV show and in the press.

Game Title: Garage
Developer: Zombie Dynamics
Platform: Console, Desktop Win, Desktop Mac
Country: Russia
Garage is an action horror game. It takes the player through a bloody underground populated by zombies. And to stay alive you must keep fighting.
Garage has received top ratings in the app stores, as well as special highlights in the press. They were nominated to attend Indie Prize by DevGAMM Moscow 2017 which is an Indie Prize Partner event.
Game Title: Gripper
Developer: Gripper Team
Platform: Desktop Win
Country: Russia
Gripper is a story-driven action RPG. In the world of this game androids celebrate Burning Man by burning humans. The game takes the player on a violent but beautiful journey across a desert of the future with thoughts of the past.
Gripper was the most voted game at GamesJam Kanobu 2017.
Game Title: Lifeslide
Developer: Dreamteck
Platform: iOS, Android, Console, Desktop Win, Desktop Mac
Country: Bulgaria
Lifeslide offers a metaphoric journey through life. The player controls a paper plane flying down a steep hill. During the flight, the surroundings change to symbolically represent all stages of life.
Lifeslide was first presented as a prototype at Aniventure Comic Con in Bulgaria, September 2017. Since then is has been slowly gathering a stable fan base who look forward to the game's release.
Game Title: Codename Phantom
Developer: Red Fire Games
Platform: VR desktop/console
Country: Bulgaria
Codename Phantom is a tactical puzzle shooter game. As the player, you go undercover as an elite agent, armed only with two pistols and a state of the art brain implant. More than forty levels in the game test your tactical thinking, steady aim and quick reflexes. The game can be played in normal mode for a decent challenge for people familiar with shooting and puzzle games, or in hardcore mode for players who want to really test their skills.
Red Fire Games was formed in September of 2017 and Codename Phantom, a VR hybrid game, is their first project. The game is currently available on Oculus and Steam stores.

Game Title: Attentat 1942
Developer: Charles University, Czech Academy of Sciences
Platform: Desktop Win, Desktop Mac
Country: Czech Republic
Attentat 1942 is a game built on dialogues, interactive comics and authentic footage as it tells the story of the Nazi occupation from the perspective of those who experienced it. Players speak to survivors, relive their experiences and discover untold stories of family.
Attentat 1942 was a finalist for the Excellence in Narrative at IGR 2018 and received the silver medal for the Game Development World Championship 2017. It has also received many positive reviews such as "mesmerizing, serious and heart-breaking gameplay" from Marie Brownhill, Game Industry News.
Game Title: Molecats
Developer: Vidroid
Platform: iOS, Android, Other mobile platforms, Console, Desktop Win, Desktop Mac, Web
Country: Ukraine
Molecats is an adventure puzzle game with indirect controls. Molecats, a hybrid of cats and moles, spend their time digging through caves searching for delicious 'shrooms and shiny objects, sometimes getting lost in the process. The player must guide the molecat through the cave by controlling the environment and changing the path they follow. Along the way the molecats face dangerous traps, monsters and challenges.
Molecats received awards for Best Gameplay and Innovation in LA 2018.
Game Title: Game of Emperors
Developer: Imperia Online Ltd.
Platform: iOS, Android, Web
Country: Bulgaria
Game of Emperors is an MMORTS that takes place in a medieval cartoon world. Players can build their capital and claim new territory by establishing provinces, trading posts and military encampments. But they must also train the army to defend the empire.
Players around the globe can play with friends in thirty languages; they can combine strengths and form alliances. There are PVP and PVE modes as well as world events with different technologies.
Game of Emperors won Best Gaming App at the Webit Awards 2017 in Bulgaria.
Game Title: Profundum
Developer: Turtle Team
Platform: VR desktop/ console
Country: Poland
Profundum is a virtual reality adventure game that emphasizes story, puzzles and visuals. The puzzles and environmental interactions are physics based, focusing on gear mechanics. The art is stylized steampunk with gothic elements.
The game is also a physically accurate steampunk machines engineer simulator.
Game Title: Within Whispers: The Fall
Developer: Thorium Studios
Platform: Desktop Win
Country: Serbia
Within Whispers: The Fall is a 3D point-and-click adventure game with an art style inspired by comic book art. The game's character is a young woman whose brother has disappeared from the front during the Great War. She is trapped in the horrors of war and can see and communicate with the ghosts of dead soldiers. And there is one ghost she definitely does not want to meet.
Aska, the young woman, brings a glimmer of hope in the despair of war. Players can follow her through the trenches and battlefields of the Great War to see what is coming next.
Game Title: All You Can Eat
Developer: Gamechuck
Platform: Desktop Win
Country: Croatia
All You Can Eat is a game that follows the story of a man who decides to quit his job and spend his life inside an all-you-can-eat diner. But when the diner closes, the man must figure another way to solve his life's problems. The game is populated by other memorable characters that the player interacts with. Each interaction creates a new comic panel. When the game ends, the player can print out the game as a comic book.
All You Can Eat has been featured at Reversed in Vienna and at A-Maze in Johannesburg.
Game Title: Interrogation
Developer: Critique Gaming
Platform: iOS, Android, Desktop Win, Desktop Mac, Web
Country: Romania
Interrogation is a narrative puzzle game with role playing elements. Players are placed in a noir representation of a movie interrogation scene. The player's character is the investigator who manipulates the suspects despite realistic constraints.
Interrogation has been featured twice on the I Like It Romanian TV show. It was nominated at the 2017 Zurich Ludicious Student Competition and also at the 2017 PGConnects London VeryBigIndiePrize. It was runner up at the 2016 Dev Play Indie Pitch. It has been introduced as "the conversational puzzle that makes you rethink all that you know about terrorism and the fight against it".
Game Title: Bushy Tail
Developer: Fuero Games
Platform: Desktop Win
Country: Poland
Bushy Tail is a narrative adventure game telling the story of Little Fox. But the story morphs depending on which of the narrators is telling the story during the levels.
Bushy Tail has won a significant number of awards. At GIC 2017 in Poznan it won First Place at the PC Indie Pitch. It won for Best Story/Storytelling at Game Connection Europe 2017 where it was also nominated for Best Console/PC Hardcore, Best Casual Game, Best Quality of Art, Most Promising IP and Most Original Game. It was the First Place Winner at Game Dev Showdown London 2018 and it won Best Game Narrative and Best Game Animation at Indie Prize, Casual Connect USA 2018.
Game Title: Driftland: The Magic Revival
Developer: Star Drifters
Platform: Desktop Win
Country: Poland
Driftland: The Magic Revival is a game that takes place on the planet Driftland. The planet has been shattered by a devastating war between ancient mages and is only held together by a powerful spell. Players in the game are a powerful mage with the ability to move and connect floating lands, develop an empire and return Driftland to glory.
Driftland has received positive reviews on PC Gamer, Eurogamer, Gamereactor.eu and others. It has also received very positive rating on Early Access Steam.
Game Title: Street Heat
Developer: Astalo Games
Platform: Desktop Win
Country: Finland
Street Heat might be the ultimate top-down racing experience. It is an action packed four-player game with neon/noir visuals and an 80's soundtrack. This race takes players bumper-to-bumper with three other players screeching around corners, flying over jumps and rushing across busy train tracks.
Game Title: Hexotic
Developer: Oleksiy Mykhasyuk
Platform: iOS, Android
Website: http://www.zagravagames.com/
Country: Ukraine
To play Hexotic, you must rotate a hexagonal pyramid to catch a new block as it falls. If you can create three or more combinations you will destroy the blocks and earn points. But as you plays the speed of the falling blocks keeps increasing, so be ready for a challenge.
Hexotic combines classic Tetris with Match3 mechanics.
Game Title: Hyperforma
Developer: Nord Unit
Platform: iOS
Country: Russia
Hyperforma is an arcade puzzle in a steampunk setting. Civilization has vanished, leaving behind the Ancient Network until, hundreds of years later an explorer descends into the remains. As this explorer, the player ventures into a journey through endless empty cyberspace.
Hyperforma has been featured in the AppStore in Europe and USA. It has won several awards, including Indie Prize Grand Prix and Best Mobile Game at GTP Indie Cup 2018 (an Indie Prize Partner event), Best Unity Game at Games Gathering 2017, Best Mobile Game and Excellence in Visual Art at DevGamm 2017 and Best Game Design at White Nights 2017.
Game Title: Golf Club: Wasteland
Developer: Demagog Studio
Platform: iOS
Country: Serbia
An ecological catastrophe has occurred on earth; the privileged and ultra rich moved to Tesla City on Mars. But the citizens of Mars still fly back to earth to play golf in the ruins. Golf Club: Wasteland is an adventure puzzle game set in post-apocalyptic landscapes.
Golf Club Wasteland won the Horizon Pitchslap 2017 in Belgrade. As winners, they have been nominated to participate in Indie Prize. Their cross-media approach to the game has Demagog Studio working on short films and art projects. The game will be released in April or May 2018 with the soundtrack available on iTunes. Three songs from the soundtrack have original music videos with elements from the game's universe.

Game Title: Zebrainy ABC Wonderlands
Developer: Zebrainy Limited
Platform: iOS, Android
Country: Ukraine
Zebrainy ABC Wonderlands is an ABC learning game for young children. The player takes a journey through twenty-six Alphabet Wonderlands while learning the alphabet including places like forests, deserts and oceans, factories and spaceships.
Each letter level has two parts: first, the Letter Constructor in which the child learns to put together pieces to make the letter, and second, the Letter Wonderland, where the child gets to know objects, animals and characters that live in that wonderland and start with the letter.
Zebrainy ABC Wonderlands received the Best of 2016 in the AppStore and two Indie Prize awards from Casual Connect in 2017.
Game Title: Desert of Vice
Developer: Karolis Dikcius
Platform: iOS, Android
Country: Lithuania
Desert of Vice is a horror adventure game that can have a variety of endings depending on the choices the player makes. The player is a man lost in the desert. He comes across a small town and discovers it holds a dark secret.
Desert of Vice was featured as a "New Game We Love" in the AppStore in the United Kingdom and several European countries in January 2018.
To view all of the Indie Prize finalists for Casual Connect Europe, visit indieprize.org.
Comments
Catherine Quinton
Catherine Quinton is a staff writer for www.gamesauce.org. Catherine loves her hobby farm, long walks in the country and reading great novels.