GameDuell Studio Spotlight
I recently went to Berlin to prepare for the upcoming Casual Connect show there in 2017. While there I spent several days visiting a few game studios and other companies in the industry, and I would have to say my visit to GameDuell was one of the highlights of my trip.
I remember my first exposure to GameDuell; they were a Platinum sponsor of Casual Connect Europe. They had a really fun setup with very colorful cube chairs, a projector, big banners labeled "GameDuell is cool" and very eccentric people. If you are lucky enough to visit their office, you will probably agree with me that GameDuell is definitely very cool.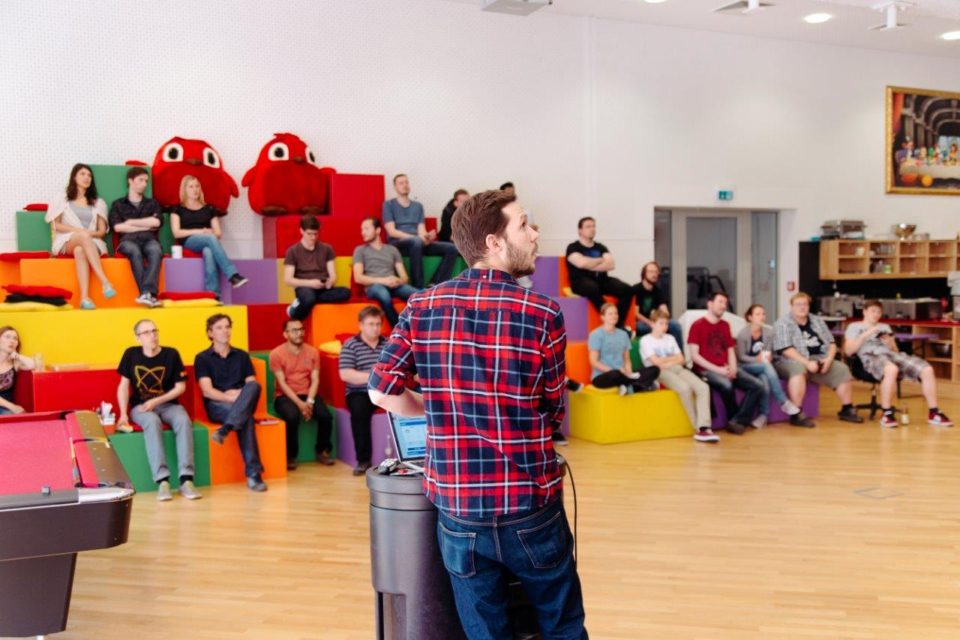 My visit started in an unexpected and very friendly way. Right after I got off the U-Bahn, I started scanning the buildings and street to get my bearings and find the GameDuell Building. There, walking down the street toward me was Michael Kalkowski, one of the co-founders of GameDuell. It was one of those situations of genuine surprise.
There, walking down the street toward me was Michael Kalkowski, one of the co-founders of GameDuell.
He said, "Hey???"
And I said, "Hey. I'm here to meet some of your people. Just trying to find the building."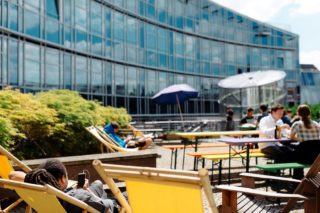 And from that point I got the full VIP treatment. Michael walked me back to the office, stood in reception and got me a cold coke, and made me feel extra welcome while I waited for my meeting.
When Martina Cepek, GameDuell's Event Manager, came for our meeting we skipped the usual conference room agenda and, instead, she gave me the full studio tour. The GameDuell office was originally a TV studio which the company has redesigned to meet their needs. The office is much like a typical tech office with a very open floor plan and glass conference rooms, making it easy to share thoughts, ideas and enthusiasm, and definitely complementing the collaborative spirit of the company.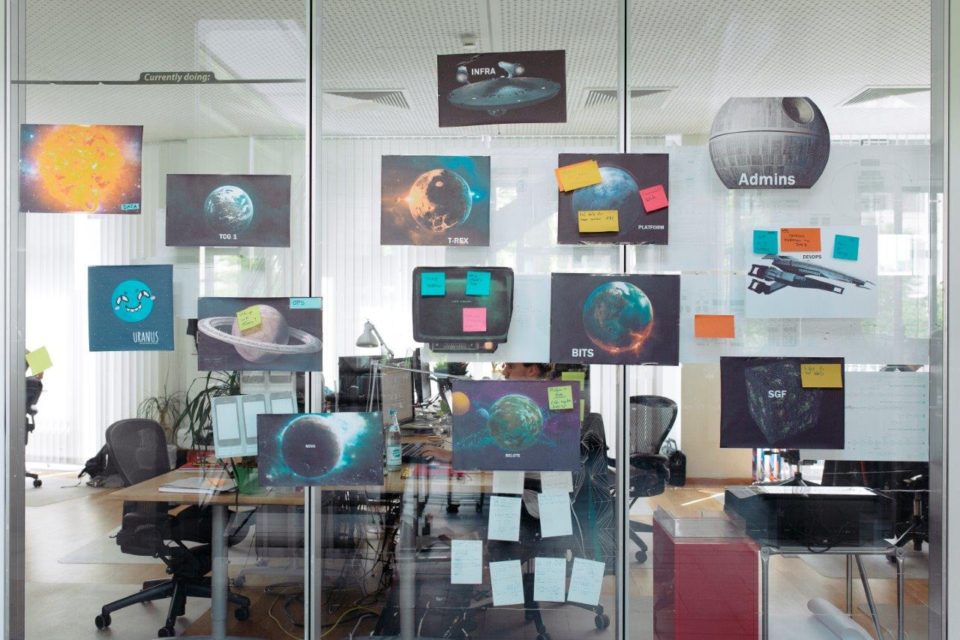 We came to the IT area first, and my attention was immediately drawn to the wall where status monitors were mounted showing the current state of their systems. This impressive scene is necessary to handle the massive traffic load generated by the millions of games played on GameDuell's platforms as well as on Facebook and on mobile every day. To handle all this, GameDuell operates a modular infrastructure based on JEE for the web and has developed a scalable backend that includes their own data centers and external cloud services. They have also developed their own dedicated cross-platform game server solution.
Martina took me to visit all the departments, among them art, programming and marketing. Everywhere I went I was surrounded by friendly feelings, with everyone taking the time to look up, wave or say hi. Even Peter Mitschke, the Brand Manager (and former Product Manager for the prototype team), who was in a meeting as we walked by, made sure to pause and say hi.
We finished the tour in the lounge, which is also the event location where GameDuell hosts team events and lectures. These lectures, such as the GameDuell TechTalk series, have included industry experts Ed Burns of Oracle, Werner Vogels of Amazon, Greg Luck of Hazelcast and Emil Eifrem of Neo Technology.
This room was the recording area of the old TV studio and has very tall ceilings, lots of floor space and great windows. Tucked into a corner is a kitchen with a number of tables for an eating area. And there were many different games, including pool and ping pong. I pointed out that if I worked there, we would have to install a basketball court! Of course, I'm not quite sure how well that would work with the huge windows.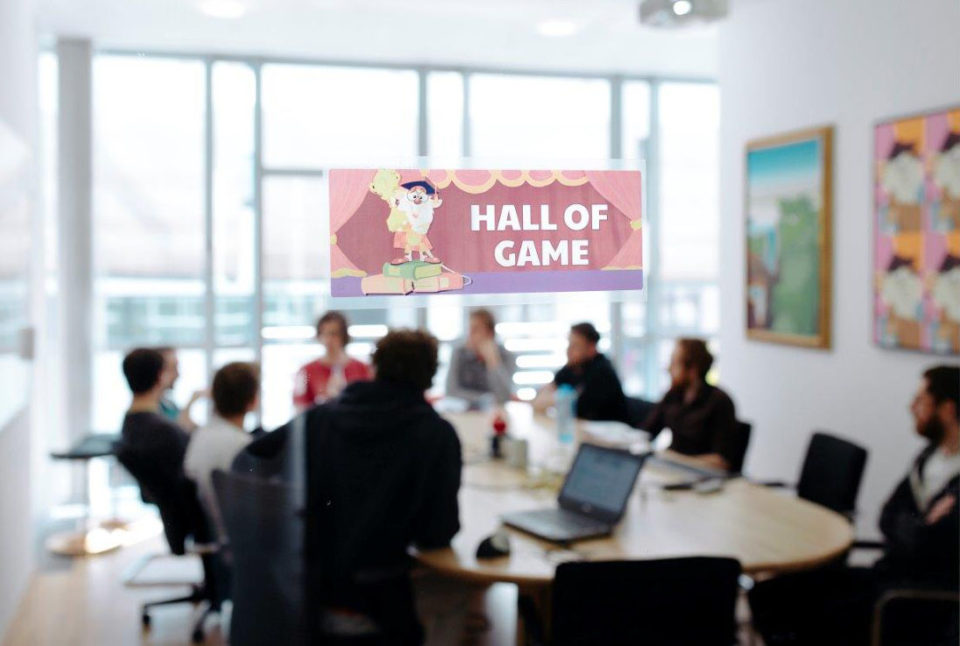 We sat at one of the tables for our meeting, talking about the game culture and discussing how GameDuell is succeeding in business by focusing on the same great casual games that got them started with community card and board games. From that start in 2003, they have grown to offer a broad portfolio of casual and social games. Their current plan is to continue developing these games for mobile, Facebook and web, using the cross-platform technology and infrastructure they have created and expanded over the past two years. They will expand their popular games and community web platform, GameDuell.com.
And popular is definitely the right word. GameDuell now has more than 130 million players across all platforms and over 70 games in seven languages. Their most successful game, the French card game Belote, is now available in four versions: a web version, an iOS app, an Android app and a Facebook app, with 260,000 daily active users just for the social and mobile versions. Look out for www.belote.com.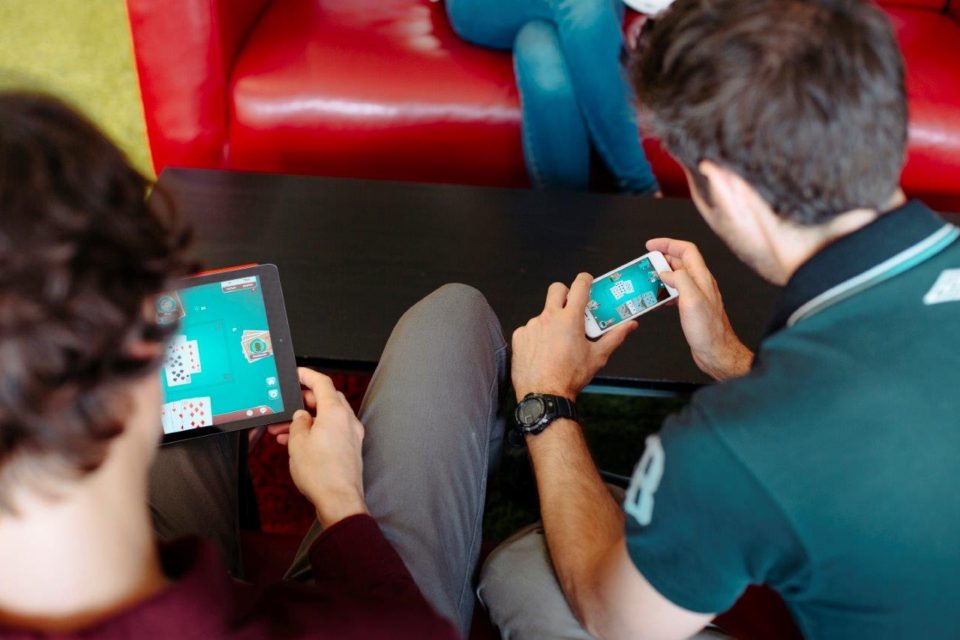 The day before my visit happened to be the day GameDuell released their latest title, Grand Gin Rummy, a multiplayer card game aimed at the US market. This new game recreates the atmosphere of the 1920s when Gin Rummy first was created in New York and soon became popular, starting with Broadway and Hollywood actors and expanding quickly to their fans. GameDuell's version begins with the player entering a grand hotel, styled after luxurious resorts of that time. After a short tutorial and playing a few rounds of the game in 'quick play' mode, players can compete with others from all over the globe in multiplayer matches. Or, of course, they can choose to play in the game's offline mode where they will be challenged by skilled A.I. opponents.
Grand Gin Rummy was featured on the Apple iOS App Store worldwide as one of the best new games, and it is still featured there. And a Facebook canvas version has now been released, too. It sounded like a great game for anyone to satisfy their desire for competitive play while immersed in the 1920s atmosphere. Check it out on www.grandginrummy.com.
We finished the day by talking about the advantages of creating a startup in Berlin. In Berlin you are surrounded by an environment of fun and innovation, with great arts and tech cultures, so it is not surprising that game companies are choosing the city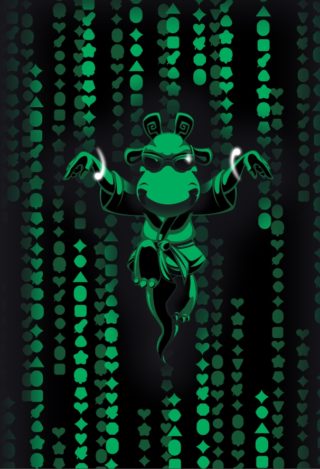 for their headquarters or for one of their main offices. These include major studios such as Wooga, Kabam, GREE, Aeria Games/Prosieben Games, Bigpoint Berlin and King, and Epic recently opened a Berlin office as well. Many of the large non-games digital companies are also attracted to the city: Rocket Internet, Zalando (the equivalent of Zappos), Groupon, Scout24, Auto1, Spotify, Soundcloud, Delivery Hero and others. Ebay and Paypal are also located in the outskirts of Berlin.
The Berlin government is very supportive of startups, so it is a bit easier to make your beginning there. It's seems the perfect space for mass market video game creation. And an exciting place to be coming for Casual Connect in 2017.
Comments
Carl Quinton