Filip Žarković: At the Nucleus of Serbian Game Development
At ICT Hub on August 13th 2016, several top Serbian indie developers presented their games at an event Serbian Game Community which is organized by companies that included Bincode Entertainment, Thoril and COFA Games. Judges from several veteran Serbian game studios picked Kiss Hero, winning a spot to present at Casual Connect Tel Aviv as a result.
Filip Žarković has used Indie Prize as a motivating factor, pushing them to raise the quality of their games. "I found out about it two years ago when it was held in Belgrade, my hometown," Filip said. "I've been following Indie Prize ever since, and participated in CC Tel Aviv last year."
For Filip, representing the Serbian game development community at Casual Connect means a lot and its a huge validation. "We're a recently formed studio, and this really feels like a verification that we're doing something right, especially because the day we were chosen to go to Casual Connect Tel Aviv, our first game, Nukleus, was getting some great results on the AppStore," Filip noted. "It also means a lot to us because the competition in the Serbian part of the contest is really awesome!"
Literally Color Blind
Filip and the rest of the team have been working hard to even be prepared to present anything. Color Blind Studios was only formed officially in May 2016, and they've been hard at work since that time.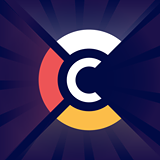 "We chose the name because three out of four of us are color blind and we thought it was funny," Filip said of the studio. "Luckily for us, the graphic designer is the one with the good eyes. Experience so far was pretty good, I must say, we've had our very first game featured in the AppStore, and got to some high ranking in the charts worldwide. Then, our second game, Kiss Hero, got this chance to represent the Serbian game dev community at Casual Connect, and we believe we're still just warming up."
"Nukleus was conceived literally the first day we sat in the office, the first working day as a team," Filip continued. "I was playing around with some magnets and it gave me the basic idea, that the team later devised into Nukleus as we know it today. Funny thing was that, when we made the first prototype, it was really terrible (even though it was literally the same concept as the final version, but with very different tweaking settings) and I wanted to scrap the project. Luckily, the rest of the team didn't share my opinion.
A True Hero
When it comes to the popularity of Color Blind's first game Nukleus, Filip thinks a large part of its appeal is the simplicity. The developer describes it in terms of being "easy to learn, but hard to master."
"This game now has more modes and is included a Theme Shop, where players can unlock or buy new themes for the game," added Filip. "Due to its simplicity, there's not much to improve or add, so we believe it's close to finalization."
The game of the hour, however, is Kiss Hero and that's really lifted Color Blind to new levels. "Kiss Hero is a simple one-tap game, in which the player is challenged to swing through the procedurally generated levels, save the damsels in distress, break through obstacles and unlock secrets," said Filip. "The reception has been kind to us so far, to say the least, and it also helped us greatly in improving existing ideas and implementing new ones."
When asked about what inspired the game, Filip gave a very particular example. "Specifically, the idea for Kiss Hero came from my love for Spider-Man and the way he swings across the city, so one time while I was working I needed to get some stuff from the grocery store and thought 'man, I'd love to just swing down from the balcony instead of using the elevator'. When I returned with the candies, I made the prototype, and the rest is history," Filip laughed. "Most game ideas we come up with come randomly like this one. We have a rather creative team, so there's always like five game ideas for one game that we actually work on at the moment."
Filip even had a funny story to share when it comes to Kiss Hero. "When you carry a damsel, trying to save her, but instead, you bump her head on the ceiling and she yells 'owww' and falls down. For the realism of the sound effects, I hit my girlfriend in front of the microphone," Filip said, before adding, "Just kidding!"
The NES Difference
Filip started out as a developer with a huge passion for games, stoked by experiences with an NES as a young child. While this is pushing them to work on a 2D action platformer that's currently unannounced, it won't be in a particular art style because Filip says that Color Blind doesn't have one (at least not yet, anyway).
"Different games require different art styles, and our games have been very different so far, although, we are consistent with the game feeling stuff, like screen shakes, flashes, particles and such," Filip described.
While Color Blind has used a variety of art styles, they've tended to rely on in-game ads for revenue. It can be a delicate balance having ads that aren't obstructive or not breaking the game with IAPs, but when asked about what an indie developer should never do, Filip said, "Never disrespect the players, promise what you can't achieve or lie about the game. Oh, and never have a giant game as your first serious project. I learned that the hard way."
Never disrespect the players, promise what you can't achieve or lie about the game. – Filip Žarković
The Benefits of Publishers
In the indie space, Filip laments the fact that some developers take too little time in development. In the eagerness to make some money off the product, putting it out in an incomplete or bad state is harmful for the developer and others of a similar size.
"To make the game successful, you really need to polish it until it's perfect and once you make it so, don't be a fool and release it without a publisher," Filip detailed. "Many developers refuse to do so because the publishers take some percentage, but have in mind that it's still better to have 50 percent from thousands of U.S. dollars than 100 percent from $7 U.S. dollars."
To that end, Filip says that finding the right publisher was collectively the most challenging experience as a developer. "There are really many of them who just don't care and take way too long to respond to an email, even if the contract is already signed. Especially then, they often act super friendly to get you to sign with them, and when you do, they start slacking," said Filip. "Luckily for Color Blind Studios, we have found a very awesome publisher: Umbrella Games, who are really pleasant to work with. I wasn't obliged to say this, I swear!"
The Joys of Testing
Color Blind Studios has tried to avoid making specific "genre" games for fear of them being to generic, trying instead to create new genres. They've done most of their development for mobile, specifically iOS, so far.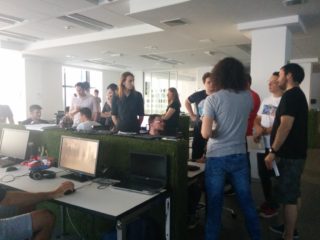 When it comes to test their new experiments they try and do so once it's in a playable state, though Filip admits, "I'm really not a fan of having people telling me that the art is bad when it's clearly placeholder art. It has been pretty effective, it's amazing how creative people can get when they're given a chance. We get many ideas from people who play our games."
"The most interesting reaction we've seen so far was our own, when we see how good people are at our games," Filip continued. "It's always amazing (and also kind of bumming) to see someone play your game way better than you, especially if you've spent so many hours testing it yourself. Recently we gave our friend the iPad to try Nukleus and he scored over my best score ever from the first try."
Work like a Game Jam
Color Blind's projects are led by Vladimir Kokeza, one of the studio founders. The structure is very flat, however, and everyone is in the same room where they spend a work day playing games, talking about future plans and doing some developing.
"Usually someone comes up with the idea for the game, makes a prototype, sees if it works, and if it does, we just jump to it, no special planning up front, we just make some starting guidelines, but much of the game gets made as we work on it," said Filip. "Kiss Hero got the Game Design Doc two months after we started working on it, and that's because it grew so far from what we first intended to make, we just couldn't keep track anymore."
As for Color Blind Studios' work environment, Filip described, "We have a physical location, right next to the city lake, so whenever we get too stressed, we can just go swimming and come back relaxed. Productivity is a lot higher than in case of working alone from home."
Come see Color Blind Studios at Casual Connect Tel Aviv November 1st-3rd 2016!
Comments
David Radd
David Radd is a staff writer for GameSauce.biz. David loves playing video games about as much as he enjoys writing about them, martial arts and composing his own novels.