Craig Robinson: Finding the Most Efficient Solutions | Casual Connect Video
Haxe and OpenFL: easily portable, and can get you to platforms that restrict Flash. - Craig Robinson
Click To Tweet
At Casual Connect Tel Aviv, the Vice President of Mobile Games at FlowPlay, Craig Robinson, spoke about Haxe. Craig explained, "Flowplay is using Haxe and OpenFL, which are similar to Flash and AS3, and easily portable. They can get you to platforms that restrict Flash today." Games written in Haxe can target many environments including HTML5, iOS, Flash Player and Android. OpenFL is an open source library built in Haxe, which provides a Flash-like API. The combination of Haxe and OpenFL is a natural fit for developers looking to move away from ActionScript/Flash. To learn more, tune in to Craig's session from the conference.
---
Craig Robinson is Vice President of Mobile Games at FlowPlay and leads the mobile team which is responsible for Vegas World Free Slots on iOS, Android, Kindle and Windows. His work has him busy on a daily basis writing code, tracking and evaluating KPIs for their product, discussing technical and product design issues with the team, planning upcoming features, helping with Haxe/Open FL issues, evaluating third-party technology, coordinating with QA and Marketing departments and interfacing with customers.
Craig particularly enjoys the people he works with saying, "FlowPlay has an amazing company culture, and I'm really proud and fortunate to work for a company with such a creative and dedicated group of people. Many of us have been here for a long time, so it feels like a big family."
For more than 15 years, Craig has been involved in building consumer mobile applications. He was an engineer on the team at RealNetworks that built the world's first commercial mobile streaming media player in 2001. In 2005, he began building mobile games and then founded Absolute Hero, a studio that developed casual games for web and mobile platforms.
To anyone interested in following a similar career, Craig suggests that you can best learn by making games. At first the games will not be good, but you will learn from them. So, he says, "Keep experimenting, failing, learning and embracing the process. Eventually you will make something great."
Creativity and a Love of Technology
Craig has had a lifelong love of technology – although as a child, software development was only his third best career choice, following fighter pilot and NFL quarterback. Even so, he is not surprised to have ended up in this career. He grew up taking apart any piece of junk electronics he could get his hands on. By age 12, Craig had his own computer, which he used to teach himself to program, – "It was love at first byte." But what does surprise him is the innovation and enthusiasm of the people in the industry.
The turning point that led Craig to focus on mobile games came in 2005, when he was working at GameHouse. The company acquired Mr. Goodliving, a Finnish mobile game pioneer, which brought in some of the best game developers Craig had ever met and allowed him a tremendous opportunity for learning. And now Craig can exercise his love of technology in the highly creative, very competitive and constantly changing games industry.
Craig believes creativity is simply hard work.
Craig claims that he has no creative process; rather, he believes creativity is simply hard work. So he just jumps in and gets to work. However, creative blocks still occur so he admits, "You have to know when to push through and when to stop and take a break. Sometimes your best thinking happens when you're not grinding away on trying to solve something. If you back away and find some space, you find a solution that fills the void."
Highs and Lows of Founding a Company
Both the highest and lowest times in Craig's career so far came in connection with the company he founded, Absolute Hero. He started the company in reaction to what was happening as Flash-based games were coming to an end. His plan was to make high quality games using HTML5, and they shipped over 30 HTML5 games in only two years, as well as ported a number of well-known casual titles to HTML5, including Text Twist from GameHouse and Microsoft Solitaire Collection. Microsoft Solitaire became the most popular HTML5 game ever made, and he is very proud to have worked on it.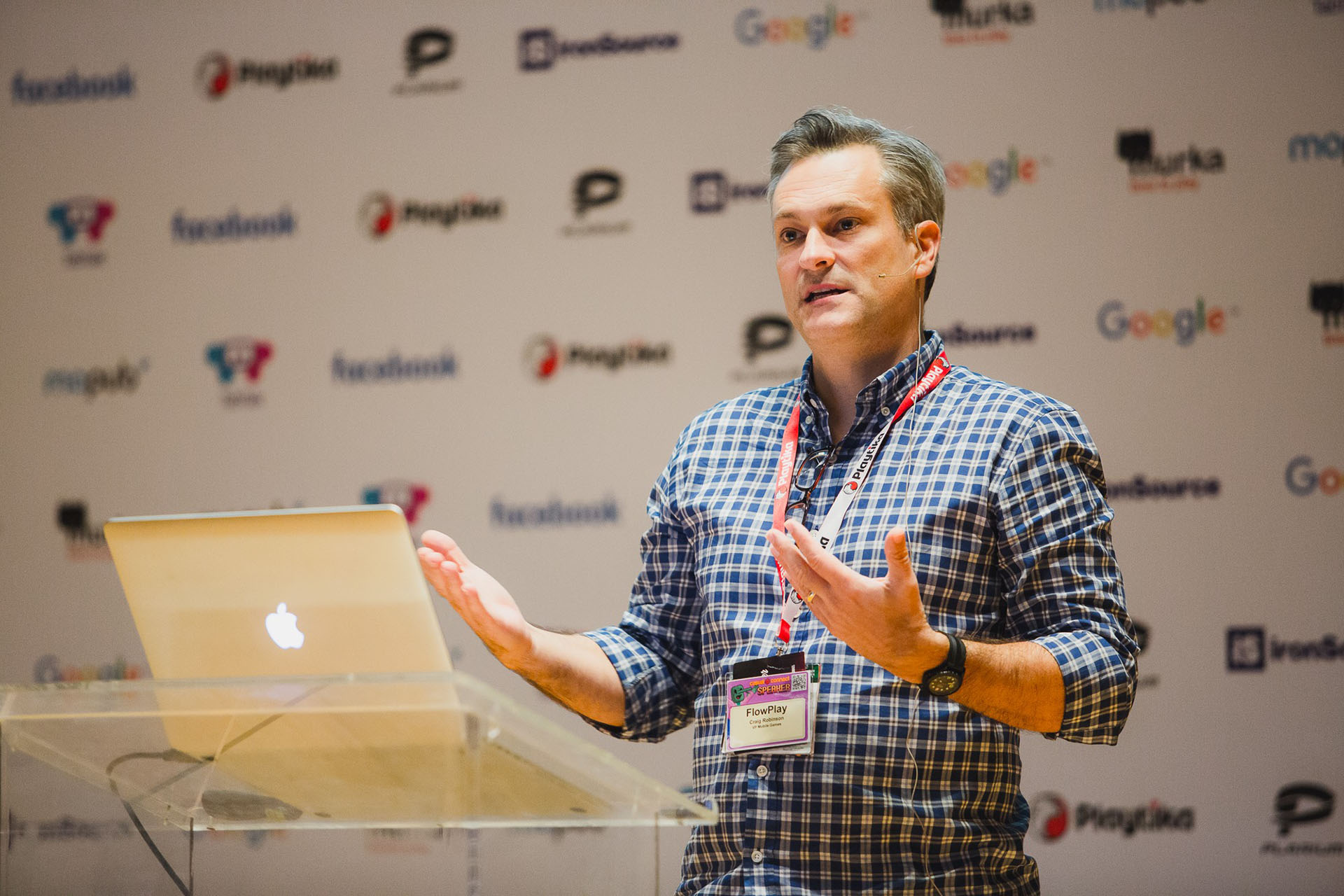 Craig describes the team he built at Absolute hero as a fantastic group of talented and experienced game development professionals on the cutting edge of a new era in casual games. And now they have become the core of FlowPlay's mobile team, still together and pushing the envelope to make great games.
Unfortunately, they were not able to make Absolute Hero work as a company, and shutting it down was an incredibly difficult and painful experience for Craig. He describes, "When you start a company you devote a massive amount of time, energy and emotion to it. When it doesn't work out, it's hard to deal with."
It took a long time to recover from this dark period. He used meditation and exercise to calm his mind and also found the support of family and friends very valuable in accepting the situation. When he and his team began working at FlowPlay, focusing on new and interesting problems and goals finally allowed him to leave the past behind. As he relates, "The leadership of the company and the entire team are amazing, and I feel a deep sense of gratitude and fortune to be working with them."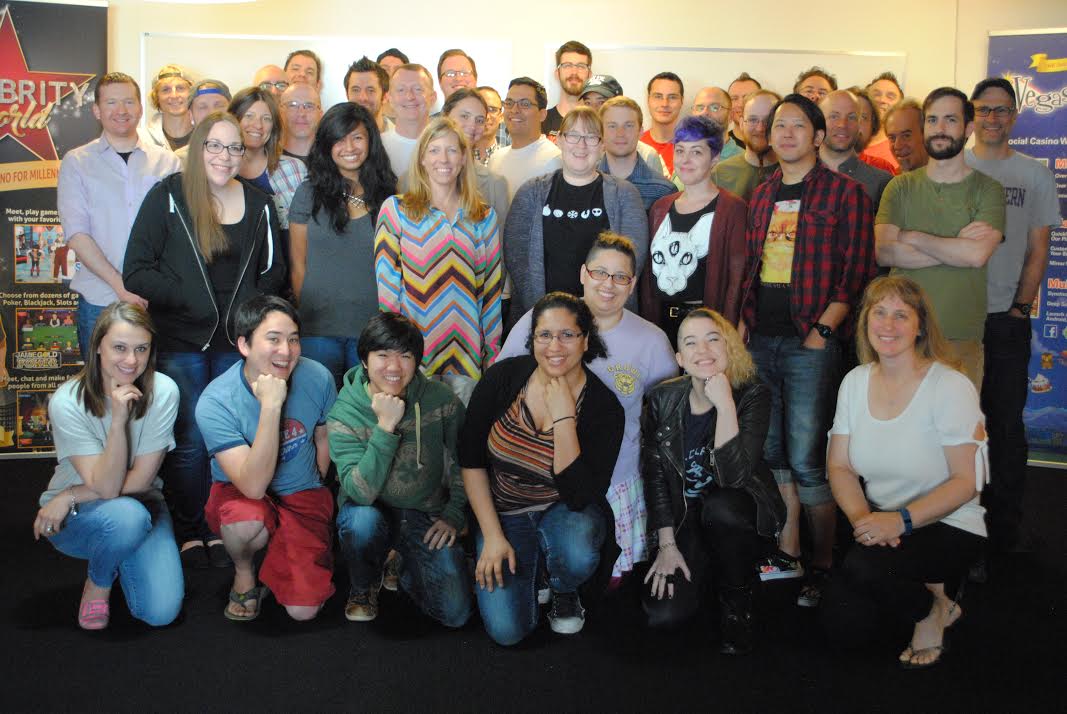 Cross-Platform Development
One of the challenges of today's game industry is cross-platform development, and Craig points out that it is always hard and involves compromise. There is no ideal solution. He says, "You need to decide what classes of problems you want to deal with and figure out the most efficient ways to solve them."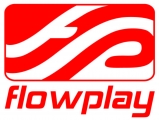 For FlowPlay, the best tools are Haxe and OpenFL. From 2007, they were a Flash/ActionScript shop. So they have a large existing codebase written in ActionScript and a team experienced in using it. And their games run across the web and mobile platforms. Their mobile business is growing dramatically but they also have a large, loyal customer base playing only on the web and they do not want to disrupt their experience.
Developers familiar with Flash/ActionScript can "jump right in … without skipping a beat."
Unfortunately, Flash and ActionScript are disappearing. Craig notes, "Apple has never supported SWFs in their mobile browser and recently desktop browser makers have announced an end-of-life plan for plugin-based media." So it became essential for FlowPlay to move away from ActionScript and Flash. Since they needed to support both web and mobile platforms, as well as have a single client codebase, Haxe/OpenFL was the most viable option.
One of the advantages to adopting Haxe/OpenFL has been the ease with which it can be used. Developers familiar with Flash/ActionScript can "jump right in … without skipping a beat."
Companies such as Disney, Mattel and Nickelodeon have also discovered the same advantages of Haxe/Open FL that FlowPlay has: Their developers were already using ActionScript and their customers are playing on the web.
The Role of Community
In the next few years in the game industry Craig expects the role of community to increase in importance. The community he envisions consists of people developing deep, meaningful relationships with other people around a shared experience. As an example, in FlowPlay's Vegas World, there are virtual 'Charms' that allow players to boost their winnings beyond what the game normally pays out. Players can directly purchase Charms, but they can also acquire them through Charm Parties. These are community hosted events where players can exchange Charms while socializing with other players.
Future: community of people developing deep, meaningful relationships with other people around a shared experience.
The most exciting thing about the Charms Parties, in Craig's opinion, is that FlowPlay did not invent them. The players organized the parties themselves and FlowPlay simply provided a mechanism to formalize them. "That's a sign of a vibrant community!" Craig maintains. Craig considers community an extremely powerful way to keep players coming back to a game, but it is much more than a retention mechanism. Rather, it should be at the core of the experience and woven throughout. So if developers wish to leverage community they must incorporate it into the core elements of the game design. Then, when a loyal community – even if small – has been established, it must be nourished through listening to player feedback and adding features to enhance the naturally occurring beneficial behaviors.
Comments
Catherine Quinton
Catherine Quinton is a staff writer for www.gamesauce.org. Catherine loves her hobby farm, long walks in the country and reading great novels.