Esports for Indie Mobile Developers: Mad Skills Motocross Championship Deep Dive
By Simon Sundén, head of Esports at Gumbler
With over 31 million downloads, Mad Skills Motocross 2 has continued to be a success for developer Turborilla since its launch in 2014. This is primarily due to a loyal player base, many of which are involved in real-life Motocross, as well as partnerships with the likes of RedBull for exclusive events. Looking to drive more community engagement, Turborilla decided to up the ante in October 2015 by introducing real-money challenges via Swedish skills-based esports platform, Gumbler.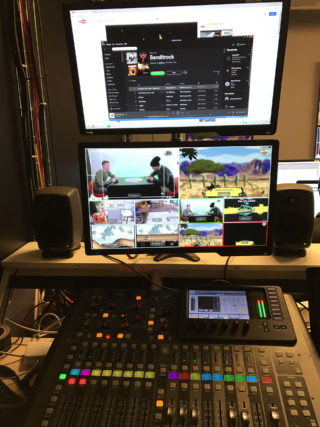 Based purely on a player's skill, Gumbler brings esports to mobile games by enabling players to win real cash through placing money on their abilities. After integrating Gumbler, Mad Skills Motocross 2 saw players win upward of $900,000 in 2016 – with some individual players earning as much as $6,000 per month.
Having seen the high levels of engagement from the Mad Skills Motocross 2 community, Gumbler worked with Turborilla to host its first World Championship at the beginning of 2017 with a prize pot of $20,000.
For Gumbler, the goal was simple as its Head of Esports, Simon Sunden explains:
We looked at the other main esports tournaments and wanted to make sure that this one fit the needs of a mobile audience. Our aspiration was to have a well-produced and more intimate event, rather than a large-scale arena-based event as you would typically see with PC esports.
We also wanted the Championship to be accessible to anyone who played Mad Skills Motocross 2, rather than just taking the top people from across the year. As a result, we held a series of qualifying matches over a four week period. From the beginning of the Championship, our main aim was to give everyone the chance to be rewarded. As a side benefit, we also wanted to demonstrate how a skills-based mobile game can work as an esports title.
During the qualifying matches, over 200,000 people entered each round which was much higher than we had originally anticipated. This gave us a good sense that the community had a strong interest in live events such as the World Championship. Of those 200,000, only 12 people would be able to move into the final; so it was incredibly competitive from the outset.
Unlike the usual cash challenges, which are limited to over-18's, the World Championship was open to all ages which we considered to be a crucial factor in attracting a wider segment of the player base. It also meant that the under-18's could win some money, just for being good at a mobile game.
With the Championship being promoted to players within the game and across Turborilla's social media channels, the early stages saw high levels of engagement. That said, we knew that it would be the live element of the championship that would bring the most challenges.
We scheduled the live event in Stockholm for the beginning of January. We opted to go for a two-day livestream studio-based event with professional commentators hosting for around seven hours each day. It helped that we weren't overly ambitious for the first Championship and knew we had to walk before we could run. Whereas most esports events gravitate towards the bigger live arena-style show, we had opted for a relatively controlled environment, broadcasting over established channels, to a ready-built audience.
Here are some of the key lessons we learnt from putting on the live event:
Timing is Key
Regarding securing media coverage, we know that it was risky putting a live event on at the very beginning of January just after the Christmas break. Having the dead Christmas period just before the event meant that we weren't going to secure as much media attention as we wanted as a lot of journalists were on vacation in the period leading up to the event. That said, we weren't necessarily focusing on the media for this event but next time round it'll be a more major consideration.
The other key factor was the timing because we know that the Mad Skills fan base is global but has a large contingent in the US (as shown by the fact that a lot of the finalists were from the US).
With a livestream, you have to factor in where the bulk of your viewers are going to be. We scheduled the streams to run from morning to evening on weekdays in the central European time zone. This still resulted in significant simultaneous viewer numbers of over 7,000 at peak match times.
I think it will be interesting to schedule the event around the US timezone next time, or even begin around 3pm European time and finish around 11pm to try and include more US viewers for longer. Having the event on the weekend would also naturally lead to more viewers, so next time these will be key considerations.
Timing is down to your ability to analyse the user-base and figure out where the most engaged viewers are going to be online to make sure you capture them.
In-game Real-time Support Really Drives Viewers
Driving people to the stream in real-time was essential. Turborilla helped to maximise this by including a prominent promotion of the Championships inside the main game menu screen.
Fans were promoted to watch the live events whenever they entered the game. There was also a direct link to the Twitch feed in the game so that fans could watch it there, so they could remain within the game, rather than being taken to the Twitch app or into the browser.
Social media also helped to bolster numbers, but the prominent inclusion of the live event in the game itself was essential in driving viewing traffic. The other great thing about mobile is the ability to push out notifications, and this can have a significant effect on optimising real-time event interaction.
Always Prepare for Screw-ups
Whenever you're organising an event like this, you have to have the mindset that at some point, something is going to go wrong. You have to just accept that issues happen. It helps you mentally prepare for such eventualities. Anything that can go wrong probably will go wrong especially for live events!
From the qualifier rounds, we knew the 12 finalists would be flying to Sweden from anywhere in the world. This presented us with the challenge of ensuring that we could fly players in and give long-distance travelers adequate time to get over any jet lag. We also had to deal with other factors such as the different periods that colleges and schools in various countries were breaking over the Winter Break.
We had to delay the tournament until after New Year so that it could fit in with the contestant's college and school schedules. However, as has been mentioned previously, this was not an optimal time to drive media interest. Another unusual and unique factor we had to consider was the professional motocross scene kicking off in January.
Of the 12 finalists, one was a professional motocross racer, one was a BMX champion, and four others grew up in the Motocross world and still race. We ended up with players coming in from the USA, Canada, New Zealand, Brazil and Norway.
Considering the numerous scheduling issues, only one of the finalists had to pull out of the competition and so fortunately for us, that was the only main challenge that we faced with the finalists.
To help further level the playing field, and to also try and reduce the risk of technical issues, we also bought brand new iPhones. With hindsight, this was likely the best decision we made. It meant that there was a much lower chance of devices crashing, or that there would be any issues with the devices being used by the players. It also meant that the finalists were all on a level playing field and they didn't have to worry about using their own devices which could have created objections.
We did what we could to try and mitigate screw-ups. We prepared for them, but also felt confident that we would be able to pull it off because we had experience, had the right partners and took steps to prevent anything catastrophic from happening.
High Production Values are Essential
There's a high expectation attached to online esports events, and so it was critical that we created something that met fan expectations. To run the live portion of the event and ensure that it ran as professionally as possible, we partnered with Fragbite, a Swedish-based esports production company. This gave us access to a studio with all the equipment needed to stream the Championship over Twitch and Facebook Live. It also meant that we were creating an event with the correct production values that fans come to expect.
Given that we were broadcasting over two days, for over seven hours a day, we encountered virtually no technical problems which were largely a reflection of the fact that we had partnered with an experienced production company. We did meet a small timing problem at the start, and so we made the decision to delay the start of the championship for 10 minutes to carry out final checks. Unfortunately, as a notification went out in the app saying that the tournament was starting, people were waiting around longer that we had anticipated for the event to start.
Use Professional Hosts
Knowing that we had to fill 15+ hours of live content, we also engaged two professional hosts in the form of Matthew "Sadokist" Trivett, a well-known Counter-Strike: Global Offensive personality, and Alex "Machine" Richardson a leading host for major CS: GO, Call of Duty and Dota 2 tournaments.
Using experienced hosts meant that the pace never slacked over the entire event and they also helped boost ratings with their Twitter followers.
Choosing hosts was a challenge because there aren't any established Motocross esports people out there, so the decision to use experts in CS:GO may seem a strange one. We knew that guys had great transferable skills which meant once they had familiarised themselves with the game, they could keep things on track. Using less experienced hosts could have led to the event feeling flat and so Matt and Alex added a strong feeling of professionalism to the proceedings.
Interestingly, this also turned out to be one of the best decisions we made. As the hosts didn't have prior experience with the game, they were able to see, with the audience, the level of skill actually required to be a top player. This led to some great moments during the Championship, with the hosts finding plenty to talk about as they learnt more.
The hosts' professionalism paid off at key points in the Championship, especially the track-familiarisation section. Because we were using brand new tracks, finalists were given around 50 minutes to try out the custom tracks that had been designed for made for each heat. At the end of the 50 minutes, they were then given several attempts to set the best time.
The hosts came into their own when it came to filling in the time – though next time, we may think about sending out notifications to let people know when each final was taking place.
Judging the Impact of the Championship
The championship was always meant to be about recognising the high level of skill that the top players in the game possess. Mad Skills Motocross isn't a game that gets discussed in the media, but it is a very popular game within the motocross community.
Bringing in some hosts from the CS:GO community did mean that we attracted some of their audience, but the primary audience came from the game itself.
Over the course of two days, there was a total of 180,000 views during the livestream, with 7,000 concurrent viewers during the final and (to date), 32,000 on-demand views.
The impact on usage for Mad Skills Motocross 2 was most visible when it came to the real-money competitions. Directly after the World Championship, we saw a 50% increase in both the number of users & revenue.
So What Did We Ultimately Learn from the Experience?
As the first Mad Skills Motocross Championship, we saw a huge number of players taking part that usually don't enter the cash prize tournaments. This was partially driven by players under the age of 18 who aren't able to win money because of our age restrictions and partly it was due to other players who wanted to be involved.
With the live portion of the event, we would also look at ways to push alerts to players when the finals for each round were taking place. We may also consider the means to use feeds from different players during the final rounds to add more suspense. For the first event, we just used the feed from the fastest player. While this helped to show the audience that it's possible to win even if you aren't always in the lead, it did mean that the audience knew who was winning each round from early on. I think that next time we will also aim to have much more Tweeting and overall social engagement before and during the event. Social media across multiple channels is incredibly time-consuming and requires someone sitting there on social media which we didn't allocate resources to.
This was the first indie mobile Esports Championship, and overall things went very well. The numbers we saw during the Championship gave us a clear indication that there is an appetite for more events like this. With more promotion and posting more videos, we believe that in future, we can make the event even bigger. Ideally, we would also want to make the prize fund much larger. The bigger the prize fund, the higher the stakes become, the more exciting the event becomes.
Watch this space.
---
Simon is the VP & Head of Pro Gaming at Gumbler, a unique esports platform that lets gamers of mobile, tablet and PC/desktop games compete with friends and random opponents directly or through tournaments, for real money in games they already play. Simon is responsible for Gumbler's global expansion, establishing it as a key platform for studios wanting to enter esports. Simon was previously Head of Esports at Modern Times Group (MTGx) which acquired ESL & DreamHack, the leading esports companies in the world. Simon was also Co-founder of Lissly, the top-rated media monitoring tool in Sweden.
Comments
Industry Contributions