Missing Finds the Right Tone to Address Human Trafficking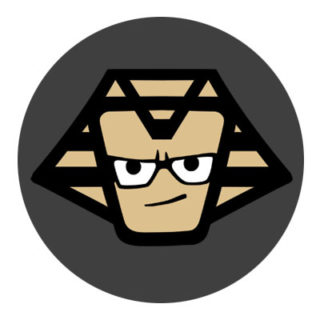 Missing: Game for a Cause is a game about the issue of human trafficking in India, designed by Satyajit Chakraborty of Flying Robot Studios with art and other contributions by Leena Kejriwal. Flying Robot Studios is a one man studio that scales with each project, while Leena originally conceived of Missing.
"Each and every project is led by me, AKA Flying Robot," said Satyajit. "I choose my team members and assign tasks to them."
"I started Missing as a public art project and campaign, thought I collaborating with various people like psychologists, sociologists, campaign creators, governments, NGOs to taking the project forward," noted Leena.
Since releasing, Missing won the Indie Game of the Year at NASSCOM Gaming Forum Awards 2016. NASSCOM is an organization that represents and sets the tone for public policy for the Indian software industry. "NASSCOM Indie Game of The Year Award is the most coveted award for indie game developers in India," said Satyajit. "This award is specifically meant to recognize, promote and accelerate indie studios in India. And for my small indie studio, Flying Robot Studios, it gave the much needed enthusiasm and exposure which is vital for our future as game developers."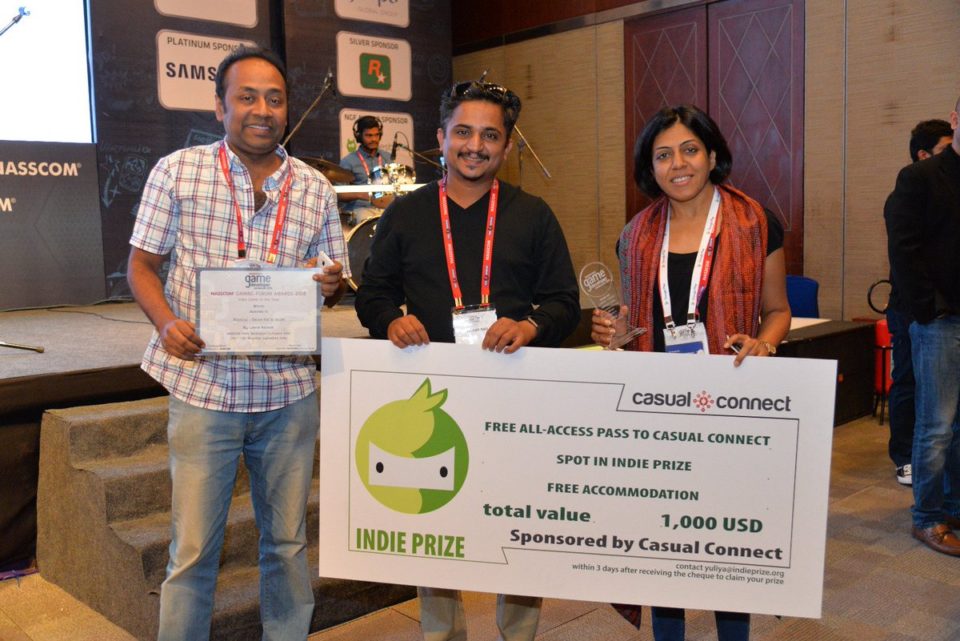 "This award was highly significant," noted Leena. "It was truly a great surprise because initially when I thought of a game app for a cause, my intention was to create a game playable enough to go through schools and NGOs for raising awareness on the issue of sexual trafficking. Though me and Satyajit did have sleepless nights on how we could make the gameplay interesting enough for the players, but he did manage to put together a gameplay which was interesting enough. But to receive the Indie Game of the Year award, was truly momentous, and it helps me take the awareness of the issue to a wider gaming audience in India and abroad."
As a further honor, Missing will be shown off at Indie Prize as part of Casual Connect Europe 2017 in Berlin, which will open the game up to a variety of people who may otherwise not know about it. "Me and my studio is fairly a new kid on the block," said Satyajit. "The game Missing which I designed reflects my orientation as a game designer and I'm keen on a qualitative analysis of the design style, to find it's merits and flaws. So, the best way to find out is to show it to a wider audience. And Indie Prize Berlin 2017 is the perfect opportunity to get all the eminent game designers, developers and players (especially European) in one place. I'm looking forward to using this platform to interact with them about the game and my future projects. This is the best thing that can happen for a budding game designer. Thank you Indie Prize for this opportunity!"
"It gives me access to the European audience to talk about the issue of sexual trafficking through the game because as we know trafficking is not just in India, it's a global issue, and all should address it," said Leena. "It also give me the possibility of making a localized European version of the game."
Bringing Dark Parts of Society to Light
Missing was originally conceived as a way to draw more attention to the ongoing problem of human trafficking. It was Leena's idea originally, with Satyajit being brought on later to develop the game and the YES Foundation assisting in the production.
"The Missing game is a part of the larger awareness campaign and Missing Public Art Project, which I'd launched a year back," said Leena. "The art work has been a culmination of my decade long work as an artist on the issue of sexual trafficking. A year back I specifically created public art works as I wanted to move out of the galleries, and speak to a wider audience. As a photographer in my explorations of the city I explored areas and spaces, which you normally don't go to, and my first visit to a red light lane left a lasting impact. I saw that which remained unseen. The whole comprehensive work can be seen at SaveMissingGirls.com and the game is part of a whole four-part project, and a ground level stencil campaign featuring the silhouette."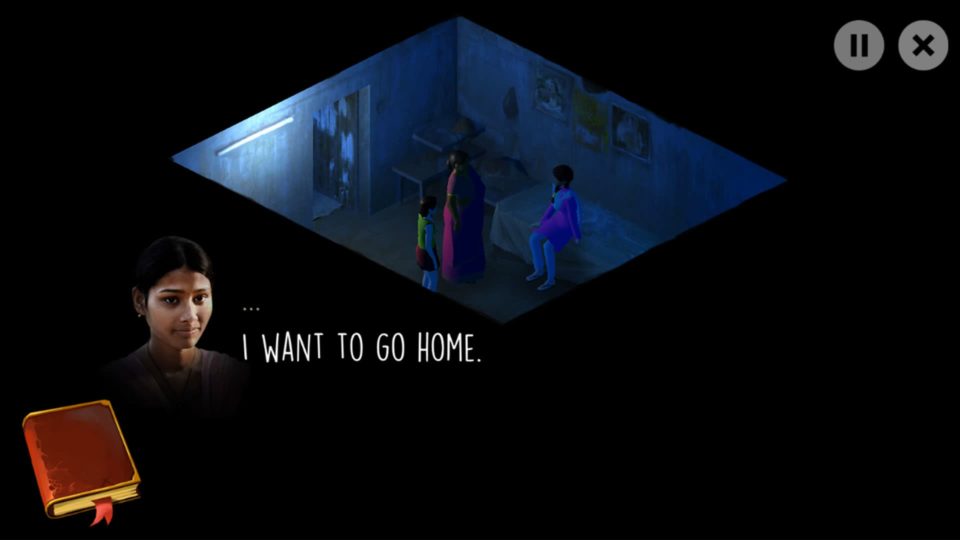 "The YES Foundation has generously come forward and supported the initial production of the game," Leena added. "This gives us more room space to convert the game into a PC version and to take it to the next step."
While Missing is a game with an obvious message, Satyajit said it was key to accomplish this without preaching. "The game poses a challenge to the player, which the player has to overcome throughout the game to win it," said Satyajit. "The plot, challenges and the narrative was based off journalistic research. That way the game provides a fair amount of tangential learning about the cause of women trafficking not only in Kolkata, but throughout India.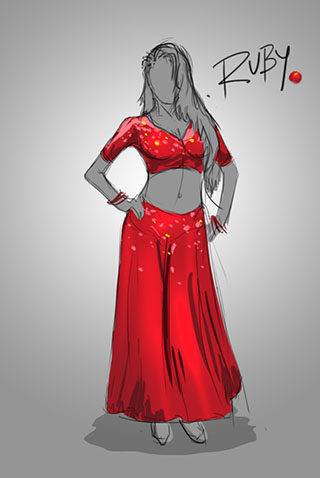 "The game opens a portal to a previously unexplored dark part of our society. It exposes players to an experience which he/she never experienced before. Questions his/her morality and social outlook. Also, I've tried to reflect the brutality of this world into this game. The game is not 'fun and addictive'. It was never meant to be. Players can hate it or love it, but will never be unmoved by it. And that was the purpose of the game, to shock the player to empathize with the issue. That's what I want the players to take away."
"The main purpose of creating a game for a change like Missing was to make the player slip into the shoes of the trafficked victim," noted Leena. "Feel her frustration and angst and vulnerability, and her absolutely hopelessness in the situation which she is, so that they would become sensitive to the issue of girls whom they see 'selling' sex. Because the layman never really understands her background and most often think she is standing there voluntarily. With this we hope to end demand, this is in sync with the cry of end demand throughout our campaign, because trafficking is a demand-driven market."
Being truthful to the cause and the reality is the key. As truth is stranger than fiction, it's also stronger than fiction and proper use of it in games will imprint itself into the player's mind that can last forever. – Satyajit Chakraborty
"Video games are the perfect (way) to engage the audience in the deepest way possible and adventure games with strong narratives based on journalistic researches can strike a chord with the audience," noted Satyajit. "What's told in Missing is a human tale, with believable characters. Not taking refuge to fantasy, which can be easier for a game designer. Also game designers are particularly worried about players rage quitting if the game is not fun enough – I'd suggest them to shed this fear. Being truthful to the cause and the reality is the key. As truth is stranger than fiction, it's also stronger than fiction and proper use of it in games will imprint itself into the player's mind that can last forever."
About More than Mechanics
Missing was tested on many types of players. This included hardcore gamers and those who don't play many games at all. Satyajit said that the reactions to the game were quite varied.
"I've designed Missing targeted at a casual audience, not expert players. What I found is experienced players play games with a specific perception of the reality which can actually be a hindrance in experiencing the game," noted Satyajit. "I'll give you a specific example, in the chapter 1 of the game Missing, the player character is captive and the first choice the player has to make is to accept/reject food from her captors. Experienced players immediately accept the food, taking it as some kind of health point or loot. Whereas inexperienced casual players relates this to a real life choice and will mostly reject the offer. This gave me a unique insight to the audience mentality, especially in India and a way to connect with them."
"As this game is narrative based, it can only be tested after it hits beta. To test out the complete story arc. I really can't test early alphas or little mechanics with this type of games. Those testing we (did) internally. External testing was done by simply inviting players for game sessions and watching them play behind their shoulder, taking notes," noted Satyajit. "Playtesting is very critical to all my projects. I depend upon it a lot to make design changes, especially where there are gameplay elements. A game's success depends on it in a big way."
Satyajit noted that some games require almost daily testing, others are done weekly. Satyajit prefers to use new players every time, using online forums to recruit them. "I usually open up a beta testing group in Google groups or Facebook groups depending upon the particular player migration," said Satyajit. "I track the user feedback through analytics platform like Google Analytics and more descriptive feedback through Google forms that the user can fill after playing the game. I generally have more than one beta groups for testing a game."
Collective Effort for a Cause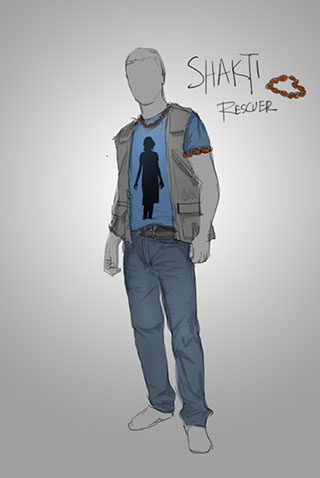 Flying Robot Studios is a virtual studio, located in Satyajit's home office. Extra people are brought on for jobs based on qualifications, not whether they are physically close to Satyajit.
"Flying Robot Studios is a one man army apart from the support staff. I expand upon project requirements and almost always recruit project based staff based on their talents, not locations," said Satyajit. "I take care on choosing the right people, specifically those who will not compromise with their work quality to attend a deadline or closing a freelance gig. Who will rather miss a deadline and quarrel with the client than delivering a mediocre product. Game development is not a factory job, sometimes the creative magic doesn't happens in a team member. I completely understand that and support them until they are satisfied with their work. So far, this work culture has worked for me."
"Every game project is designed by me and I always choose a flexible and modular development framework and keep it flexible almost to the end of the project," Satyajit continued. "After the initial design is done, I prototype it using assets made by me or from stock assets. Then the game gets into playtesting and design iterations until I arrive at a point where the design is working and the polishing can begin. At this stage I get to recruit asset artists and animators depending upon workload and deadline. Also, I recruit writers to polish the narrative and later music composers for the soundtrack and sound effects. Entire coding and bug fixing is done by me alone."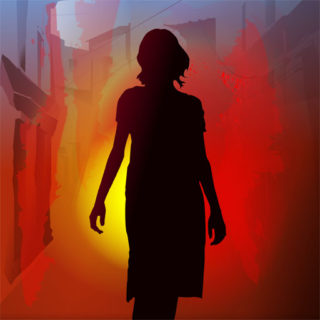 For Missing, Leena delivered the original concept for the game. From there, it was all about working with Flying Robot Studios in delivering the product. "The main aim in the whole process is to put out the silhouette in front of various audiences, be it gamers, the city public, the international community, the online community, and all this is covered by the stencil project, the game and the installation," detailed Leena. "The image is like a constant reminder, and a remembrance of the millions of girls who disappear from the face of the earth into the dark hole of sexual trafficking."
Promotion for the Missing game was a collaboration between like-minded people. Leena says that those who demand the end of human trafficking have been important in helping to make Missing happen.
"Since the project started many people from across the world have come in to be a part of the campaign either via social media, or the crowdfunding, the global stencil project – in a similar fashion, when we first began discussing the app, there was much brainstorming about what the app could do before we zeroed in on a game for a cause," said Leena. "And this led to the collaboration and Satyajit, as he is a game designer. The Missing team worked with him to expose him on the dark issues of trafficking. I took him to meet survivors in rural Bengal that the Missing project has helped save and rehabilitate, we took him into red light districts of the city to experience the atmosphere and mood of these spaces. An in depth discussion with a survivor also led him to understand the intimate details of the business interaction between client and victim. I also gave him the script of a film tackling the issue, which really helped him the scripting of the game itself."
"Though Missing is based in Kolkata our campaign has been truly global and hence mainly virtual," Leena added. "We give equal attention to our online campaign on anti-trafficking as much to the grass roots level work. Most of our interactions to further project happens online via the DIY kit, the game, the social media campaign truly makes it virtual."
The Missing team is seeking crowd funding through Indiegogo for the extended and PC version of the game. They aim to convert it to 13 vernacular Indian languages and localize the game for around six international languages. "We would like the gamers support to help us do that and help save more girls and futures in India," explained Leena.
Silhouette As a Sublime Distillation
Flying Robot Studios has used a variety of monetization schemes for it's various games, with PC games being premium and mobile games being free with ads and/or in-app purchases. Missing, however, has been different because of the way it was made and its intended audience.
"Missing Game for a Cause has been crowd funded, and we have kept the game free so that it reaches the widest possible audiences," said Leena. "It's available on Apple App Store and Google Play. We are looking at further crowd funding to translate the game into 13 vernacular Indian languages, and probable future localizations of the game, starting with a game for the European market."
Satyajit indicates that Shadowrun and This War of Mine helped inspire early concepts for the design of Missing. Various photo shoots of Kolkata helped inform the final design along with providing some in-game textures.

"The silhouette is a sublime distillation of all my thoughts, it's the product of intense havoc going through my mind over the last decade, where I was creating these multi-layered complicated graphic installations on sexual exploitation which I became really embroiled, and led me to discard it all and pursue it in a much more simple language which would transverse boundaries and languages," noted Leena. "I felt this was an issue which is a truly global issue which humanity should embrace and from that emerged the silhouette of the girl, which once set against the sky seems like a black hole has been cut into it, into which millions of girls continue to disappear from the face of the Earth."
Only the Bravest Indies Will Survive
Missing and other games by Flying Robot Studios have been made with Unity3D. While there's an active ecosystem and various solutions are available to find online, difficulties still come up.
"Sometimes development crunch happens and projects get's stuck," noted Satyajit. "In this particular game, that situation appeared when I had to do a crowd in the game, with all agents tappable and interactive. It was processor intensive and was running very slowly in older mobile devices. The solution came from properly using Unity's Navmesh and occlusion culling, thus minimizing the pathfinding calculations."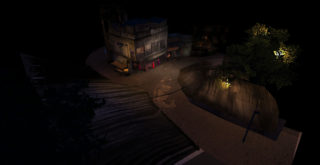 Satyajit indicates they are focusing most on adventure RPGs, including Missing. Satyajit says that they enjoy telling stories, and they want to continue working on this craft, working on many future unique experiences.
"I'd like to create an adventure RPG about a penniless wandering musician roaming throughout India," said Satyajit. "In this game, players will be exploring various parts of India, experiencing unique cultures, people, their struggles, music, stories, their ways of looking at life, economies, livelihood, love and violence. And rather than using guns as the player's tool to make a difference in this world, maybe he will use music. I believe it's a much more stronger and versatile tool. India has very unique stories of life and it's struggle which are worth experiencing through games."
"Ultimately, I want to create games that are unique experiences, woven with strong narratives which explore a wider gamut of player emotions," added Satyajit.
When asked for insights for other indies, Satyajit had some poignant statements, particularly for other smaller developers in India. "I believe the word 'indie' is losing all it's meaning nowadays. Especially in India, indie devs are ending up doing trivial titles which are spinoffs. Doing market research and making games around the audience trend, especially search engine trends, have made 'indies' slaves of the audience," asserted Satyajit. "Losing the meaning of the word 'indie' altogether. Down the line, I'm sure many of them will wonder why they have got into video games at all. I know right now they are thinking of making money first, be sustainable and then roll out original works. To me, that's a vicious cycle an 'indie' should NEVER get into or at least strive to break free as quick as possible. In this oversaturated market that can be hard as hell. But, they didn't expect a smooth ride when they got into indie dev. This is an extreme off-road rally. I believe only the bravest will survive here."
Comments
David Radd
David Radd is a staff writer for GameSauce.biz. David loves playing video games about as much as he enjoys writing about them, martial arts and composing his own novels.