Indie Prize Finalists from Brazil, Canada, Paraguay and Iran at Casual Connect Asia
Developers from Brazil, Canada, Paraguay and Iran will come and showcase their games at the international Indie Prize showcase during Casual Connect Asia 2017 in Singapore!
Game Title: Lila's Tale
Developer: Skullfish Studios
Platform: VR mobile
Website: www.skullfishstudios.com
Country: Brazil
Immerse yourself in a fantastic and artistic experience, inside a dungeon crawler, crafted for Virtual Reality. Explore the mysteries lying beneath the dungeon, solve chain reaction puzzles and keep Lila safe to find her lost little brother.
The game was selected to Indie Pitch Arena during GMGC Beijing 2017 and will be released in 2017.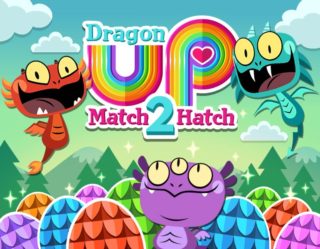 Game Title: Dragon Up: Match 2 Hatch
Developer: East Side Games
Platform: iOS, Android
Website: www.eastsidegames.com
Country: Canada
Dragon Up: Match 2 Hatch is a match-two collapse game where you fuse gems, chain combos, solve puzzles and hatch cute dragons. Freeze the clock by making massive combos. Use dragon power ups to complete difficult levels. Break stone eggs and fuse your gems to unlock new worlds! Match 2 is the new match 3.
Game Title: Fhacktions
Developer: Posibillian Tech
Platform: iOS, Android
Website: www.posibillian.tech
Country: Paraguay
Fhacktions, is an amazing cyberpunk location-based team battle mobile game, set in a not so distant future ruled by factions of hackers. Fhacktions is a MOBA for iOS and Android. Players are hackers in the game and use avatars to battle in virtual arenas and take over servers located in real places around the globe. These places can be shops or public spaces.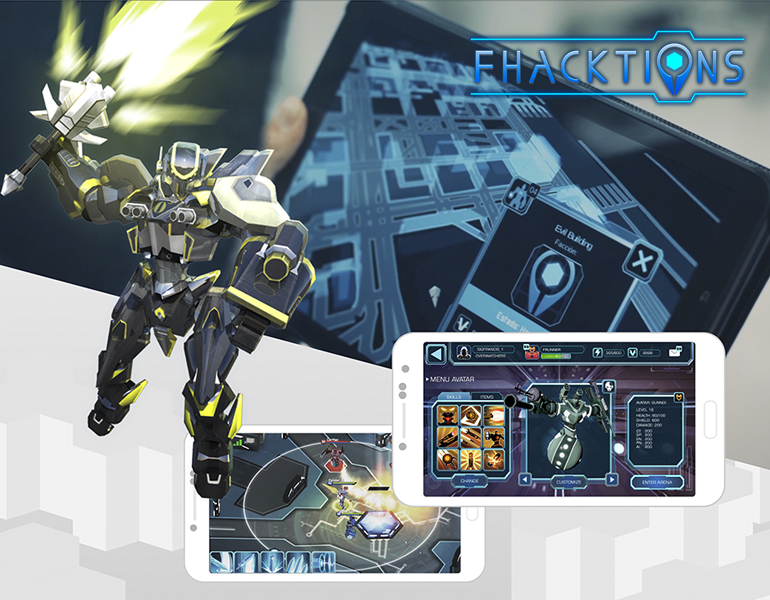 The world of Fhacktions and the avatars' level are persistent, so the player will be a little more powerful in every battle, everything is in constant evolution. Players can create or join factions to play in cohesive teams and conquer the world. To gain control of a server, players must physically go to that server's location. The team who previously conquered that same server must defend it in battle, without necessarily being physically present to do so. They can defend it from wherever they are at the moment of the attack.
The game is unreleased and will make a soft launch in 1-2 months.
Live TV Tycoon was nominated for the international Indie Prize scholarship by Indie Prize nomination partner in Iran – Tehran Game Convention (TGC). The main goal for this event is to create contact between computer game developers in Iran and international publishing companies. The games industry in Iran has more than a decade's worth of experience and has created hundreds of fascinating games, yet it has never had an opportunity to enter the international market. It is TGC's intention to create this opportunity for the first time for Iranian game developers. The community of game developers in Iran is incredibly large and active and they have always been of interest to international publishers. At TGC, these companies, can finally, by coming to Iran and seeing up close the talents and potentials of Iranian game developers and the Iranian games market, introduce even more growth to the games industry in this country.
Game Title: Live TV Tycoon
Developer: Acid Green Games
Platform: iOS, Android
Website: http://livetvtycoon.com/
Country: Iran
Live TV Tycoon is an Idle-tycoon game for Android and iOS platforms, providing the experience of managing a TV station.
In this game, you will play the role of a TV manager for a new TV station whose responsibility includes creating high-quality television shows and scheduling their broadcasting times. The game occurs in real-time; therefore, it has elements of Idle games as well as Tycoon games. Your duty includes buying and using different upgrades, purchasing various types of programs from the agency or recording them in your studio, schedule to broadcast appropriate TV programs, choosing the right time to broadcast TV commercials and examining views of showed programs. Gradually and by advancing through the game you can raise your online rank and gain reputation and thus sign better contracts that will have many benefits for you and your station.
Every time you produce a new show you can create a unique animation for it. Use a list of infinite actions, backgrounds, stars and props to create any show you want and share it with other players. You can also watch others show and rate them. Gain more assets by progressing in each category and create funniest shows ever!
The innovative art style of the game helps to induce in the player a feeling of being the manager of a TV station. The user interface (UI) of each page is designed similar to a TV Station office. They are carefully designed in order to give the player the utmost pleasure from watching them.
Live TV Tycoon won best mobile game of Iran 2017 and was nominated for best game in GMGC 2017,
---
The full list of Indie Prize Singapore 2017 finalists can be found at indieprize.org. Meet the developers at Casual Connect Asia 2017 on May 16 – 18, 2017, at Hard Rock Hotel Singapore, Resorts World Sentosa, 8 Sentosa Gateway in Singapore.
Join our Indie Prize Facebook community to stay updated about Indie Prize
https://www.facebook.com/groups/870174783048528/
Comments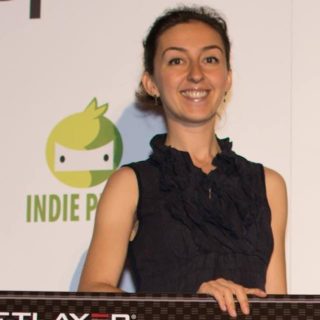 Yuliya Moshkaryova
Yuliya Moshkaryova is the Indie Prize Director and Senior Project Manager and Team Leader at Ukrainian indie studio Wildec LLC. Yuliya travels around the world to meet indie developers from every corner of the globe and to invite the best games to join the Indie Prize scholarship. Follow @MoshkaryovaYuli to stay updated about Indie Prize news and gamedev events.