Nordic Countries & Northern Europe at Indie Prize Berlin 2017
Three games from Finland and from Sweden, one game from Denmark, from Ireland and from Estonia, two games from Lithuania and eight games from United Kingdom will be showcased at the international Indie Prize showcase during Casual Connect Europe 2017. Among these games there are two games that were nominated by Game Nation Nomination Partners: Sweden Game Conference from Sweden and by GameOn from Lithuania.
GAME: Figment
DEVELOPER: Bedtime Digital Games
PLATFORM: Desktop Win
COUNTRY: Denmark
Figment is a 3D isometric action-adventure game with puzzle phases in a surreal Dream-Punk universe, with a big emphasis on music. The main characters, Dusty and Piper, live in the mind of a forty year old man whose mind is slowly but surely being invaded by anxiety and stress. Dusty and Piper (and the player) will have to fight these "Nigthmares" to save the mind from his fears.
Figment was nominated for the Game Connection Developers Awards.
GAME: Mushroom Crusher Extreme
DEVELOPER: Mushroom Party
PLATFORM: Desktop Win, Desktop Mac
COUNTRY: Finland
Mushroom Crusher Extreme is a retro-styled arcade-action game, that throws you right in the heart of a giant shroom invasion. Fight off the vicious fungi with elemental magic and save the day, before it's too late.
Mushroom Crusher Extreme successfully passed through Steam Greenlight in Spring 2016 and was released on Steam Early Access on October 4th, 2016. In October 2016, MCE became one of the six selected finalists at the Nordic Game Discovery Contest in Kajaani, Finland.
GAME: Nemesis Perspective
DEVELOPER: Evocat
PLATFORM: VR desktop/ console
COUNTRY: Finland
Nemesis Perspective is a local multiplayer VR game where you challenge your friend in a classic hero versus giant boss monster setting. Wielding VR equipment your objective is to prove your superiority by crushing those who disturb your sacred peace (namely your friend who's playing as your opponent with console controller). This game is intended for 2 players. Simply put, the boss character is controlled by player with VR gear. The hero character is controlled by another player with console controller and traditional display screen. We'll be adding in an AI on a later date.
Awards: Winner of VR Indie Pitch at Pocket Gamer Connects Helsinki 2016.
GAME: OCMO
DEVELOPER: Team Ocmo
PLATFORM: iOS
COUNTRY: Finland
OCMO is a physics-based platformer with unique ninja rope game mechanics, precise touch-only controls and deep gameplay. It is tough but fair, and perfect for speedrunning.
OCMO is the Nordic Game Discovery Contest 2017 finalist.
GAME: Empathy
DEVELOPER: Pixel Night
PLATFORM: Desktop Win
COUNTRY: Sweden
Empathy is an atmospheric and surrealistic adventure game where you explore a seemingly abandoned world through the emotions and memories of the people who once inhabited it, trying to restore world's lost balance as you journey through its past.
Steam store page http://store.steampowered.com/app/291690
Passpartout was nominated for the Indie Prize scholarship as the winner at Sweden Game Conference. As Europe's most vibrant cluster for game education, business, development and research, Sweden Game Arena in Skövde and Göteborg provides opportunities to join, invest, study, research and profit.
GAME: Passpartout
DEVELOPER: Flamebait Games
PLATFORM: Desktop Win
COUNTRY: Sweden
What is art? Are games art? Is this art? Can you navigate the confusing art landscape? Tackle the big questions in Passpartout, or don't, it's up to you really!
Paint your own masterpieces! Even you can become the next Da Vinci! Or just another miserable artist. Battle with subjectivity and try to please different types of customers without losing your own "artistic integrity". Survive your wine and baguette bills. Will your addiction to baguettes be your downfall?
Passpartout was greenlighted on November 6th. Flamebait Games won Rookie of the Year at Sweden Game Conference 2016. Jim Sterling featured the Alpha in Greenlight Good Stuff.
GAME: Heart. Papers. Border.
DEVELOPER: Jovian Industries
PLATFORM: Desktop Win
COUNTRY: Sweden
Heart. Papers. Border. is a 2D strategy game with adventure elements that invites you to visit all the interesting places of a distant, yet strangely familiar planet. A freelance traveler, you need to balance your resources, optimise your plans and grow your influence so you can change the world!
At Indie Prize in Berlin will be the first time developers make the build public. Good luck!
GAME: Clustertruck
DEVELOPER: Landfall
PLATFORM: Console, Desktop Win
COUNTRY: Sweden
Clustertruck has a physics based platformer like no other. Instead of careful planning it is all about reacting to the chaos. Basically "the floor is lava" with a bunch of trucks. Jump on a truck and stay on the truck.
Clustertruck is among 50 best games of 2016 at http://www.pcgamer.com/clustertruck-now-has-ten-new-halloween-themed-levels/
GAME: House of Languages
DEVELOPER: Fox3D Entertainment OU
PLATFORM: VR mobile, VR desktop/ console
COUNTRY: Estonia
House of Languages VR is a fun new way to learn English, German and Spanish using several channels of perception in a virtual reality environment. We believe it is the most powerful way to memorize foreign words. It's an effective educational tool with the potential to reach millions of people around the world who want to broaden their vocabulary.
House of Languages won the Oculus' Mobile VR Jam 2015 – Bronze Apps or Experiences.
GAME: Heliborne
DEVELOPER: JetCat Games
PLATFORM: Desktop Win, Desktop Mac
COUNTRY: Lithuania
Heliborne seeks to introduce players to rotary wing aviation and combat. Players will have the ability to fly a number of helicopters from the 60's forward to the year 2000 across a wide range of maps and in a wide range of mission scenarios.
Heliborne's recent steam ratings are 82% positive right now, sold more than 20.000 copies during our Early Access without any marketing support and total let's play videos count is more than one million views already.
Monster Buster: World Invasion was nominated by GameOn – Game Nation Nomination Partner – to take part in the international Indie Prize showcase in Berlin. GameOn is a largest video gaming culture event in the Baltics, created to promote and explain gaming in the region. GameOn runs in festival format with huge expo area, e-sports tournaments, cosplay championship, Indie area, VR experiences and family activities.
GAME: Monster Buster: World Invasion
DEVELOPER: Tag of Joy
PLATFORM: Other mobile platform
COUNTRY: Lithuania
Outstanding monster fights with a twist on reality! Monster Buster is the first and most engaging monster fighting and collecting game that takes you outdoors. Explore your city with your smartphone and find rare monsters from parallel universes invading our world.
On Windows Phone, the early version of the game was within the Top 3 games among the Top Free role playing games on the US Store. It was also within the Top 15 best-rated games on the whole US Store (currently it's within the Top 20).
In addition to that, Monster Buster has already won multiple awards and nominations, e.g. Microsoft AppStar, European AppCup, Startup Weekend Lithuania. More can be found here: http://tagofjoy.lt/?dna=11
GAME: After Life – Story of a Father
DEVELOPER: Green Sawdust
PLATFORM: Desktop Win
COUNTRY: Ireland
After Life is a short interactive story with a lot of atmosphere and little gameplay. You assume the role of Rick Dennehy, a family man who dies during the 90's, as he returns to earth to hear his life's events through the memories of his loved ones. The story revolves heavily around life and death as Rick discovers how his family saw him while he was still alive and how they coped with his death. Discover how different kinds of people deal with the loss of a loved one. Your goal is the story, not the challenge to experience it.
GAME: TACENDA
DEVELOPER: FINIFUGU && friends
PLATFORM: iOS
COUNTRY: UK
TACENDA is an interactive audio-visual experience for mobile devices. Using audio sourced from the BBC's Listening Project, it presents the true stories of people from a variety of backgrounds as bite-sized chunks, designed to be contemplated over the span of a real-life train journey or commute.
Awards: Best Student Game, Gamecity 2016; Finalist, Dare to be Digital 2016; Finalist, Azplay 2016
GAME: Lost Words
DEVELOPER: Fourth State
PLATFORM: Desktop Win
COUNTRY: UK
Lost Words is a 2D platformer set between the pages of a girl's diary and an imaginary fantasy land. It sees the player standing on and interacting with different words to solve puzzles and has a strong focus on narrative.
The prototype of Lost Words won Best Indie Game, Best Story and Most Creative at the Game Connection 2016 awards in San Francisco. It also won Game of the Show at the Intel Buzz Workshop in London and was chosen as one of only 15 games for the two month Swedish games accelerator, Stugan, which was covered in a variety of publications including Playboy and The Wall Street Journal.
GAME: Kim
DEVELOPER: The Secret Games Company
PLATFORM: Desktop Win, Desktop Mac
COUNTRY: UK
Kim is an open world RPG set in colonial India. Play as Rudyard Kipling's ragamuffin hero, Kim, and roam hand-painted towns and procedurally generated countryside. Learn to survive by fair means or foul, meet characters from history and literature, and travel to exotic lands to discover their secrets!
Kim was selected for Made With Unity Showcase at Unite 2016 LA.
GAME: Akuto: Mad World
DEVELOPER: Hut 90
PLATFORM: Desktop Win
COUNTRY: UK
Akuto: Mad World is a fast-paced arena action game with swords and guns. Death is common but by using your weapons and the environment, you can survive to fight another day.
Awards: Nominated 'Best Game' at Radius Festival 2016; 'Excellence in Multiplayer' finalist at BIC Festival 2016
GAME: The Adventure Pals
DEVELOPER: Massive Monster
PLATFORM: Console, Desktop Win, Desktop Mac
COUNTRY: UK
Enter a gorgeous world in a game about friendship, exploration & riding giraffes. The Adventure Pals is an epic adventure platformer fueled by imagination. Enter a gorgeous & hilarious world in a game about friendship, exploration & riding giraffes. Inspired by such titles as Adventure Time, Castle Crashers, Zelda 2 & Banjo Kazooie.
Awards: Best Kids & Family Game at Indie Prize Singapore; Intel Level Up Competition Best Physics
GAME: The Bunker
DEVELOPER: Splendy Games
PLATFORM: Console, Desktop Win, Desktop Mac
COUNTRY: UK
The Bunker is a psychological horror adventure, OUT NOW for PC, PS4 and XBoxOne. The game is completely in live action – everything you see is real. It tells the story of John, the last remaining survivor of a nuclear bunker, born in the bunker on the day the bombs fell. Now 30 years later, he is completely alone, everyone he has ever known has died. But now the only place he has ever known is about to become his greatest nightmare…
Players will be able to explore The Bunker, search rooms and documents, discover hidden secrets and solve puzzles. As the game progresses, John's nightmare escalates and you will have to move fast, make quick decisions which could cost them their life. You must venture deeper and deeper into the bunker discovering long forgotten zones and uncovering dark and repressed memories that finally reveal the terrible secret of the bunker.
"Everyone that worked on this game must have truly cared because it shows – legendary." 10/10 – Brash Games
"Incredibly captivating story, brilliant and emotive acting and a well-realised setting that's a joy to explore." 9/10 – Games Spew
"Intriguing plot which is full of surprises. Excellent performances from the cast, stylistically and artistically very well made, evocative soundtrack." 8/10 – GameReactor
"A staggering achievement from start to finish" GOLD 9/10 – Punk And Lizard
"The Bunker is a heart-pounding journey… It's unlike any other experience you'll have." – opnoobs.com
"Sharp writing, superb acting, and excellent cinematography come together to form a compelling experience". 8/10 – giant.moe
"Dripping with a rich atmosphere…an unforgettable experience." GREAT – SILVER AWARD 8/10 – cubed3.com
GAME: The Peterson Case
DEVELOPER: Quarter Circle Games
PLATFORM: Desktop Win
COUNTRY: UK
The Peterson Case is an exciting horror game which will keep you on the edge of your seat – play as detective Franklin Reinhardt as you explore a deserted house; unraveling the spine-tingling tale of what has happened to its missing residents. Set in 1947, in a location near the Roswell UFO incident, you will play as a experienced detective who has been called in to find information and clues from around the Peterson's home to reveal what has happened to the mysteriously missing family. Franklin soon discovers that there is an unearthly presence within the house who is hot on his trail – but can he solve the crime before it is all too late? The Peterson Case strikes the perfect balance between atmospheric horror, suspenseful narrative, and engaging puzzles, taking the player through a unique experience which is rare within the horror genre.
GAME: Laser Disco Defenders
DEVELOPER: Out Of Bounds Games
PLATFORM: Out Of Bounds Games
COUNTRY: UK
Shoot lasers, dodge lasers – stay alive! In this self inflicted bullet hell, the more you shoot, the harder the game gets. Choose between four different characters and a broad selection of outfits to customize both how you look and how you play the game. Procedural levels keeps the experience fresh and groovy and online high score tables lets you show who's the king of the dance floor.
You can find the full list of Indie Prize Berlin 2016 finalists at indieprize.org and meet the developers at Casual Connect Europe 2016 on February 7 – 9, 2017, at Station Berlin, Germany.
Join our Indie Prize Facebook community to stay updated about Indie Prize https://www.facebook.com/groups/870174783048528/
A special thanks for the Indie Prize platinum sponsor Unity!
Comments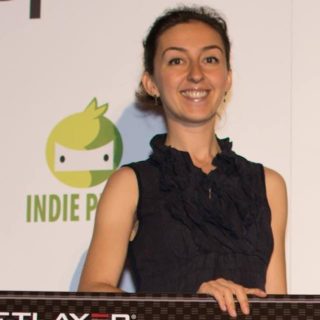 Yuliya Moshkaryova
Yuliya Moshkaryova is the Indie Prize Director and Senior Project Manager and Team Leader at Ukrainian indie studio Wildec LLC. Yuliya travels around the world to meet indie developers from every corner of the globe and to invite the best games to join the Indie Prize scholarship. Follow @MoshkaryovaYuli to stay updated about Indie Prize news and gamedev events.