Join Eastern European Devs at Casual Connect Europe this February
One game from Bulgaria and from Republic of Moldova, three games from Romania and from Serbia, six games from Russia and nine games from Ukraine were selected by judges among 470 submission to represent their countries as the finalists at the international Indie Prize showcase in Berlin during Casual Connect Europe 2017! Among these, six games were nominated by Game Nation Nomination Partners: Game Factory Jam Winner which was in Republic of Moldova, DevPlay in Romania, DevGAMM in Belarus, White Nights in Russian Federation, Games Gathering Conference and GetIT! in Ukraine.
GAME: Seasons of War
DEVELOPER: Imperia Online Ltd.
PLATFORM: Android
COUNTRY: Bulgaria
Seasons of War allows the player to become the governor of a distant imperial city and grow their holding through wise rule. The Android game takes the turn-based strategy genre to a whole new level with a vast variety of features: economical development (including agriculture, education, healthcare, and trade), PvP battles, fights against savage barbarians and conquering of their castles, civil and combat efficiency improvement through inventions, and much, much more!
Seasons of War presents a challenge to every player due to months and seasons having a significant effect on agriculture, trade, migration, healthcare, etc. Players have access to leaderboards and achievements while enjoying the enchanting sounds and captivating art of Seasons of War. The game is constantly featured by Google Play in different geographic regions, as is localized in 25 languages with all Google functionalities and supports weekly updates of new modules.
Colonizer is the Game Factory Jam Winner. Game Jam Festival for local game dev community in Republic of Moldova.
GAME: Colonizer
DEVELOPER: Vladimir Bodiul
PLATFORM: Desktop Win
COUNTRY: Republic of Moldova
Your planet will explode in 15 minutes! You must save the Earth's population. To do this, you have to colonize your Solar System using spaceship and strategy.
Second Hand: Frankie's Revenge was nominated by DevPlay – Game Nation Nomination Partner in Romania.
GAME: Second Hand: Frankie's Revenge
DEVELOPER: Rikodu
PLATFORM: Desktop Win
COUNTRY: Romania
A fast-paced, co-op action game filled with mayhem and robots. The unique twist is that your titular character's robotic body can be shaped in many ways. You can use an arm for a chainsaw, a fridge for a body and a disco ball for head, for example.
GAME: Black the Fall
DEVELOPER: Sand Sailor Studio
PLATFORM: Desktop Win
COUNTRY: Romania
Black the Fall is an atmospheric puzzle game set-up in a communist dystopian era. Playing as Black, you get one chance to outsmart the oppressive system, but the road to freedom is paved with puzzles, pitfalls and manipulation. A door malfunctions, an opportunity arises. Once out, how will you survive?
Awards: won Excellence in Game Design at BIC Award 2016 and Best Indie Game at Gamescom 2016, awarded by spawn.sk (nominated to Best Indie Game at Gamescom Awards 2016).
GAME: Super Pet Hero
DEVELOPER: Amused Sloth
PLATFORM: Android
COUNTRY: Romania
Super Pet Hero is a cute voxel game about pet rescue in a busy crossroad. Join our heroes in this fast action, pet saving, and traffic dodging game! Save your cute fuzzy and scaly friends from the busy crossroad! Jump, double jump and dash to safety. Pick up the coins on top of the running cars. Don't get flattened by traffic!
GAME: Steal and Run
DEVELOPER: Luka Glavonjić
PLATFORM: Android, Desktop Win, Desktop Mac, Web
COUNTRY: Serbia
Use your driving skills to escape the police just after a heist. Shoot your way through the traffic and incoming police cars with many weapons you have available!
Steal and Run was selected as the best game by Serbian Developers Community and nominated to Indie Prize in 2016.
GAME: They Mean Well
DEVELOPER: Astrograde Lab
PLATFORM: iOS, Android
COUNTRY: Serbia
You are in control of the planet's shield as it tries to find its way between its own natural well-being and the cost of human technological progress. The planet has its own voice and likes to comment on the progress of mankind from the early days of stone age to the era of space exploration.
Online prototype of the game on gamejolt.com has 25000 players and an average score of 4.34. At its peak it was the 6th game on the list of best games of all time on the site.
GAME: Awakening of Heroes
DEVELOPER: COFA Games
PLATFORM: iOS, Desktop Win
COUNTRY: Serbia
Seeing is believing! Simply, no words can describe the thrill, thunder, fun and the ultimate awesomeness as the awakening unfolds within a game. Multiplayer 5 VS 5 game with Twitch Plays integration.
Awakening of Heroes won the 1st place at Central European Startup Awards as "Best Indie Game Developer", Game with the biggest potential at GDC SF Pitch, 4th best upcoming indie game by IndieDB.
Pathologic was nominated to the international Indie Prize scholarship by Game Nation Nomination Partner in Belarus – DevGAMM. DevGAMM is the biggest conference for game industry professionals in Russia, Ukraine and Belarus. The event offers quality content about game development for PC, console, mobile and social platforms, low entry threshold for beginner developers as well as a series of activities meant for productive pastime and effective networking
GAME: Pathologic
DEVELOPER: Ice-Pick Lodge
PLATFORM: Desktop Win
COUNTRY: Russian Federation
Pathologic Classic HD is the Definitive Edition of the original Cult Classic Psychological First-Person Survival game. In this unforgettable experience, players control one of three unique characters as they try to save a mysterious town from a deadly plague that cannot be stopped.
GAME: Crimson Beyond
DEVELOPER: Deus Craft
PLATFORM: Desktop Win
COUNTRY: Russian Federation
In Crimson Beyond you will take role of a pioneer, stranded millions of miles from home. Failures of pragmatic corporations lead to catastrophe and the protagonist is left face to face with red planet. You will explore the hostile world, collect resources, defend yourself, with one goal: to survive.
GAME: Niffelheim
DEVELOPER: Ellada Games
PLATFORM: Console, Desktop Win, Desktop Mac
COUNTRY: Russian Federation
Niffelheim is a 2D action exploration game in a Nordic fantasy setting, with a huge hand-drawn world. Battle monsters, build castles, explore dungeons and conquer enemy lands. Triumph against the ancient forces that rule over this harsh world. The game yet in Early Access Steam.
GAME: Death Point
DEVELOPER: Andiks
PLATFORM: Desktop Win
COUNTRY: Russian Federation
Death Point is hardcore 3d topdown Stealth-action game with atmospheric plot and near future post apocalyptic world.
Awards: Best of GAMM: Play Showcase DevGamm 2016 Minsk.
Pig Bang was nominated as the best game at White Nights – Game Nation Nomination Partner in Russian Federation. The White Nights Conference is an international cross-platform business conference for game industry.
GAME: Pig Bang
DEVELOPER: TrilobiteSoft
PLATFORM: iOS, Android
COUNTRY: Russian Federation
Looking for a dynamic Mobile Online Arena Shooter that fits in the palm of your hand and isn't a boar? Want fun, fast-paced online action with friends where the servers don't turn to hogwash? Introducing Pig Bang! Build, shoot, and command troops using convenient, seamless controls and watch battles unfold in glorious Unity-designed graphics. If you're not playing today, you're bacon a mistake!
GAME: Beholder
DEVELOPER: Warm Lamp Games
PLATFORM: Desktop Win, Desktop Mac
COUNTRY: Russian Federation
You'll LIVE in a grim totalitarian future and SERVE the State that appointed you a landlord! You'll SPY on tenants and REPORT on ideological subversions! Will you ABIDE by the laws? Or will you CHOOSE to pursue your own interests? In this world where privacy is dead, who will you side with?
Beholder got several nominations and won «Excellence in Game Design» and «Best Indie Game» awards at DevGAMM Conference (Minsk, 2016). Currently have nearly 2000 positive reviews (overall 94% positive reviews) on Steam in less than 4 weeks since release.
GAME: Cradle of Links VR
DEVELOPER: ReloadWorld
PLATFORM: VR desktop/ console
COUNTRY: Ukraine
VR shooter/puzzle with survival horro elements in Victorian England setting. Inspired by the works of HP Lovecraft. Developed for HTC VIVE headsets.
Cradle of Links VR won the Audience Choice Award on GetIt.
GAME: The Long Reach
DEVELOPER: TLR Team
PLATFORM: Desktop Win, Desktop Mac
COUNTRY: Ukraine
The Long Reach is an intricate puzzle adventure where you have to run for your life. It's a The cave-ish style adventure in which your puzzles are walking, mumbling, and yelling. They went insane and are there to get you. You'll have to work out their own personal horrors.
The Long Reach has got to Top 100 at Steam Greenlight.
Deuterium Wars was nominated for the international Indie Prize showcase by Games Gathering Conference – Game Nation Nomination Partner in Ukraine. Games Gathering is a conference on game development and creation of high-quality game content. A great opportunity to attend lectures by experienced professionals on various issues of game development.
GAME: Deuterium Wars
DEVELOPER: Disquire
PLATFORM: iOS, Desktop Win, Desktop Mac
COUNTRY: Ukraine
Deuterium Wars, the post-apocalyptic, 2D MMO-action GAME with full crossplatform supporting (Win, Mac, Linux, iOS and Android). Assemble your Hovercraft from a variety of parts, upgrade its performance, use the most variety of weapons produced by one of the Factions, pump their skill, pump skills of your hero. Perform factional missions and get a unique equipment. Unites with other players and take part in a deadly duel on Arena!
GAME: Heat Guardian
DEVELOPER: Denis Rudoy
PLATFORM: Desktop Win, Desktop Mac
COUNTRY: Ukraine
The game will tell you a story of one man going to the legendary shelter through the dark and cold world. Keep warm, destroy dangerous mutants and other survivors. The game takes place on a very atmospheric fictional post-soviet territory! The unique atmosphere of the cold and dark world full of dangers and mysteries. A huge variety of weapons, from the self-made weapon to the tricked up gun. Unexpected meetings with the other survivors with their own, unique backstory. An interesting and dramatic story.
Heat Guardian snatched multiple awards in the online exhibition Indie World.
GAME: Soul Reapers
DEVELOPER: Shadow Masters
PLATFORM: Desktop Win
COUNTRY: Ukraine
Soul Reapers is fast-paced side-scrolling beat 'em up game built around a comic book art style and complemented by a humorous, cliff hanger inspired story plot line. Awakening from total amnesia, you enter the world as a Soul Reaper — a gladiator in the nation's only kill-or-be-killed reality show.
Soul Reapers game has been already approved for Xbox Market by Microsoft / and for PlayStation Store by Sony.
GAME: Phantom Trigger
DEVELOPER: Bread Team
PLATFORM Desktop Win
COUNTRY: Ukraine
Hardcore neon slasher, the only purpose of your world is to get you killed. Fight through hordes of enemies and figure out what's real or not.
Phantom Trigger won the Excellence in Visual Art award at DevGamm Minsk 2016.
GAME: G30
DEVELOPER: Ivan Kovalov
PLATFORM: iOS, Desktop Win, Desktop Mac
COUNTRY: Ukraine
The main idea of the game is to recreate the process of memorizing by combining 2 mechanics: telescopic text and graphical puzzle. The project also has a social narrative function to tell the story of a person with a memory disease.
All in G30 (art/programming/music) was made by one person in 1.5 month. The Game is in alpha version now.
caRRage was nominated by GetIT! – Game Nation Nomination Partner in Urkaine. Annual Conference GetIT! is the meeting place for more than 500 game developers from Ukraine, CIS and abroad. The Conference Program includes involving presentations, interactive workshops, panel discussions, and more.
GAME: caRRage
DEVELOPER: Velcro Games
PLATFORM: iOS
COUNTRY: Ukraine
caRRage is an addictive arcade racing game, that reveals a post-apocalyptic universe, ruled by mad and desperate drivers. Ram your opponents, use nitro to overtake them on the turn, blow them up with mines or demonstrate your excellent driving skills and finally: blast your way through with rockets!
caRRage has almost 1,5 million downloads, average rating 4.5.
caRRage reached the #2 position in the Top Free Apps list of App Store Russia in December 2015, was featured by Apple on AppStore front page in June 2016 (it has happened thanks to the football mode "Trashball" for Euro-2016) and also appeared in many futured lists such as Crazy Corses, Greatest Party Games, New Games We Love, dressed UP for Halloween, Best New Updates, Most Intense Action Games in tens of countries worldwide.
Awards: Winner in the nomination "Best Tech Solution" on Yodo Game Award on Lviv GameDev Conference; Winner in the nomination "Best Mobile Game" on DevGAMM Minsk Award 2016; Winner in the nomination "Getit! Indie prize" on GetIT! Kyiv 2016; The 3d place in the Hot Games(Racing/Free/Year) on TouchArcade; caRRage is shortlisted in Macworld's "55 best free iPad Games"
GAME: Evil Cogs
DEVELOPER: Wet Fish
PLATFORM: Android
COUNTRY: Ukraine
Your fantasies come true! Explore that strange, fantastic, mystic world. Soak up the atmosphere of the dark fairy-tale. Little light beam needs your help. So become a light – fight with darkness. Your way will be hard, but don't be afraid of anything. Till your light shines – you can make it!
Evil Cogs was top three games (between Minecraft and Terraria) in Top Free Adventure in Ukraine during 4-5 days.
You can find the full list of Indie Prize Berlin 2016 finalists at indieprize.org and meet the developers at Casual Connect Europe 2016 on February 7 – 9, 2017, at Station Berlin, Germany.
Join our Indie Prize Facebook community to stay updated about Indie Prize https://www.facebook.com/groups/870174783048528/
A special thanks for the Indie Prize platinum sponsor Unity!
Comments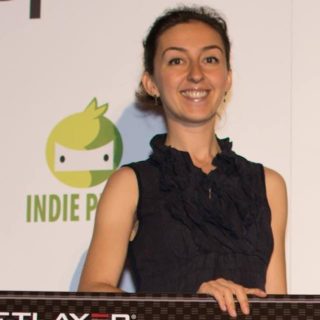 Yuliya Moshkaryova
Yuliya Moshkaryova is the Indie Prize Director and Senior Project Manager and Team Leader at Ukrainian indie studio Wildec LLC. Yuliya travels around the world to meet indie developers from every corner of the globe and to invite the best games to join the Indie Prize scholarship. Follow @MoshkaryovaYuli to stay updated about Indie Prize news and gamedev events.