Michelangelos of Interactivity: GameFounders Spring 2017
I wake up after a night of binge coding to a dawn awash in the song of the muezzin. I am on the 27th floor of a glass tower in the midst of a modernist mountain range that is Bangsar South. Below me is all of Kuala Lumpur incredible in the fading night.
Three weeks ago, I received a message asking if I was interested in applying to GameFounders. I said, "Of course." To my mind, GameFounders is the modern equivalent of the Sculpture Garden of the Medicis. Sculpture not involving marble, chisel and hammer, but interactivity, pixels and code. GameFounders calls digital talent from all over the world to come to Kuala Lumpur to build the future; accelerating the process by providing investment, a first-rate workspace and a three-month mentorship by masters of the various disciplines that comprise game development.
Over the Holidays, I faced a series of interviews. The first was with Christina Begerska, GameFounders Program Manager, sharp as an adamantium blade and kept fresh – no doubt – by the tears of failed applicants. Next was Reinaldo Normand, the Silicon Valley entrepreneur, investor and author. And finally, Kadri Ugand herself, Co-Founder and CEO of GameFounders.
I was sleepwalking throughout the long wait for The Decision. Then I was told, matter-of-factly, that we were in. It took a lot of staring into space before it finally sunk in – our studio, Moocho Brain Interactive, would be in GameFounders Spring 2017!
This cycle is made of nine teams selected from a growing pool of more than a thousand applicants. Three teams are from South America, two are from Europe and four from Asia. Meet the teams of GameFounders Spring 2017: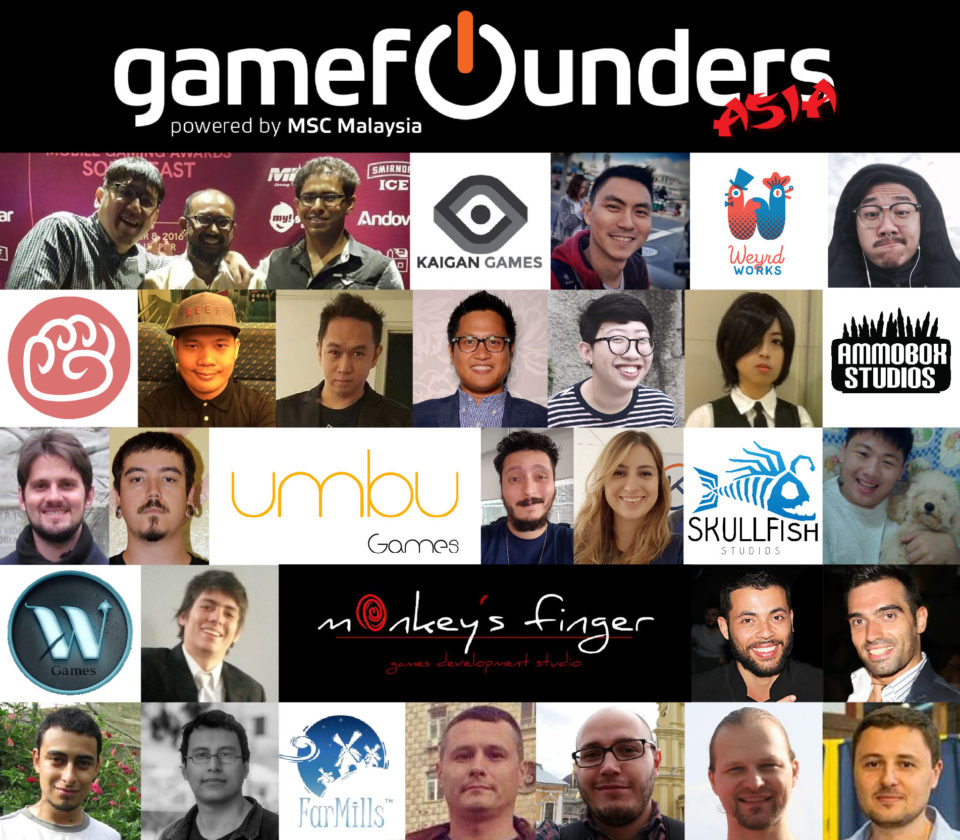 Umbu Games
Umbu Games is based in Brazil and run by Fabricio Pietsch and João Victor. They describe what they do as "making unique and creative games with plenty of dedication and love." And it shows. Their latest project is Death's Life – a hilarious and exquisitely drawn puzzle game in which the player assumes the role of an apprentice of Death who must eliminate their victims through chain reactions all the while making each death look accidental.
Skullfish Studios
Skullfish Studios is also from Brazil and headed by Rafael Ferrari and Gabriela Thobias. They specialize in mobile virtual reality games of console quality. The game they are working on – Lila's Tale – is a dungeon crawler where the player leads a little girl through 360-degree puzzles. The art direction and execution are breathtaking. I played the game for ten minutes and it seemed that Skullfish achieved the feat of eliminating motion-sickness by changing the perspective from first-person to third. For the first time, I felt excited about VR.
Wulf Games
Wulf Games came from Colombia and is composed of Juan David Varon, Daniel Jojoa Burgos and Luis Estrada Florez. They define their goal as creating games memorable for their art direction and gameplay. Whispers, No Time To Pray is the team's first IP. In the game, the player takes on the role of a mercenary sent on a mission to rescue a group of archaeologists from a jungle filled with mythological creatures of Latin America. What began as a rescue mission turns into a survival experience. A big mystery underlies it all that demands to be solved.
Monkey's Fingers
Monkey's Fingers is from Italy. They want to expand the entertainment potential of mobile devices with a key emphasis on next-gen graphics, offering mobile gamers a stunning experience. The team is made up of two people – Alessandro Martire and Carmine Gissi – who take care of every aspect of games creation. Their first title, Last Lie, is an action-stealth game with third-person shooting. They created the game to overcome the technical limitations of mobile and to bring to mobile users a console quality game. They have recently released the game on Google Play and garnered more than 200,000 downloads so far with rousing reviews.
Far Mills
Far Mills is led by Ukrainians Alex Siebov, Alex Gnomov and Viktor Zaharchenko. They have been making games for nine years now with 20 titles to their name. Their focus is family games, creating interactive stories which are of interest to every member of the family. Their current game is called The Last Touch. It is a 2D point-and-click with hidden-object mechanics which tells a touching story of a magical girl named Anna. Join Anna in the search for her lost cat and explore a world rich in intricate details – airships, a subterranean level, the Crystal Castle among myriad others; and witness mother and daughter meet for the first time.
Kaigan Games
Kaigan Games is based in Malaysia and they describe themselves as a humble studio that makes eye-opening games. They are Jeremy Ooi, Thean Eu, Shahrizar Roslan and Shahazmi Roslan. They created the game Sara is Missing which won Jury's Honorable Mention and Best Upcoming Game at the International Mobile Gaming Awards. Sara is Missing is all about the horrors of mobile technology and touches upon the voyeuristic pleasure that one gets from prying through another person's personal items.
Weyrdworks
Weyrdworks is also a Malaysian studio composed of Shawn Beck and JT Yean. This power duo have been developing games for iOS, Android, web, Steam and Playstation during the past five years. Among the honors they received are the Best Quickplay Game Award at the International Mobile Gaming Awards, inclusion in the App Store's Best of 2016 and the Indie Prize nomination for Most Promising Game in Development at Casual Connect Asia for their game Super SteamPuff. They are hard at work on a new game called Warpods where the player faces nonsensical threats from space in a bro trip with a bunch of whimsical characters. Its genre can be summed up as a tower defense RPG disguised as an action game.
AmmoboxStudios
AmmoboxStudios is the third team from Malaysia. With Jeremy Choo at the helm, they are developing a gorgeous-looking RTS/FPS hybrid, Eximius, using the Unreal engine. In the game, the player can switch between being a general who makes high level strategic decisions and being a ground trooper who does tactical maneuvers. An intriguing mash-up that was green-lit in record time. Eximius is set for release on 2018.
Moocho Brain Interactive
Moocho Brain Interactive came from the Philippines and our core members are Bari Silvestre, Eru Petrasanta, Juhai Daksla, Jay Jaboneta and myself. In between the five of us is 40 years of experience in art, education and game development. We are moved by the vision of harnessing game design to build an educational system based on the joy of learning. At the same time, we continue to make traditional video games for the fun of it, for artistic nourishment and for business. The latest of such games is Paper Worlds – a puzzle platformer that combines platforming and origami.
Michelangelo, Founder & CEO
There is a romantic notion of Michelangelo as a "solitary and self-sacrificing genius." William E. Wallace had debunked this by uncovering records that showed 20 people helped Michelangelo carve the Medici Tomb. Michelangelo turned out to be both an artistic genius and a successful entrepreneur, "a man equally at home in the mundane and the sublime."
Almost 500 years after, a new medium has emerged – interactivity – but the artists of this medium can still go far in emulating the old master, in seeing art and business as different sides of the same coin equally deserving cultivation.
Gabriella Thobias of Skullfish Studios expressed our sentiments best: "Being accepted into GameFounders is an honor for us. We are glad that they saw our potential and we want to be worthy of that trust." We will carve the David, the Moses, the Pietà of this Age. We will build thriving companies to execute our visions, companies that take care of our people, create shareholder value and make the world a better place one game at a time.
Comments
Khail Santia of Moocho Brain and The Bamboard Game Project
To (mis)appropriate the words of Chef Albert Roux, as a gamemaker, the first thing you must understand is you are a distributor of joy. So I do my best. Making games is the ultimate metagame for me; but more than that, I do think it can transform the world for the better.